In this column, one writer sends another a new piece of writing about a film they have been watching and pondering over, in the hopes that this will prompt a connection—emotional, thematic, historical, or analytical—to a different film the other has been watching or is inspired to rewatch. This ongoing column is in the spirit of many past Reverse Shot symposiums, in which writers found connections between seemingly disparate cinematic works, and it will also help us maintain personal connection among our writers and our readers.
Sexy Beast
The whole city is sweating. The solution? The cinema, a fridge-cold dark room to escape into. Heaven. In London, it's at least an option now that theaters have started to open up again here. Except, attending the cinema in the middle of a pandemic doesn't sound, to me, like a terribly relaxing experience. Beads of perspiration dampening my upper lip beneath my fabric mask; all that recycled air. So, despite the heat wave, the Saturday night movie is once again watched at home. We plug in the fan. It doesn't help. The rosé is chilled, but within seconds of pouring it my glass has become clammy.
"Oh, yeah. Bloody hell. I'm sweating here. Roasting. Boiling. Baking. Sweltering. It's like a sauna. A furnace. You could fry an egg on my stomach. Oh… Oh, now that is hot. It's ridiculous. Tremendous. Fantastic."
Gal (Ray Winstone) is overheating. A God's-eye shot shows a slab of bronzed flesh in apricot speedos. Gal is blissed out and lounging poolside. The water is a vivid, chlorinated blue. Gal's villa is on the Costa del Sol in southern Spain, but reminds me of David Hockney's Los Angeles-inspired pool paintings. It's the colors, the geometry, the unselfconscious expanse of sun-ripened skin on show. Like Hockney, Gal is a Brit abroad.
This is the opening of Sexy Beast, whose thematic resonance is nothing more than a happy accident. The real reason we're watching Jonathan Glazer's 2001 feature debut is because its running time is a cool 88 minutes. I was pleased to read recently that writer and editor Nic Rapold has also been programming his home viewing around a compromised attention span. "The supreme truth about this studio/Cannes pairing of 2001 films was that one was 96 minutes and the other 90," he says of an unlikely double bill of Legally Blonde and Stuff and Dough.
In Sexy Beast, retired mafioso Gal has escaped London ("a dump: grey, grotty, shitty… a toilet"). He and his wife DeeDee (Amanda Redman) are living the Andalusian dream. Or they were until Don Logan (Ben Kingsley) arrives. A coiled knot of kinetic energy, Don's been sent to summon Gal for one last job back home. But Gal doesn't want closure—he wants to check out. His new life dispenses with obligation and difficult decisions. Here, choice looks like "calamari," "mussels," or "that chicken thing." Sun, seafood and sherry, sorted.
Glazer furnishes the film with East End accents, guns, sweary banter, an excess of anguished masculinity. But Sexy Beast is a riff on the gangster movie rather than an academic example of it. In the film's original UK poster, an illustrated Winstone reclines in a martini glass, maraschino cherry skewered between his legs as bloody syrup disperses below. This, I think, is consistent with the things I like most about Glazer's take on the genre. I'm strangely moved by a snog set to Dean Martin's "Sway," a kiss so heavenly that the earthbound Gal and DeeDee begin to float beneath the stars. "I love you like a rose loves rainwater," Gal tells DeeDee, and Winstone's tenderness catches me off guard. Later that night, I find I can't stop thinking about an image of two mosaicked pink hearts, nestled into each one another at the bottom of the pool.
I selected Sexy Beast for its brevity, but what strikes me is its leisurely pace and the way it accentuates my rare languorous mood. Peace, ease, the opportunity to slow down and stretch out are things both Gal and I grasp for. Early in the film, a boulder rolls rudely down a neighboring mountainside and crashes into the pool. All that stillness Gal has managed to cultivate is immediately punctured. Watching Glazer's film in this moment reminds me that both of our hard-won attempts to suspend time, to stick our fingers in our ears, to live an endless summer untouched by outside forces, are futile. —Simran Hans
Old Joy
My cultural habits during this extended period of quarantine have been predictably erratic. There will be weeks when I watch two, sometimes three new-to-me films a day, absorbing whatever I can in less-than-ideal conditions, and then other weeks where I either revisit old favorites or don't watch anything at all. Generally, I've felt more comfortable retreating into music, which tends to better hold my attention and buoy my ever-fraying emotions. I'm reading more fiction than I have since college, if only because it forces me to concentrate on something that doesn't exist on a screen or isn't immediately related to the slow collapse of the American experiment.
Simran, your thoughts on brevity and the futility of escapism strongly resonate with me. Like many others, I have also had trouble watching long films under these circumstances. (My viewing log confirms the only three-hour-plus features I've watched are two documentaries: Martin Scorsese's No Direction Home and Spike Lee's When the Levees Broke: A Requiem in Four Acts.) I also haven't really gravitated towards overtly "light" entertainment, possibly because of my inability to keep my punishing awareness about the state of the world at bay. A pleasant vibe I can handle. No-stakes fun couldn't be further from my mind right now.
This summer, I had an affecting viewing experience watching Kelly Reichardt's Old Joy a couple days before my birthday. Similar to how Sexy Beast's pace reflected your mood, Old Joy's spiritual rhythms and wistful tone held sway over mine. My spiky temperament was soothed by the film's long stretches of engaged observation, occasionally punctuated by genial dialogue and Yo La Tengo's relaxed score. Images of Portland whizzing by from the perspective of a car's passenger window, as well as the static scenes of gas stations and roadside diners and empty highways stirred an indefinable yearning for travel amplified by my having not left a three-mile radius in the past five months. The sounds of the Mount Hood National Forest served as a neat contrast to the dystopic cacophony outside my bedroom window. (At the time, pervasive police sirens and low-flying helicopters, in response to widespread protests against white supremacy and state-sanctioned violence, dominated my auditory field.) Old Joy played like a formal balm, the cinematic equivalent of successful meditation amidst internal and external turmoil.
At the same time, the film's core story probed at many of my current anxieties. Two longtime friends, the domesticated Mark (Daniel London) and perma-bohemian Kurt (Will Oldham), who have drifted apart, briefly reconnect on an impromptu camping trip. Reichardt's script characterizes Mark and Kurt's relationship by the space in between their words, the melancholic subtext of otherwise pleasant conversation, and London and Oldham exhibit the weight of their characters' shared history. Their well-worn faces and comfortably awkward body language convey a decades-old relationship marked by adolescent good times as well as the inevitable regrets and resentments. Reichardt is one of the few contemporary American directors attuned to the power of the small, subtle gesture: the darted eye, a subdued shift in expression, slight changes in body language and rhetorical tone.
Old Joy certainly invites a queer reading of their relationship, especially considering it climaxes with a tender neck massage at Bagby Hot Springs, but I find Reichardt's film to be remarkably perceptive about heterosexual male friendships, mainly the ways surface-level good nature can inadvertently suppress deeper platonic intimacy, and how it becomes more difficult to sincerely plumb those depths as time goes on. The scene when Kurt tries to seriously talk about their relationship and Mark deflects the discussion under the guise of "it's all good, man" hits me hard because I've frequently been on both sides of that conversation. In poignant moments like these, the ground shifts imperceptibly under their feet.
Old Joy's tranquil imagery and soundtrack, combined with its evocatively drawn central relationship, made a deep impact on me in the context of my birthday, a marker of time I have come to dread. Some of my downright embarrassing reactions to the film's tenderest moments—a key change on "Leaving Home," Old Joy's main instrumental motif, timed to a specific edit elicited heavy tears—can be attributed to my current emotional state, but many of these fears and concerns were bubbling to the surface anyway. These past few months have been a productive reminder of how much I miss people, particularly the ones I've known and who've known me for a long time.
Old Joy doesn't preach escapism; impending fatherhood and the specter of the Bush administration, taking the form of Air America constantly blaring from Mark's car radio, lightly hang over the road trip. ("Some people say we need a third party. I wish we had a second one," intones an unidentified circa-2005 progressive voice.) Yet the film's secularly spiritual pulse was inviting all the same. Old Joy runs a tight 76 minutes. It contains the whole world, or in Kurt's words, an end of an era. —Vikram Murthi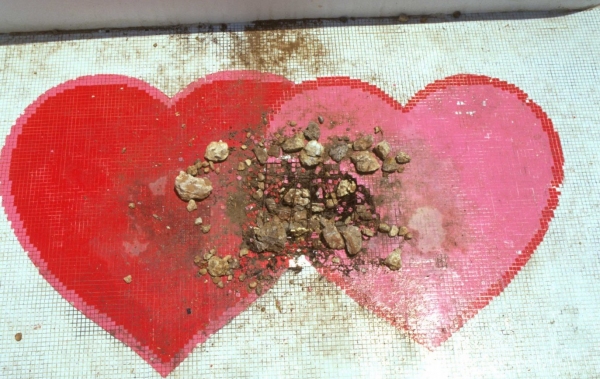 Reverse Shot is a publication of Museum of the Moving Image. Join us at the Museum for our weekly virtual Reverse Shot Happy Hour.