In terms of worldwide events and homegrown politics, 2015 has mostly been a year of bury-your-head-in-the-sand horrors. Thankfully the movies, at times, provided a welcome respite, and the diversity, the emotional breadth, and the generic versatility expressed by our top ten selections of the year is inspiring enough to make us more than a little hopeful that 2016 might bring brighter days.
Case in point: our number one of the year, a film that reflects the kinds of progressive American values that need to be embraced today more than ever. That it's in the top slot says a lot about the sort of art that was capturing our writers' imaginations. It's perhaps a little sad in retrospect that this is the first time in the thirteen years we've been compiling these lists that a wholly, classically nonfiction film made it into the top spot. Yet the film is so quietly spectacular and warmly joyous that this can ultimately only be cause for celebration.
As usual, we polled our major contributors for the year to arrive at a final ten—the closest thing to a collective list we can achieve. One problem that always arises with consensus polls is that they make less room for the kinds of one-off idiosyncratic picks that can happily define individual critics' lists. Our team is a bit smaller (less than twenty writers polled) than those culled for the Indiewire, Village Voice, and Film Comment lists, which many of these writers also take part in, so it's more likely that personal, niche trends can emerge. This has helped land films like Our Beloved Month of August, What Now? Remind Me, Viola, and Historias extraordinarias in past best-of-the-year final rounds.
We've narrowed down our list to ten, as we always do, but it's worth mentioning that such films as Amour fou, Anomalisa, Bridge of Spies, Creed, The Forbidden Room, 45 Years, Inside Out, The Kindergarten Teacher, L'il Quinquin, Magic Mike XXL, La Sapienza, Taxi, and The Wonders could be found on more than one ballot. Any of them would be worthy of inclusion on our list. And, as usual, we're thankful to our contributors for having the good taste and sense to look past the year-end glut of worked-over, half-baked awards bait in favor of true cinematic visionaries. —MK & JR
[Capsules below written by Ashley Clark, Jordan Cronk, Eric Hynes, Michael Koresky, Adam Nayman, Nick Pinkerton, Jeff Reichert, Chris Wisniewski, Daniel Witkin, and Farihah Zaman.]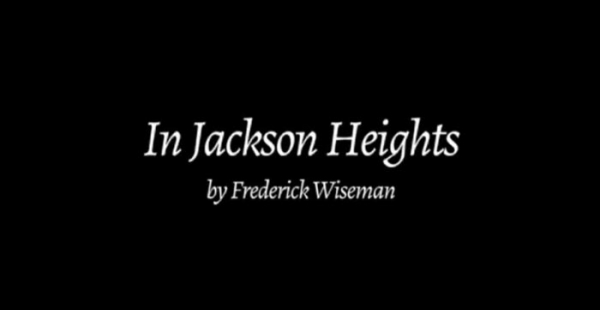 1. In Jackson Heights
Change starts on the personal level. Politics matter, of course, but when it comes to altering the hearts and minds of those with views detrimental to social progress, the power of intimacy is undeniable. Hectoring stridency only gets you so far—our ever more divided culture, created by social media immediacy and self-regenerating news cycles, bears this out. How much homophobia has gradually been diffused by men and women simply coming out to family members? How often has the idiocy of xenophobia and racism been laid bare by neighbors simply getting to know each other? It's settling down next to people that best eradicates fear and hostility. In this way, Frederick Wiseman has made this country's most effective political film of this or any year. Wiseman says he wanted to make a movie about contemporary immigration in America, and by taking cameras into the 300 acres that make up Queens' Jackson Heights neighborhood, he happened upon a surprising yet natural way to do this, while in the process ending up with something richer, more artful, and emotionally overwhelming than anyone could have imagined, even for this 85-year-old master of the documentary form.
It's not just about Jackson Heights. By casually burrowing into a concentrated area in which 167 different languages are spoken—the most diverse single community in the world—he has made a film, probably the film, about our country now, and as usual with Wiseman, he's done it without voiceover narration or onscreen titles to tell us as much. Boldly for a film about America—aptly for a film about America—In Jackson Heights begins with images of prayers at a local mosque. The first spoken line is "Praise to Allah." From there we enter a Jewish center, where Queens councilman Danny Dromm is giving a speech invoking the 1990 hate-crime murder of gay bartender Julio Rivera in a Jackson Heights schoolyard; Dromm reminds his listeners that this created the first stirrings that led to the Queens Pride parade—which in turn couldn't have been accomplished without the support of the Latino community. It's this kind of pinballing—among seemingly discrete yet interconnected groups of people—that defines the beauty of this place and the humanity of this film. There's a rhythmic grace here: long scenes followed by short scenes; cantata-like musical interludes; neighborhood shots that establish the area's rumbling, calming aural landscape. The film's benevolent three-hour length—sculpted from 120 hours of footage—allows it to make room for such moments as a Mexican woman's harrowing tale of border crossing, related in ten uncut minutes of screen time. Wiseman recently said, "What interests me are movies that deal with the complexity of the world and that don't simplify it for ideological or commercial gain." In Jackson Heights is testament to such a selfless world view, a political but not ideological film that bears zero resemblance to those single-minded "issue docs" that take up precious space at your local independent theater. Get to know Wiseman's film; it will make you a better person. —MK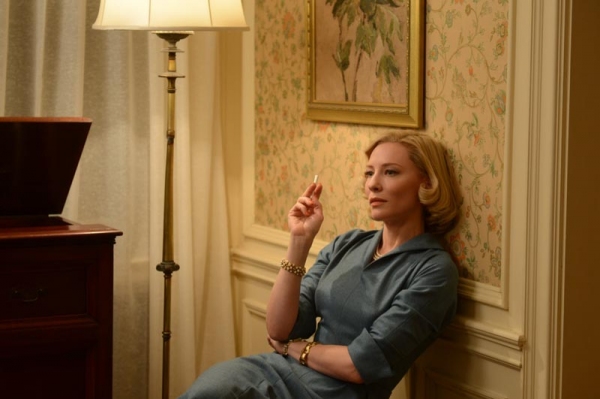 2. Carol
The film whose shorthand for many has become "that lesbian melodrama" is so much more: a radical, subversive, yet somehow miraculously warm meditation on desire, fulfillment, otherness, and the nature of seeing and being seen. With a touch as soft as the mink fur coat worn by Cate Blanchett's title character, a seemingly self-assured suburban New York housewife, Todd Haynes handily undermines the male gaze through both the film's content—a transformative relationship between two women who feel no need to defend nor deny their love—and structure, in the shifting perspectives as their romance unfolds. The film begins from the point of view of an anonymous man as he enters a beautifully appointed restaurant dining room and comes upon Carol and the younger Therese (Rooney Mara) in what he fails to recognize as an awkward moment between lovers. Near the end, the film returns to this moment and redefines it: this time, after the viewer has been immersed in the affair that precedes it, the man who comes upon them has been made irrelevant, stripped of authority as voyeur. The film then closes with a mirror to this scene, with Therese entering a different, crowded dining room; we see through her eyes, feel her longing and anxiety, until the object of her desire looks up into the camera and sees her—and us. The film's take on queerness is just as simple and powerful. Although the film is set firmly in the past it is remarkably modern in its approach to sexuality. It doesn't engage with questions of why or how its protagonists are gay, or create simplistic dynamics between homophobic villains and damaged queer heroes. It lets the characters just be, as they are, a defiant act of passive resistance against the assumption that queerness needs to be justified—and that it is the primary quality of the queer person. Just as Haynes is reinvigorating the melodrama genre in films like Carol, Far from Heaven, and even Velvet Goldmine, he is also reframing history to include others—people of color, counterculture figures, queers—in a meaningful way. Carol is also full of visceral pleasures, capturing subjective but universal experiences, like the way the world seems to blur when that certain someone touches your wrist for first time. The meaning of Carol continues to shift and deepen the more one thinks about it, as if it is itself a living, breathing human thing, born of the intense, complex relationship between its two heroines. —FZ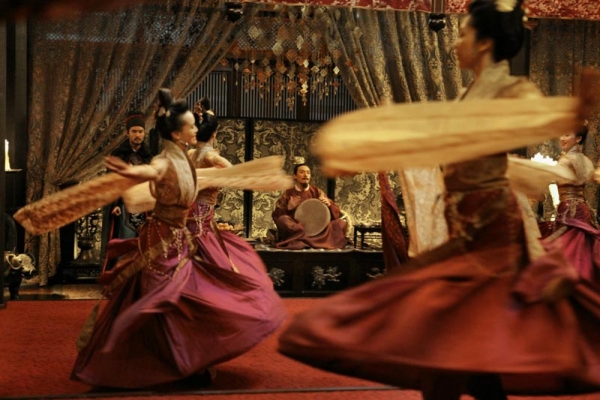 3. The Assassin
In any other hands, it would seem a perversion: a Chinese wuxia film that features action only sparingly, that lingers on stillness, ogles space, maintains incongruity, and disinvites allegiance, while treating physical contact like a toppled vase—swiftly dropping, bafflingly scattering. But this is a work by Hou Hsiao-hsien, reflective of a sensibility sprung from the inside out, with story, aesthetics, and emotion utterly intertwined. The camera moves, and everything seen and unseen moves along with it. A miraculous natural cloud formation captured on a mountaintop seems somehow triggered by two characters meaningfully coming together. Drapery billowing and flapping in the foreground isn't idle fetishization, but an inchoate, mystical concert with the characters talking in the background. All is balance, at whatever cost. Foreground complicates background, quick-cut fight sequences counteract long takes; an assassin is sent to quash an uprising, the same assassin learns to complicate duty and discipline with a conscience; a director revisits the eighth century to contemplate the current one, finding a thread of equilibrium uneasily enforced. Films about combat, especially those centered on individual combatants, subsist on winners toppling losers, vanquishers lording over the vanquished, tomorrow triumphing over today. But in The Assassin, it's often unclear who's who, who's won and why. Hou illustrates a different kind of order, one constructed from a different kind of violence: maintenance of the status quo. Those expecting familiar narrative catharsis will be flummoxed. Those expecting such flummoxing to be the audience-bating design might be further flummoxed. Loyal to its historical and genre sources, scrupulous about its own process, The Assassin is a film that demands to be considered on its own terms. Like anything truly great, it might take years to do so. —EH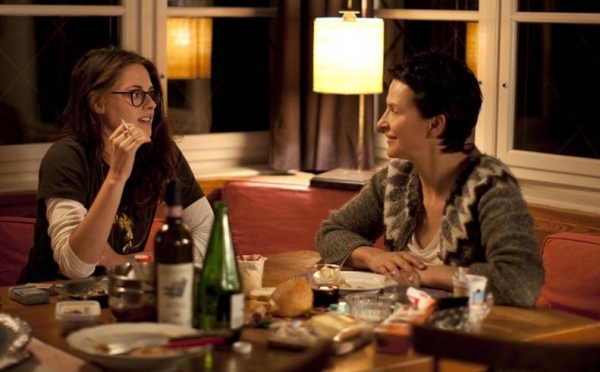 4. Clouds of Sils Maria
The cinema of Olivier Assayas is restless and searching, both aesthetically and intellectually; his camera is constantly on the move as he grapples with questions of identity, place, citizenship, art, and history. His latest, Clouds of Sils Maria, continues these investigations while finding Assayas working in his most "meta" register yet: a 21st century riff on Bergman's Persona set against the backdrop of the globalized, hyper-capitalist, celebrity-driven entertainment industrial complex. Here, world-famous superstar actress Juliette Binoche plays a world-famous superstar actress who revisits the play that catapulted her to early success as a young starlet. The play is an ill-fated lesbian romance between a young ingénue and her older professional mentor. Clouds is predicated on a role-reversal, with Binoche's actress readying herself to assume the part of the older woman, retreating to the Alps with her personal assistant (Kristen Stewart), who runs the lines of the younger woman in their daily rehearsals. The relationship between these two, at turns affectionate, intimate, latently erotic, and debilitatingly competitive, is constantly in flux as Binoche and Stewart play off each other with great intelligence and sensitivity. This is a movie that is, first and foremost, about actresses and acting, its success entirely dependent on the electrifying performances turned in by its two principals. The clouds of the film's title refer to a meteorological phenomenon, a formation that rolls through a valley of the Alps and that, when perceived from the right vantage point at the right time, becomes visible as the "Maloja Snake." It screams metaphor, but like everything about this film—another remarkable entry in a remarkable oeuvre—it works. Elusive and in some ways evasive, Clouds of Sils Maria seems to slip, slide, twist, and morph to its ambiguous conclusion. But its nuanced depiction of art making, performance, and power comes into view as clearly as the Maloja Snake—for a few fleeting moments, somewhere in the space between Binoche and Stewart—undeniable and extraordinary to behold. —CW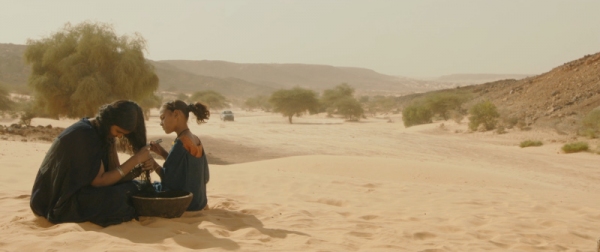 5. Timbuktu
Malian director Abderrahmane Sissako's first film since 2006's courtroom drama Bamako, Timbuktu is a perspicacious, multifaceted study of a horrendous situation: the takeover of the eponymous city by Islamic fundamentalists, who enforce arbitrary rules and regulations with a conspicuous lack of humility and bungling, all-too-human ineptitude. Inspired by—though not faithfully bound to—real events, the film takes as its ostensible protagonist a cattle-herder named Kidane (Ibrahim Ahmed aka Pino), who lives peacefully in the dunes with his wife, daughter, and their young shepherd. His eventual entanglement with the makeshift Islamic courts is both a cunning metaphor for the geographical spread of fundamentalism and an indictment of his own damaging male pride—Sissako's complex moral investigations extend not just to the obvious villains of the piece, but those we may take to be heroes. Sissako also infuses Timbuktu with a pleasingly Altmanesque quality, leisurely introducing us to a myriad of vividly drawn supporting characters. The effect is a gradual weaving of a dense, lively cityscape brimming with spirited resistance. While the narrative is discursive, tonal coherence is fostered by Sofian El Fani's stately 'scope cinematography (one violent confrontation, captured from distance in shimmering widescreen, is one of the year's most indelible images) and Amine Bouhafa's lyrical score, which conveys pathos and pluck without sounding sentimental. Meanwhile, occasional dreamlike sequences—like a beautifully imaginative, ball-less soccer match played by children in the wake of the sport's ban—serve as moving counterpoints to the waking nightmare that is the film's main business: the implacable dismantling of a community by flawed, violent human conduits of an inflexible ideology. It's always tempting to describe art works of obvious contemporary relevance as "timely," but to do so runs the risk of reducing them to abstract political statements or conversational bargaining chips. Timbuktu—which arrived on American screens in the same year as a number of high-profile terrorist activities perpetrated by Daesh, and rising Islamophobia engendered by dangerous clowns like Donald Trump—is such a film. It is, however, quite clearly one for the ages: an emphatically humanistic work that doesn't pretend to have answers to the problems it so gracefully depicts. —AC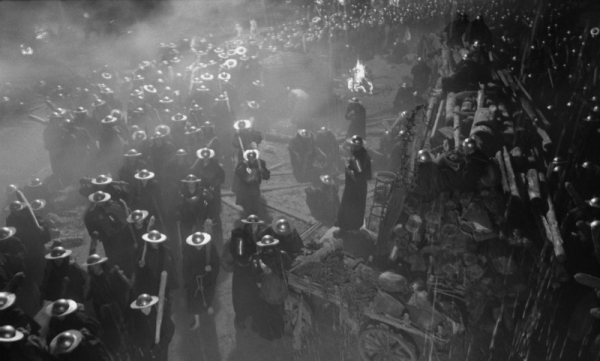 6. Hard to Be a God
Hard to Be God is one of those rare movies whose very existence is confusing. It's as if director Alexei German (who died in 2013, when the film was all but completed) had resolved to sink the entirety of his ample talents—not to mention the final decades of his life—into the absurd occupation of making the screen emit a literal odor, as per the film's Gogolian fetish for noses and smelling. The flower of the director's experiment in self-sacrificing obsession is the disgusting microcosmic planet of Arkanar, which, so we are told, is not Earth, despite its pointed semblance to our own medieval salad days. It is to this putrefying extraterrestrial morass that all bodies must eventually submit, most remarkably that of our balefully swaggering host, erstwhile Earth scientist Don Rumata (Leonid Yarmolnik). Introduced honking out a blues-dirge on an oboe-like instrument, he's a man at the end of his unraveled humanity, surviving through guile and fraudulently divine patrimony as well as cynically cultivated fear (our hero's specialty is ominously identified as "ears"), and observed throughout by German's roving camera and claustrophobic yet highly permeable frame, itself leered at sporadically by local goons. What passes for a plot is as tormented, twisted, and ultimately useless as the protagonist, who constantly wavers on if and how to react to the violent repression of Arkanar's indigenous "wise guys." Yes, the film happens to be the product of a real-life nation with a history of anti-intellectual rulers and a penchant for purges, but more relevant to Hard to Be a God than any allegorical arithmetic is the peculiar ability of German's countrymen to relish even the debasement and suffering in life. In this way, the late filmmaker's anguished excavation of all that is venal, cruel, and idiotic in the human character is also graceful and bitterly funny. Despite the film's categorical absence of nostalgia, it's a fitting swan song for the Petersburg auteur, an uncannily conjured purgatory of the dissident that mocks our search for significance beyond its glut of perfectly honed details. "Someone saw a dude with gills in the creek," a befuddled knight tells Rumata. "What does that mean?" —DW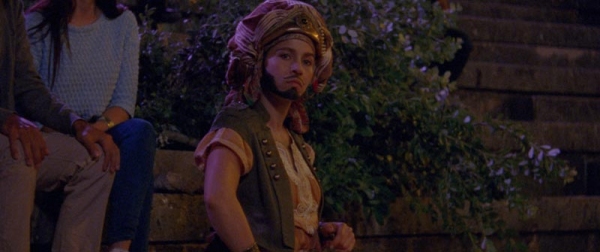 7. Arabian Nights
The material of which Miguel Gomes's ragged, baggy Arabian Nights mosaic was made was shot between August 2013 and July 2014, as Portugal was experiencing a program of austerity imposed by "a government devoid of social justice," per the didactic text that opens each of the movies in the triptych. And while the three features and their various chapter subdivisions are far too complex to play as straightforward protest pictures, the very largesse of Gomes's gut-busting buffet of cinema is a provocation, a means for the director to thumb his nose at the concept of "cutting back." Gomes's binge is also an affront to the tradition of stern, somber filmmaking that rules the festival circuit—particularly films dealing with people in economic disadvantage, who preferably should always be seen making "Why we be poor?" expressions while riding public transit. Rather than defaulting to the po-faced miserablism that is expected when touching on such serious and sensitive matters, Gomes variously tries on and dispenses with a variety of different storytelling modes, encompassing documentary and Orientalist fantasy, self-satire and sketch surrealism, and lyricism both stoic and rhapsodic, the latter exemplified by the cross section of life in a single apartment building in the second feature's segment titled "The Owners of Dixie," a symphony of humanity that launches the film into the sublime. Gomes knows how to wrap an audience around his little finger—see Tabu for reference—but conscientiously keeps himself from slipping into a rhythm here, switching up time signatures in unexpected ways. These films are the work of a free man, and the exhilaration is infectious. —NP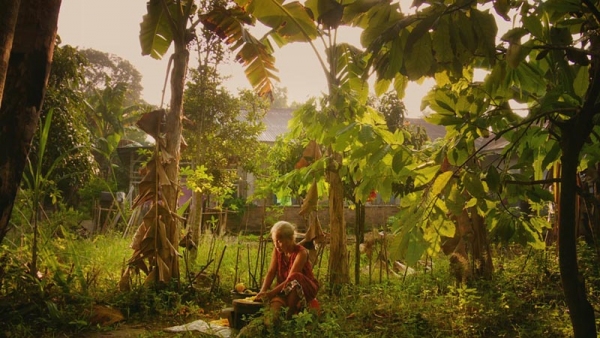 8. The Look of Silence
In Joshua Oppenheimer's companion piece to The Act of Killing, our main character is an optometrist; this second documentary about the past and present ramifications of Indonesia's mid-century genocide is punctuated by shots of characters getting their vision checked. On the level of metaphor, these inserts are 20/20 stuff: the point is that those who willingly murdered their countrymen are figuratively blind to the horror of their own handiwork. What's so sobering about The Look of Silence is the way it illustrates just how widespread these (mis)perceptions still are in a country that has attempted neither truth nor reconciliation in the fifty years since the still-ruling military coup that reshaped its landscape. As in The Act of Killing, retired government hangmen make no attempt to conceal their guilt from the cameras—through Oppenheimer's lens, we encounter human evil. But we also meet figures of resistance, whose eyes are open to the fact of what happened, and who have the perpetrators in their sights. Like all great nonfiction films—and all great films period—The Look of Silence is engaged in unveiling reality. An alternate title for this horror movie about monsters wandering in plain sight—and those who see them for what they are—could be They Live. —AN
9. Eastern Boys
In Eastern Boys, middle-aged French businessman Daniel (Olivier Rabourdin) finds himself the victim of one of cinema's oddest home invasions. After making a date with pouty Eastern European rent boy Marek (Kirill Emelyanov) at Gare du Nord, the next day he finds his spare apartment overrun by a pack of young hunks seemingly as interested in dancing and drinking as they are in divesting him of his material possessions. That scenario alone might have been more than enough for plenty of movies, but for director-writer-editor Robin Campillo (best known for his Laurent Cantet–directed screenplays Time Out, Heading South, and The Class, all of which he also edited) this is only the beginning of a film that continually pushes into uncharted, unexpected terrain. Thus, after this inciting incident, it's a surprise when Marek shows back up at Daniel's apartment and is welcomed in for paid sex. It's even more surprising when these visits continue and an intimate relationship blossoms between them. That this relationship morphs into something more filial than sexual and actually makes narrative sense suggests the presence of superior filmmaking. And the coup de grâce? Campillo proves himself pliable enough to land a third-act shift into thriller mode complete with a tense, lo-fi prison break. Eastern Boys seems like it can do just about anything, and in this way its creator lands closer to shape-shifting filmmakers like Miguel Gomes and Apichatpong Weerasethakul than its seemingly linear plotting would suggest. And even if Campillo's film fell apart after that home invasion, what a magnificent sequence it is! By the time Daniel begins drinking and dancing along with his invaders, and his apartment has turned into an impromptu club filled with gyrating bodies, you might feel like joining in as well, just for the joy of being in thrall to such bold moviemaking. —JR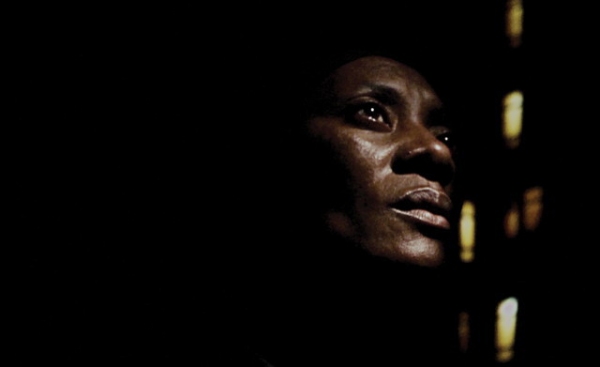 10. Horse Money
Portuguese master Pedro Costa's first fiction film in eight years begins with a moment of silence. Comprised of a succession of photographs by Danish journalist Jacob Riis of impoverished early twentieth-century New York immigrants, this opening montage quietly portends a totemic reckoning, simultaneously establishing the processional tone of the film and situating its thematic and aesthetic concerns within an art-historical lineage stretching from the Baroque to Barthes. The beautiful and troubling essence of Riis's images reverberate throughout the proceeding narrative, in which Costa's closest muse, Ventura, is resurrected but only barely functioning, lost within the crypt-like halls of a scarcely populated sanitarium. Ghosts of the Carnation Revolution and the psychological scars from a horrific knife fight haunt the memory of Ventura, whose journey through the past brings him into direct communion with physical manifestations of this buried trauma, most notably in the form of Vitalina, a mysterious widower whose spiritual kinship with our protagonist suggests her sudden arrival as a gravely preordained rite of passage. These intimations of horror are expertly borne out in Costa's immaculate 1.33:1 compositions, which frequently find figures swallowed up amidst gulfs of unfathomable darkness, the stoic, richly chiaroscuro imagery drawing a line from the grotesquerie of Caravaggio to the elegance of Ford to the austerity of Straub. A mid-film musical sequence featuring a variety of Lisbon residents staged in Riis-like tableau only reinforces the purgatorial nature of Ventura's quest. Wounds may heal, but the pain lingers on. —JC