The following article was originally commissioned for
Project: New Cinephilia, an initiative for the 2011 Edinburgh International Film Festival.
by Michael Koresky and Jeff Reichert
Why would we ever want a website? That was the question that arose among Reverse Shot's founding editors in 2003. It had been almost six months since we, along with our friends Neal Block and Erik Syngle, started what we had then dubbed, somewhat grandiosely, "the new magazine of film culture," but until that moment we hadn't much considered the possibility, let alone the necessity, of establishing a web presence. But now we knew we had to give it serious consideration. Reverse Shot was at this point a staple-bound, 8.5 x 5.5–inch twenty-plus-page print magazine with a "widescreen" design, self-published and hand-distributed around New York art-house theaters and museums; those who knew about it knew because they had grabbed a free issue after a screening at Film Forum or Brooklyn Academy of Music's BAMcinématek, or after a shopping trip at dearly departed Kim's Video on St. Marks, the Valhalla of rental stores (its contents currently taking up space in Sicily). It seems a lost continent now, but there was still a romanticism about paper publications, a sense that the effort expended upon writing, designing, formatting, sending to the printer, and toting the resulting wares around the city gave the printed words credence that an online journal, which at the time seemed antithetical to the type of intellectual legitimacy we were seeking out, couldn't possibly attain. To "take it online" was giving in to the barbarians, or so we thought.
Even though our magazine was distributed to readers at no charge, we were still not completely ready to embrace the utopian notion of freely exchanged digital content—after all, in controlling the printing and circulation we were able to clearly target those areas we felt were filled with "our people." The period in which we started Reverse Shot was before the term "blog" entered regular conversation. Furthermore there was a stigma around online writing—that it was largely unedited, unfiltered, uninteresting, and, well, unusual. We envisioned our publication as a product of a particular culture—that of the "film-as-art journal," which we knew only as specifically the domain of print—one we might have known was dying around us if only we'd checked our impetuous enthusiasm long enough to pay attention.
Were we unready to dive headlong into the future? Cinephilia is sometimes termed a malady; for us the initial symptoms were a sort of stodginess, one that undoubtedly comes with nostalgia, a key component of the affliction. Were we too much looking back? At least we were stuck in an outdated mindset of what a publication of this sort could be. We were equally influenced by the legacy and continuing relevance (as we saw it) of Film Comment and the call-to-arms of Cahiers du cinéma, even if we were resigned to the possibility that one day we would "merely" have the impact of a Cineaste or a Film Quarterly, which were more rigidly academic in their approach than that which we aspired to. But what was our dream? That our volumes would one day sit on a dusty shelf somewhere alongside undisciplined but revelatory long-defunct publications like Film Culture or Films and Filming?
We desired an outlet. The future French New Wavers had Cahiers; Andrew Sarris had the Mekas brothers' Film Culture; Pauline Kael had the Berkeley Cinema Guild notes—what could be more romantic than manufacturing a periodical of our own? When we tipsily conceived of a new kind of film magazine, at a brightly lit Dallas BBQ in the East Village, sitting around a table heavy with chicken and monster goblets of alarmingly blue mixed drinks, we thought of the future but only concerned ourselves with the now. We didn't begin Reverse Shot to flaunt knowledge, but to share our passion with others—to feel connected is to feel human—and we saw a void of educated, articulate passion in film writing that we desperately wanted to fill. We wanted movies, good movies, to unite us. And we weren't impressing professors anymore—they no longer had to reflect our understanding of Metz or Schatz, Mulvey or Turvey. Yet we did want an elevated dialogue, existing somewhere in the nether regions between academia and populist film criticism. Reel them in with passion, we thought, and sideline them with smarts.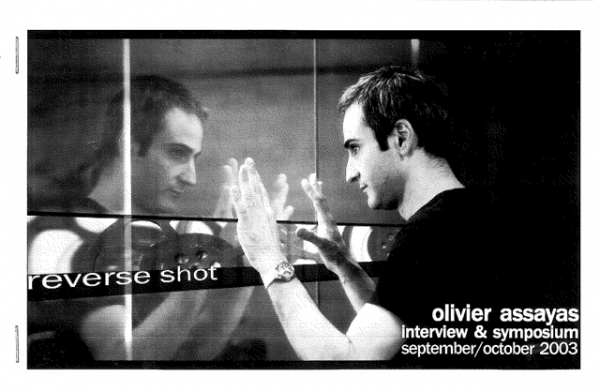 So every few months we pooled our meager financial resources, navigating printers and bindings to publish Reverse Shot. We didn't want to do anything cheaply, and when the quarterly day-two boxes would arrive at the distribution office where one of our founders worked, it was akin to a holiday. To us, online film criticism at the time seemed the purview of geek hacks who didn't know how to undo the caps lock on their keyboards; there didn't seem to be any sort of rigorous cinematic community. Needless to say, this way of thinking was a cultural radar blip. There was no single moment we can point to when we realized how full of hogwash we were, though our growing realization of the unsustainability of a costly print magazine surely hastened our transition. We kept alive the dream of resuscitating Reverse Shot as a glossy print magazine many years into its success as a web journal, but the moment we published our fifth issue solely online, we clearly had evolved.
Our distrust of the web as a proper outlet for what we hoped would be intellectually rooted discussion had less to do with our generation's ambivalence about online culture (we were the ones who were supposed to "make it happen," following the slow bursting of the dotcom bubble) than it did our vision of having a place outside of "normal" culture, even outside of time, for our particular discourse. All too often the way we felt about cinema was at odds with the dominant culture's point of view. In the years before we started Reverse Shot, we'd already felt somewhat safely ensconced in a small, carved-out world of like-minded folk who agreed with us when we asserted that a "difficult" work such as David Lynch's Mulholland Drive or Béla Tarr's Werckmeister Harmonies was clearly the film of the year, while the Academy seemed fit to give their highest award to a Ron Howard movie. Even our takes on mainstream Hollywood fare seemed hopelessly, proudly out of touch—why were we suddenly the ones championing Steven Spielberg at the exact moment (A.I.) when most of the world seemed to delight in his failure? It clearly wasn't contrarianism, but rather a formation of our individual sense of purpose and aesthetic temperament.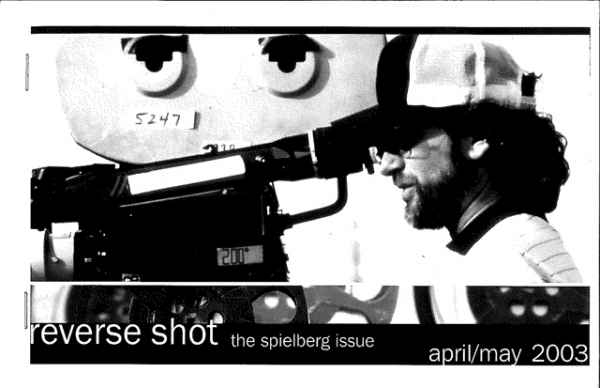 The question became: how to forge our own path? With so few publications devoted to the kinds of films we championed or the kind of writing we wanted to read about those films, it certainly didn't seem a crowded field. Our aspiration to shake up the "official" cinephilic world was complicated by our close proximity to it: the four of us who had established Reverse Shot might never have met one another if not for our connections to Film Comment (run out of the Film Society of Lincoln Center), where one of us was working and another interning. The goal was then to set ourselves apart; even in conception. It would have been easy to slap together collections of reviews of new releases, interviews with prominent directors, and the odd DVD review, but we wanted to do better than that. After some struggling and casting around in the dark we realized the idea that is the bedrock of the journal until to this day: our symposium approach. Film has always been (and is now perhaps more than ever) such a hotly debated medium—in terms of presentation, reception, and interpretation—that one can get lost in its present moment. But what if there was a journal that placed cinema's past in dialogue with the present? One that used films as a way of making sense of the world around us, and used the world around us to make sense of the history of film? We decided to build each "issue" (an outmoded term we still cling doggedly to) of Reverse Shot around an idea, and then leave the handling up to our writers. To this day, as the two remaining editors of Reverse Shot, we approach each gaping hole in the symposium calendar with an equal mixture of excitement and fear: how will we avoid repeating ourselves and continue to provide our writers with interesting challenges?
Once we settled on that core plan, the possibilities were endless. Thus we have centered discussion around what constitutes a war film, an "American" film, or what exists in the space between an "Eastern" and "Western" film or between a Hollywood and an "independent" film. We have devoted issues to contemporary directors either important or divisive enough to merit investigation from a variety of critical perspectives, including Olivier Assayas, Steven Spielberg, Claire Denis, Gus Van Sant, Hou Hsaio-hsien, Brian De Palma. We have asked each writer to boil down his or her reading of a film to a single shot, cut, or sound, in order to discuss how that film is being presented to us. And, in a developing self-analytic strand we think has grown ever more central to the Reverse Shot project as a whole, we've tried to get a better understanding of what makes our generation of film watchers and writers tick (an admittedly relative term since today the ages of Reverse Shot's writers stretch from early twenties to mid forties), attempting to define our particular way of seeing, by commissioning essays on such topics as coming of age during the rise of home video or the experience of seeing a classic for the first time following decades of canonization. The topics uniting these articles have tended to fall into one of four groups: a) auteurist, b) thematic/generic, c) technical/formal, or d) anecdotal/generational. We never intended such parameters—they just were the natural outgrowth of our interests in film, our attempts to locate its peculiar power and understand its possibilities, and, perhaps most importantly, our belief that anything published in the journal should be justified, and that the collections of articles should work together in a polyphonic fashion. Reverse Shot's writing exists in a community; it's unsurprising that its writers have largely followed suit.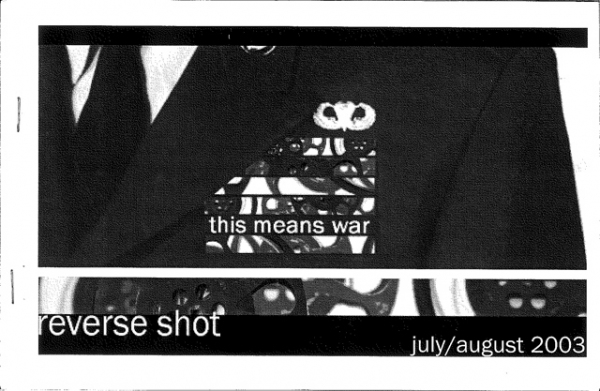 More than eight years later, Reverse Shot is an exclusively "web" publication, but that term doesn't begin to define it. And though it is part of an implicit online community that includes such collective cinephile havens of the blogosphere as the House Next Door and Not Coming to a Theater Near You, the strong individual-personality driven blogs of Dave Kehr, Glenn Kenny, Girish Shambu, and more rigorous but still accessible and populist sites as Moving Image Source and Bright Lights Film Journal, the various branches we have grown from our basic, sturdy trunk disallow for its easy categorization. It's not only the community itself that's shifted and expanded over the past eight years but also Reverse Shot, which now encompasses an array of video content, an attendant indieWIRE–hosted blog, occasional themed film series, and more. Reverse Shot has necessarily evolved as the medium itself has evolved—the magazine bore witness to, and been energized by, the "death" of cinema and its rebirth, the slow shift from celluloid to digital, the domination and ongoing freefall of DVD, the gradual migration of content to various cable and online streaming services. Everyone thinks they live in a radically changing moment, but it wouldn't be a stretch to say that the past decade has been one of singularly rapid evolution.
As Reverse Shot's grown and gained a significant audience, many of its contributors have gone on to write for other notable publications (the Village Voice, the New York Times, Slate, and the New Republic, for instance), but have also remained part of our loose, ever-growing family. The collective soul of the endeavor thus remains intact, even as it has necessarily expanded. But as we reach out, and as we age (the most radical change of all, and it takes place with every newly written word), the basic questions remain the same. What is a film critic? Do we even claim such an appellation for ourselves? The term itself dredges up easily lampooned images of pasty-faced miscreants whiling away their hours in darkened theaters, sure—but more importantly it implies that what we do is founded upon evaluation, and that our merit as writers is based upon the strength of that evaluation. Reverse Shot's contributors write for us because they want to, not out of necessity—and many of them are not "critics" at all, but folks who work in distribution, or are filmmakers and artists themselves, or those who would more often call themselves reporters or novelists. The definition of what constitutes a professional film critic has been slowly eroding for years, as more and more critics have lost their paying positions at dailies and weeklies due to both the devaluation of their jobs and the slow erasure of print media—but at Reverse Shot we never believed in such categories at all. Perhaps that's one of the reasons why the transition into this brave new world has been so smooth for us.
Where are we now? What was this last decade of cinema that sucked up our twenties and thirties, and which forced us to keep revising our desires and ideas on what this particular art form should be? It always feels absurd to place stark political and social parameters around the moment in which you are currently living (we all try to make sense of our world regardless of how tumultuous things are), but our ever-expanding global community has affected movies—the dissolving of international boundaries has undoubtedly resulted in the radical reimagining of narrative cinema itself. Death-of-cinema scenarios aside, there's a lot of reason to be hopeful, as movie audiences grow ever more accustomed to the notion of linearity as an option, rather than a given. The malleability of filmmaking now seems to match viewers' willingness to redefine cinema from platform to platform. Perhaps this is really a golden age all its own. As movie watchers, writers, editors, and publishers, we at Reverse Shot are just happy we're here to see it and grateful to those who join us. We may have given up the paper chase, but we're still in hot pursuit of transformative movie experiences.