Oh, what a year! After we spent a largely dispiriting 2010 slogging to and from theaters in the hopes of glimpsing anything approaching illumination and largely having those hopes cruelly dashed, 2011 hit it out of the park. We can't remember a year since we kicked off Reverse Shot back in 2002 that delivered so many contenders for our final ten spots (and, we should mention, such a rich cornucopia of the overrated for our upcoming 11 Offenses list—stay tuned). There was plenty of staff grumbling when worthy films like Poetry, Le Quattro volte, My Joy, A Separation, Film Socialisme, The Interrupters, Martha Marcy May Marlene, and Weekend didn't climb their way into our final list. In a lesser year, they could have formed the basis for their own very strong ten, but sticklers for the rules that we are, we opted not to expand our usual criteria. Limits must be set, people!
Even so, we acknowledge that annual top ten lists are always arbitrary. Yet as disparate as the international titles that follow may be in terms of geography (our selections span the U.S., Thailand, Romania, Portugal, Argentina, Chile, the U.K., and Iran by way of Italy) and even production (many played in festivals in 2010, and one comes from as far back as 2008), we refuse to believe that a twenty-year-old film deserves comparison with them, simply because it was released in the U.S. for the first time this year. Hence, you will not see Edward Yang's A Brighter Summer Day below, as comparing that very special work to this year's crop of contemporary films does it—and film culture—no favors. Similarly, you wouldn't have seen Army of Shadows on our list in 2006, Killer of Sheep in 2007, or Ashes of Time in 2008.
The point? We know this stuff is beyond silly—list-making, ranking, turning art into a form of competition—but if we're going to do it, we have to set some sort of stable parameters, as these endeavors do create an idea of the state of the art, however superficially. This year, we were happy to be in thrall to Terrence Malick's brave, rejuvenating vision. The triumphant winner of our final list—as usual decided upon by polling all major Reverse Shot contributors from the past year, with each voter's highest ranked film receiving the most points, and so on—turned out to match that of the major film polls (for Village Voice, Film Comment, and indieWIRE). And we couldn't be more pleased to fall in line, especially when it comes to something as monumental as The Tree of Life, a film whose effects on cinema will be felt for years to come, while other, more trendily apocalyptic visions will all but vanish into the air like farts in the wind (smell ya later, Lars). —MK & JR
[Capsules written by David Ehrlich, Leo Goldsmith, Eric Hynes, Michael Koresky, Adam Nayman, Jeff Reichert, Elbert Ventura, Chris Wisniewski, Genevieve Yue, and Farihah Zaman.] 1. The Tree of Life
It's strange to even talk about The Tree of Life when ranking the best films of 2011. Not just because we'll be talking about and grappling with and rewatching Terrence Malick's movie well into 2012 and beyond; but because it seems, and is designed to seem, so out of time. Malick's is a film of finite moments that express the infinite, moments in time that aspire to timelessness. It's not about how we live now, nor about how we now think about how we lived then, but rather how we've lived, loved, thought, and felt forever. Our deepest fears, bafflements, and cravings are located in 1950s suburban Texas, as they are in the movements of our Mesozoic ancestors, as they are in phone calls to parents, confabs at work. "What I want to do, I can't do," says young Jack (Hunter McCracken) in the film's most wrenching—yet still gorgeously enveloping—passage. "I do what I hate." Words don't come more grievous, or universal. The feeling doesn't go away, not over a lifetime, not across the millennia, and it's the squaring of life's inscrutability—our own lives and life in the abstract—that motivates Malick.
Contrary to most assumptions, The Tree of Life is not an act of worship, not a spiritual text. It's about what, for some, becomes worship, and what, for others, becomes wonder, or madness, or love, or art. Coming to terms with what we don't know, with what can't be explained away. Every frame of the film articulates that notion, evokes the wonder and the terror of not fully understanding. Remember that the vision toward the finale of adult Jack (Sean Penn) reunited with his family on some hackneyed beach is his own reverie—not necessarily Malick's. It's Jack's own way of making sense of what he's felt, of what can't be fathomed. God for him is in the sky, as his mother taught, but also in his mother, and in his father, and in his baby brother's kindness, and also, most of the time it would seem, nowhere at all. The looking is universal, and the finding is subjective. The Tree of Life isn't about God, but rather about our need to love, blame, and interrogate what's beyond us. For some that leads to a god, and for others it can lead to science, sex, or the cinema.
Other films may better reflect our 2011 tastes, may more comfortably articulate or flatter what we value and enjoy about cinema, may be more elegant and economical, more perfect. But few films, this or any other year, have dared to forget about such matters entirely, and to reach for everything in order to become something we've never seen before. —EH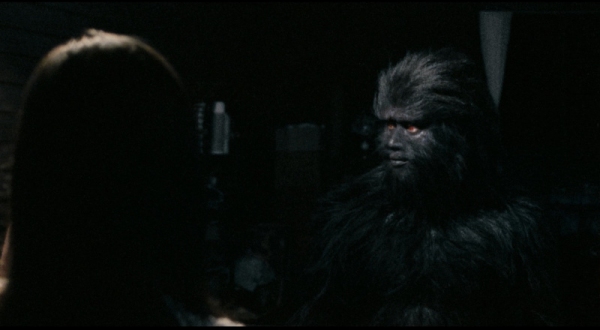 2. Uncle Boonmee Who Can Recall His Past Lives
In 2011, as "the movies"—their makers fearful of their waning sway over popular imagination—desperately scoured their past to uncover the secrets of what once made them glorious, there were a handful of present-day pictures that pointed towards the future and reminded us that being a cinephile wasn't only great in 1904. The wily Thai magician Apichatpong Weerasethakul, armed merely with a bag of tricks not terribly expanded from those employed by Georges Méliès & Co., a rapaciously questing spirit, and a boundless empathy that has marked all of his four previous features, produced a work that paid more fitting tribute to cinema's pioneers than any of the overt homages that flooded screens and top-ten lists this year. In it, a serene, slowly dying Uncle Boonmee, his dead wife's ghost, his sister-in-law, and a lost son returned to corporeality in the form of a red-eyed monkey creature, dine together at his home, surrounded by the quiet jungle. Oddly, none seems especially interested in the hows and whys of their reunion. Later, a fairy-tale princess stoops to look at her reflection in a lake and ends up having passionate intercourse with a catfish. There's a still photo–based documentary interrogation of Thailand's militaristic past and present, a breathtakingly haunting cave expedition into the afterlife, a droll funeral, and a trip to a karaoke bar that may or may not have actually happened (scored by Penguin Villa's "Acrophobia," the year's best musical cue). That all of these disparate elements and potentialities can coexist comfortably within the bounds of one film—which is essentially about Boonmee's passage from one stage of life to the next—is the clearest exegesis of Apichatpong's particular brand of cinematic alchemy: in life, and cinema, it seems, anything is possible. —JR
3. Certified Copy
With Certified Copy, Abbas Kiarostami has devised the rare masterwork born from humility. Refracting the real-time romanticism of Before Sunset through a hall of winking mirrors, Kiarostami makes fakers of us all, himself included. In a small Tuscan village, a woman whose name we never learn (Juliette Binoche as "She") meets a man whose name we can't forget (opera star William Shimmel as "James"). She serves as his guide for the afternoon, and prompted by the "misunderstanding" of a local restaurant owner, the couple begins to act as though they've been married for fifteen years. It seems simple enough, but then there are chinks in the armor of their ruse, small moments of dislocation that compel viewers to distrust their own interpretations. Are they strangers or merely estranged? Are they a legitimate couple, or a convincing forgery of a well-worn human relationship? Kiarostami wouldn't presume to know the answer, but he's fascinated by the difference. Curiosity is his ultimate muse, and it's one he has no interest in satisfying. He'd rather play cartographer than detective, following his two bickering leads as they map the divide between originals and their copies, all roads leading into intersections. We ferret for clues as we watch Binoche and Shimmel go through the motions, the latter's relative acting inexperience underscoring the layers of performative behavior at work. Art and life are conflated into infinity, as people themselves are reinterpreted as copies (James refers to her child as a "Copie conforme"), and a parade of identical brides reveals our rituals as forgeries of a lost ideal, doing so without discounting their value. Eventually, the question of legitimacy is overwhelmed by the massive emotional wallop of whatever it is that we're watching, endless layers of mediation pierced by the sort of longing that can't ever be entirely fake if it feels this real. —DE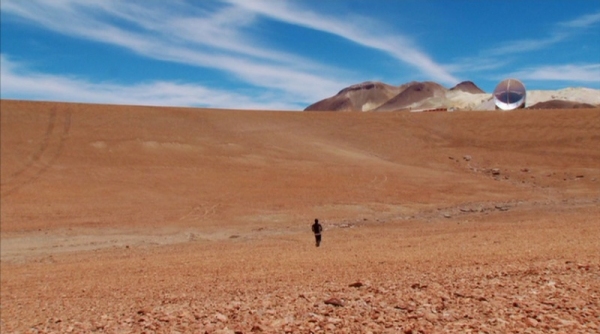 4. Nostalgia for the Light
Memory, Patricio Guzmán tells us in Nostalgia for the Light, has a gravitational force. It draws us in, whole-bodied. And in this exacting, elegant documentary, which carefully uncovers layers of the past like the sedimented sands of the Atacama Desert, an architect's feet measure and memorize the dimensions of his prison, astronomers turn the dials of massive telescopes, and elderly women sift rubble through their fingers, searching for traces of their lost loved ones. Here, near and distant pasts converge—in the rock carvings of pre-Columbian shepherds; in the views of heavenly bodies that explain the origin of our own, and in the earthbound ones of 19th-century Indian miners, marked by a spindly forest of graves; and, most secret of all, in the atrocities of the Pinochet regime, which scattered the bones of political prisoners across the sun-baked plain. The headiness of Guzmán's three-part The Battle of Chile, shot during the violent events of the 1973 coup d'état, is replaced here with graceful contemplation and cinematographer Katell Dijan's steady pans. The camera seems beset by its own kind of gravity, solemnly surveying the petrified remains of a prehistoric hand, or passing across a wall of weathered photographs depicting those who have, or have been, disappeared. But there is lightness too, seen in the soft wind that lifts a bough of shadowed leaves, the easy smiles of Guzmán's interviewees, and time-lapsed stars that arc over a purple sky. The film depicts memory as not just a collection of intersecting pasts but as an act, a process of remembrance that gathers together long-forgotten fragments. Still more: it makes these pieces, however inevitably incomplete, concretely and immediately present. Amid the glimmering dust that wafts through the film's open expanses, we, too, find ourselves here—quieted, attenuated, and given over to Guzmán's patient gaze. —GY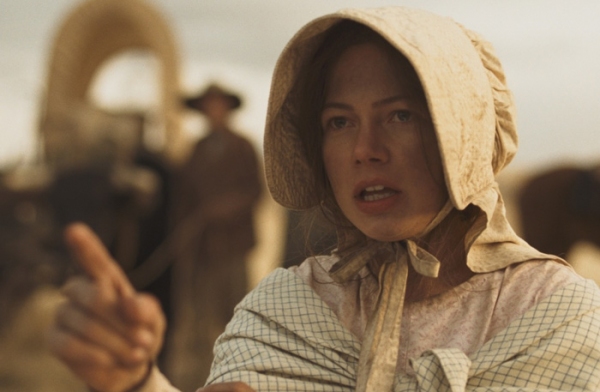 5. Meek's Cutoff
Geoffrey O'Brien once observed that the western had little use for the wilderness—it was "always in too much of a hurry to get back" to the camp, the fort, the town. Perhaps that's one reason why Kelly Reichardt resisted the label "western" for Meek's Cutoff. If the western is the myth America tells itself about how it was found, Reichardt's film depicts wandering as an almost permanent state—America impossibly lost. Master of the handmade road movie, Reichardt saw in the story of the Meek party—a company that was led into the Oregon wilderness by a blundering blowhard of a guide—a resonant metaphor for our own times. "This will all be a bad dream soon," says one character, echoing a whispered national refrain from our own recent desert odyssey. That bad dream is rendered in images that not only interrogate the pioneer's relationship with space—as the western has always done—but also brings time into the equation. It's a film that fixates on the painstaking processes of frontier life, filling in the ellipses that litter countless westerns. And yet it also masterfully uses its own ellipses, relaying information and feeling with just a few perfectly framed shots. In other words, it is a Kelly Reichardt movie. But there is also something new here. Diffidence is no longer the prevailing mood, the murmur no longer the prime mode of address. A stone-cold masterpiece, Meek's Cutoff represents a model evolutionary leap for an artist: the canvas is larger, the ambitions bigger, the movie recognizably and unmistakably the auteur's. —EV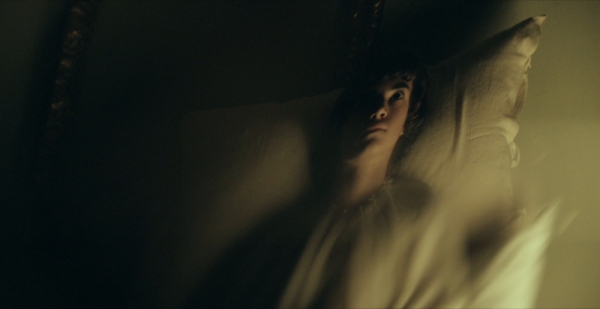 6. Mysteries of Lisbon
Because of its delirious scope and its epic scale, it might be tempting to think of Mysteries of Lisbon—released in the U.S. at the time of director Raúl Ruiz's unexpected death this summer—as the summation of a prolific career, an epitaph. But Lisbon, which begins as a movie about João, a young orphan at a boarding school, before hopping continents and opening up to chart a head-spinning series of double-crosses, lost loves, and transmuting identities, is too brimming with life to be a swan song. Ruiz's brilliantly complex and sprawling coming-of-age story has the vigor and pep of an hour-and-a-half lark from an energetic whippersnapper. Over 100 films into his career, Ruiz navigates this episodic four-and-a-half hour period drama, adapted from a nineteenth-century Portuguese novel by Camilo Castelo Branco, with dexterous grace (those sweeping camera movements and canted frames!), disarming self-consciousness (vignette after vignette introduced with a sly, "Let me tell you a story," voiceover, accompanied by a knowing smile), and a dose of low-brow humor (no stately costume drama, this: at least one plot point hinges on an ill-timed, identity-revealing belch). Mysteries of Lisbon inspires so much pure movie joy that it's hard to believe it's the product of an elder statesman of world cinema. Yet there can be no mistake about it: this is a masterful work of storytelling and of moviemaking, made by someone astoundingly adept at both but keenly aware that they aren't the same thing. — CW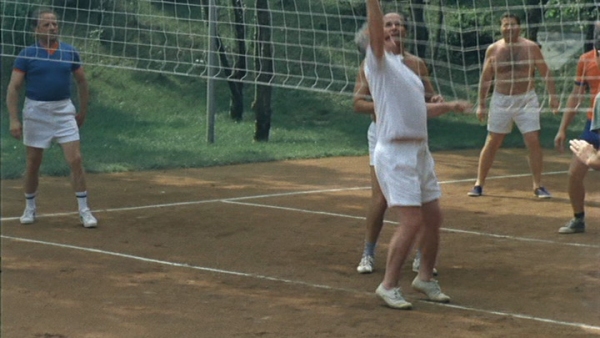 7. The Autobiography of Nicolae Ceauşescu
The Autobiography of Nicolae Ceauşescu is, among other things, a primal scene of the New Romanian Cinema. By reconstructing the life and political career of its eponymous despot, the film provides several decades' worth of context for the glut of critically acclaimed, award-winning features produced in the wreckage of Ceauşescu's totalitarian reign. The combination of worn-out deadpan and implicit despair informing films like Corneliu Poromboiu's 12:08 East of Bucharest and Cristi Puiu's The Death of Mr. Lazarescu—to name but two recent high-water marks—makes even more sense after Ujica's meticulously assembled portrait of a country in thrall to an absurdly overcalled martinet. What The Autobiography of Nicolae Ceauşescu proves is that its subject was no less susceptible to his own cult of personality than the Romanian people: why else would he have recorded his every waking moment during three decades on top? The "official archive" footage of Ceauşescu's lavishly appointed public appearances reveals a man reveling in his own exalted position, seemingly unburdened by any thoughts of consequence or comeuppance. There's a highlight-reel aspect to the film that leads to certain indelibly bizarre moments standing out—like Ceauşescu's visit to Pyonyang at the invitation of Kim Il-sung, who taught his son well in the art of mass spectacle—but this belies the subtle progression of Ujica's argument: that stranger-than-fiction comedy is a way of accessing a troubling political reality. The film, which runs three hours without voiceover narration, informative graphics, or talking heads, makes it clear that Ceauşescu's rise in the 1960s was less a case of a megalomaniac seizing power than a careerist stealthily filling a void, and that he did so at the behest of a citizenry eager to submit to such authority. The real shock is that it took so long for the man's elaborate, self-erected monuments to crumble. Like a great science-fiction movie, The Autobiography of Nicolae Ceauşescu is a mind-bender that occasions a contemplation of the desirous, disastrous nature of Utopian thinking: the all-too-familiar twist is that its surreal backdrop was Earth all along. —AN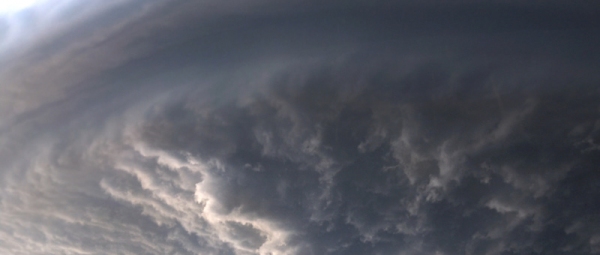 8. Take Shelter
The term "movie of the moment" is overused, for sure, but when a film so eloquently speaks to our here and now as Jeff Nichols's Take Shelter, one can't help but borrow the phrase. At its (very big) heart, this independent American masterwork is clearly about the everyday fallout from the ongoing economic crisis but is both emotionally intelligent and savvy enough to elide its own relevance, to filter its commentary through a gripping, narrative of psychosis. Forget the vanishing middle-class—Nichols's family, taking shelter from a host of terrifying internal and external forces in its small Ohio single-level home, is the already invisible working-class. Construction worker Curtis (Michael Shannon) and Samantha (Jessica Chastain), who sells homemade crafts for extra money, are scraping by with just enough for them and their nearly deaf daughter, Hannah, to survive. When Curtis's horrific nightmare world—depicted by Nichols as a series of vivid shocks to the system that, in their metaphorical and literal implications, are scarier than anything in a horror movie this year—begins to affect his workaday reality and the lives of his loved ones, the simultaneous breakdowns of a psyche and a family unit register with such intensity that it feels like the domestic drama has been reinvented. Holding it all together is Shannon, whose gut-wrenching performance (that church dinner scene!) is so profoundly internalized that every grimace and drop of sweat seems the expression of a soul in tumult. Movies often court seriousness by depicting bad behavior, but Nichols compels by dramatizing goodness in crisis: for Curtis it's the very human need to nurture and save that leads him to act in seemingly irrational ways. The film's galvanizing final shots express something far more profound, and emotionally difficult, about the tenuous coexistence of human nature (which aims to protect) and mother nature (which needs to destroy) than a million Melancholias ever could. —MK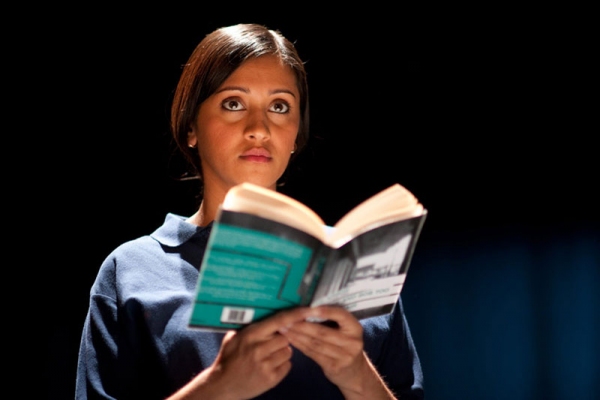 9. The Arbor
This has been a strong year not only for cinema in general but also for documentary in particular. This has especially been the case for the genre's more experimental, challenging, and even baffling hybrids. Amid the usual crop of character studies and TV-grade infotainments, a number of specimens, like Uruphong Raksasad's Agrarian Utopia, Matt Porterfield's Putty Hill, and Oliver Laxe's You All Are Captains, splice narrative, nonfiction, and avant-garde forms into provocative new cinematic species. But for sheer bravado, few can challenge Clio Barnard's fascinating, lacerating The Arbor. Tracing the troubled legacy of Yorkshire playwright Andrea Dunbar and Brafferton Arbor in Buttershaw council estate, Barnard deploys a host of documentary and dramatic devices to weave a knotty and expansive biographical and historical tapestry. These include skillful amalgamations of art and life, as when open-air performances of scenes from Dunbar plays like The Arbor and Rita, Sue, and Bob, Too in present-day Buttershaw contrast with the early-eighties archival images from old BBC profiles on Dunbar and the Arbor itself. But bolder still is her striking, uncanny suturing of image and sound: onscreen, we see actors in dreamy recreations of actual locations lip-synching to audio interviews with the film's actual subjects. Here, Barnard pits hearing and vision against each other to create variegated retellings of raw tales of cyclical poverty, violence, and dependency. Complexly heartbreaking, amusing, and discomfiting, the film routinely destabilizes any position of distanced, omniscient reportage, instead creating a kind of enclosure in which the spectator can sift through the often cluttered and contrary representational forms of testimony and hearsay, storytelling and gossip, drama and TV news. —LG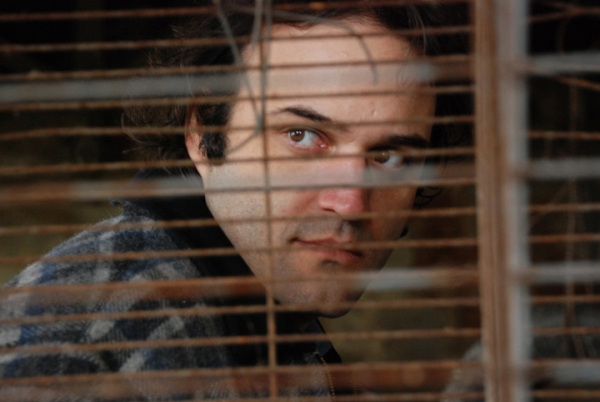 10. Historias extraordinarias
With gleeful, seeming effortlessness, new Argentinean director Mariano Llinás's ambitiously titled Historias extraordinarias (Extraordinary Stories) weaves together the disparate narratives of X, a government surveyor turned obsessive shut-in after his unexpected involvement in a murder; Z, an agricultural administrator snapped out of the mundane by the hint of his predecessor's complicity in international intrigue; and H, a fed-up engineer hired to sail down a river to catalogue evidence of an abandoned civil works project. To tell their tales, Llinás employs a wide variety of narrative devices: split screens, flashbacks-within-flashbacks, newspaper articles, montages of photographs discovered by his characters, and, its most striking element, a pervasive and often unreliable omniscient voiceover narration that runs nearly the length of the four-and-a-half-hour film. The result is one of the boldest and most surprising films in years, which blithely ignores the rules of the game and gamely pushes ever onwards through its massive length, buoyed by a combination of literary intellect, chutzpah, and beautifully childlike naiveté. It's rare enough to encounter a film that allows itself the time to meander, to indulge in illuminating wrong turns, false starts, and digressions, but Llinás's multilayered adventure seems built almost entirely of the stuff lesser narratives would ignore. The three storylines never converge into some ungainly conclusion; instead, the film's wild tales are united by dozens of echoed themes, as broad as love or loneliness or as specific as rural Argentinean architecture and environmental policy. Occasionally the stories meet for a fleeting moment, and the effect is electrifying, as though we've discovered a clue to unraveling some overarching mystery, itself comprised of its characters' many miniature mysteries. What's most astounding is that Llinás has squeezed so much of the human experience into what is ultimately a small amount of time. At once mercurial and accessible, inscrutable and amusing, his film might just as well have been called Extraordinary Storytelling. —FZ