The Unexpected
A Report from True/False Film Fest 2018
by Tayler Montague
At True/False, everyone is a star. It's one big democratic space, friendly to the industry vet or casual moviegoer. The film festival, now in its 15th year, specializes in documentaries but also works that operate at the intersection of documentary and other genres. The selected films all screen within blocks of each other in Columbia, Missouri, a city whose tagline is, fittingly, "What you unexpect." For a born-and-bred New Yorker like me with little first-hand knowledge of the Midwest, my visit encouraged me to take a step back and realize that not only was New York not the center of the universe, but that the film community I'd been dying to be part of could exist beyond the confines of the concentrated places in which these industries exist.
Founded by co-conspirators Paul Sturtz and David Wilson, the festival leaves pretension at the door in favor of conversation and immersion. At True/False, the act of being in the audience alone isn't held sacred. In many situations, I could watch a film and almost immediately after look to the left or right of me and engage in a fresh thought-provoking talk about mise-en-scène, cinematography, or subject matter. It's those conversations with my own co-conspirators (other critics, programmers, and Columbia natives who love film), trying to work through what we've seen, that make it so special.
One of my favorites of the festival, Leilah Weinraub's Shakedown documents the rise and fall of one of the only Black lesbian strip clubs in Los Angeles. Most of Weinraub's footage was shot in 2004, and features some present-day narration by the women involved with the club, mostly Egypt, a dancer. The contemporary footage is included less to provide an update than to add depth and clarity to the experiences of the women who worked there. This allows the film to operate as a time capsule. The strippers at Shakedown embody the video vixen aesthetic of the aughts: baby pink, clear lip gloss, body glitter, and thin eyebrows. As the girls prep for their performances, they spray Glow by J. Lo on one another (a moment so aughts that I could practically smell the citrusy scent of my mother's Glow and feel the excitement I felt when she bought me my own).
An attendee eventually hired as a videographer for the club, Weinraub is a member of the community she documents, which is essential to the beauty of the film. Shakedown doesn't rely on explaining cultural terminology (à la Paris Is Burning, which it has been compared to) or censoring Black lesbian displays of affection as a way of creating accessibility. The frequent nudity and ass-shaking isn't meant to be sensationalist or oversexualizing; rather it's a means of showcasing the dancing styles, energy, and physicality of Oohzee, Egypt, Jazmyne, Slow-Wine, and the women who throw singles in appreciation. The sound operates as a character in and of itself, with an original score by Tim Dewit that pulsates and adds texture to the women's crunk-inspired gyrating and slow-jam body rolling.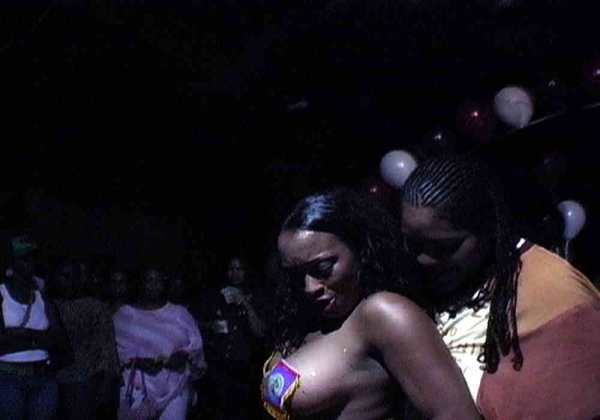 The Shakedown Angels' makeshift dressing room becomes the film's portal into their interior worlds. Jazmyne, the proclaimed Queen of Shakedown, shares that she read a review of her work on the Internet. The reviewer described her as the "wifey type" that you take home to Mom. "Damn! What kind of lap dances am I giving?!" causes laughter amongst the girls, who remind her it's a compliment, whether she likes it or not. Stripping is labor and the dancers take great care of their clientele. There's not much differentiation between themselves and the women they service. This is especially important, as being attentive to the needs of their clients is the source of their income. One of the dancers goes on to marry a clubgoer and they have the first "Shakedown baby," which illustrates that the space functions as both strip club and close-knit community.
Weinraub establishes early on that the Black queer gaze is what matters most. A voiceover—which I assume to be that of Ronnie Ron, Shakedown owner and MC—tells all the straight people that they cannot be in the front during a performance. This felt something like the film's thesis: that Weinraub is allowing you access to the club doesn't mean that the feelings of the non-Black non-queer viewer will suddenly be prioritized. This is a film that shows us what it means to document a group of "marginalized" people, without the exploitative point of view we typically see when outsiders seek out communities to shed a light on, as if they're doing them a favor in telling their stories.
As she becomes a character in her own movie, Weinraub is also engaging in a form of self-documentation. We see Leilah at one moment on the phone with Ronnie Ron discussing the club after a wave of police raids has put its future in jeopardy. Seeing the filmmaker in front of her camera allows us to understand who's in control of the images, breaking through a wall often built around subject and audience. She's in charge of writing both herself (as spectator and patron) and the Shakedown Angels into history, on their own terms. By the end of the film, despite the hope that the Angels will reassemble, the viewer is thankful to have shared in the legacy of a place and time long gone.
Black Mother (pictured at top), which had its world premiere at True/False, is an elevation of filmmaker Khalik Allah's storytelling form. As seen in his previous work, Field Niggas (2015), Khalik strategically trains his camera on the inhabitants of a specific place, people largely unseen unless one lives amongst them. In Field Niggas it was 125th and Lex, the hangout spot for K2 users. In Black Mother, we meet various characters who live in Jamaica, where the director's maternal family hails from. The transfixing close-ups of Jamaicans are evidence that the eye is the window to the soul, each dead-on stare into the lens heightening the personal and political histories overlaid on the soundtrack. This is a film in which the aural landscape is just as important as the visual imagery. Patois dominates the film, a choice I greatly admired: to tell the history of the people in their native tongue proved difficult for some, as evidenced by the Q&A, but what better way is there to tell it? Allah's work is rooted in authenticity, not translation.
Following the maternal theme, the film is broken into trimesters—one of the only structuring devices it employs, as the time frame is never fully made clear and the film isn't edited in sequence. Things are seen, disappear, and then seen again as if hoping we'll have a greater appreciation or different perception of them the second time around. The film moves quickly, back and forth. And while processing the juxtaposition of images and sounds, you are forced to challenge your perceptions. An elderly woman can look homeless and rundown in one frame and wise and regal later, establishing that such traits are not mutually exclusive.
The first trimester centers on the history of Jamaica, the second focuses on the women of the island, and the last finds Allah dealing with the death of a family patriarch. All of these voices converge, but they never feel convoluted. I remain in awe of Allah's personal commitment to tell this story, largely on his own, shooting, editing, and recording sound. Black Mother is part carefully considered art-house film, part fieldwork. The images on the screen operate as a form of collage. Weaving in and out of black-and-white, grainy 16mm film and crisp overhead digital shots of landscapes, the film adds textured layers to an environment already teeming with natural beauty. It's clear that we're experiencing Jamaica not as a tourist, but through familiar eyes. The film is incredibly personal, and like Weinraub, Khalik makes appearances in his film—mostly through voice, though I spotted him briefly by a body of water holding what could either be a Bible or a Bolex, the frame not lingering long enough for me to decipher.
After the screening, I spoke with a woman who critiqued the film for what she perceived as misogyny and the male gaze. There are lingering shots of sex workers in Jamaica, many of them young girls, looking into and then shyly looking away from the camera. One of the girls is unabashedly staring down the camera, unfazed by the assumptions the audience might have about her. She's later seen on a bed with a customer, who's smacking her ass. This interaction flits between fact and fiction, as we're unsure whether or not it's played up by the presence of cameras. It's inevitable that a film shot by a man would operate within the male gaze, and while there is some validity in the accusation of misogyny, it does the film and its viewers a disservice to not further unpack this. Meeting the filmmaker on his own terms can help us better understand Black Mother's point of view and can lead to a much more productive conversation about the underlying sources of the images we see.
Khalik is a Five Percenter, part of the Nation of Gods and Earths, a religion deeply associated with Hip Hop: Rakim, Big Daddy Kane, Jay-Z, and Wu-Tang Clan, to name a few. Within this religion, a major theme in the film, Black men are Gods and Black women are Earths. The images of naked Black women holding the fruit of the Earth in the film are signifiers of these beliefs, not just totems for objectification. Black Mother is not a piece of art that can be separated from the artist, as he's a figure present in every frame and historical reference on screen. Even when Allah isn't physically there, his spirit is felt throughout. Black Mother is the beginning of a brand of Black auteurism exhibited by Allah and his contemporaries, including but not limited to Kahlil Joseph, whose film Fly Paper (which features Allah's voice) is very much in conversation with Black Mother. I'm excited to see what he decides to fix his camera on next.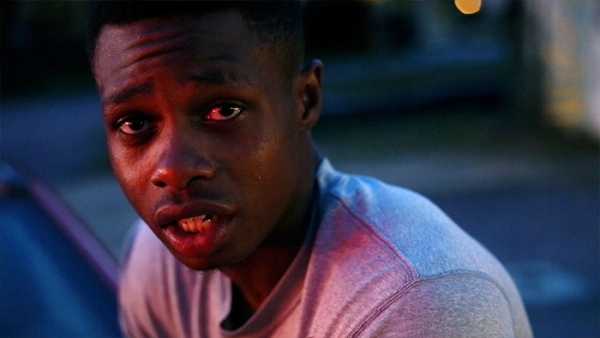 Many films at True/False employed nonlinear editing, as opposed to long takes, to get closer to their subjects. RaMell Ross's Hale County This Morning, This Evening benefits from liberating itself from the Western tradition of linear storytelling. Hale County finds its voice in a kind of Black art film tradition that tends to exist in galleries and institutions, or referenced in the work of Fred Moten. The film seems to be building upon a foundation laid down by Black filmmakers before him, calling to mind the work of the L.A. Rebellion. Ben Caldwell, a member of that group, once said, "I've noticed that a lot of subliminal images were threaded throughout films in the history of filmmaking, and all those things were to the demise of my culture. So I felt we had to work against that kind of symbology and we had to change the ritual. So that's why I ended up on that road of really seeing filmmaking as a way of emancipating the image." Emancipating the image feels like a goal in Hale County, which loosely follows the lives of Daniel Collins and Quincy Bryant, ballplayers who are simply living and striving and working.
In Ross's film, the mundane is beautiful: moving furniture into an apartment, slapboxing in parking lots, and playing in the lush greenery of Alabama. Each frame allows for some greater meaning. A long take of Kyrie, the young son of one of the film's protagonists, running back and forth can also read as a statement on how systems can entrap us and how you're stuck within the social and financial classes you're born into, especially within the Black American South. Daniel and Quincy are young men with aspirations beyond Hale County's city limits. Whether through rapping or hooping, they want to transcend the expectations of life there. Daniel's mother and Quincy both work at a catfish factory near town. Quincy's music and ball ambitions take a backseat to the responsibilities of raising his own children, Kyrie and Karmyn. The film refuses to present the situation as pitiful; it just is.
Most of the dazzling moments come from the way RaMell Ross captures men playing basketball. It's in the editing—match-cutting, allowing moments to linger—that the magic is created, employing art house techniques seen in films like Kahlil Joseph's Until the Quiet Comes and the work of Apitchapong Weerasethakul (credited as a consultant here). A celebratory dance after a scored point becomes poetic by being slowed down, allowing the viewer to revel in the few moments Daniel can break free from the world. Sweat hitting the pavement during practice transforms into big, full raindrops hitting the sidewalk, moving us seamlessly between two spaces.
Hale County shines brightest when the feelings of anguish or joy are made plain. It could be a long-form music video for Frankie Beverly and Maze's "Joy and Pain," a Black southern cookout staple. As a kid who had grass stains on her knees playing with my cousins in Middle of Nowhere, VA, I identified with the younger children onscreen; staring down acres of land, indulging in my own boredom-fueled curiosity, looking to make my own fun; the carelessness of childhood acting as a protective shield against the glass-half-empty distress felt by my elders. In one scene, we see only the silhouette of a woman as she discusses, hands raised toward the sky, that she's there to save the youth of Hale County from themselves and the senseless killings running rampant among them. In another, people seek salvation at the pulpit, crying, tired from the frustrations of day-to-day life, breaking down traumas and refueling on the hope and spiritual guidance necessary to see oneself through to a better day.
Ross employs onscreen text throughout the film, which can be used to demystify the images that follow. However, at one point during the film, we're confronted with a piece of archival footage. Bert Williams looks directly at us in blackface, which felt a bit contrived. I'm aware that the placement of that clip is meant to be unexpected, a tool to challenge the audience. The director noted that the scene is intended to remind us of the origins of Black representation in cinema. For me, a Black viewer, the moment felt unnecessary. But then it dawned on me: maybe I wasn't necessarily the audience for that particular scene.
Hale County This Morning, This Evening is political in that it's pushing up against the historically unjust depictions of Black Americans, but so have the works of Black filmmakers since Oscar Micheaux first picked up a camera. Yes, this is a film that humanizes its subjects (who are Black), and Ross lends a delicacy to the depiction of its setting. But if humanization is still the only marker of a successful positive depiction, then perhaps it's time we move the goalpost. Hale County does feel like a start, a film seeking to create a visual language for capturing the intricacies of Black (male) existence, and it does so through a careful curation of images.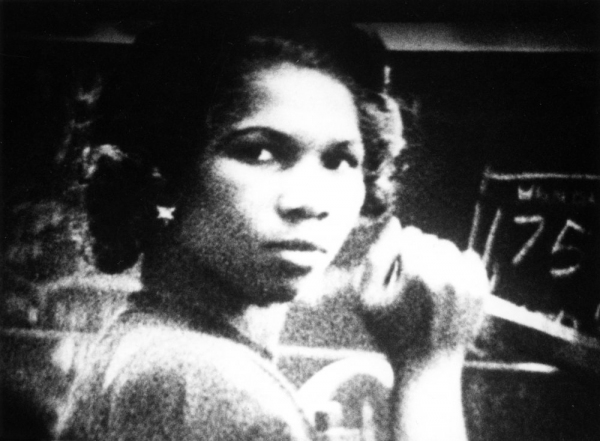 Being able to engage with the work of the Black Audio Film Collective, as part of curator and BAM Senior Programmer Ashley Clark's Neither/Nor section, helped me work through my thoughts on Ross's film and granted me space to think about the past, present and future of Black imagery onscreen. Founded in 1982, the Black Audio Film Collective were a group of artists who attended Portsmouth Polytechnic together and made work that centered on Blackness and criticized the insidiousness of colonialism and its aftereffects on Black and Brown Brits. Handsworth Songs (1986), directed by John Akomfrah, allowed me to trace the lineage of documentary as a tool of critique and reconciliation, much in the same way the form is used by contemporary films in the festival, such as Hale County and Black Mother.
Handsworth Songs focuses on the community of the title following a series of uprisings in response to police brutality. We see archival footage of the Windrush Generation in their Sunday best, overlooking the Atlantic with a glint of hope in their eyes about the possibility of a brighter future in England, intercut with images of the police in riot gear and footage of the neighborhood post-uprising. Handsworth plays on history, reminding us if don't know where we come from, we won't know where we're going. Instead of being nurtured in the bosom of their "Mother Country," Caribbean migrants are faced with a particular brand of marginalization reserved for immigrants, already victims of the colonialism set forth by the sovereign state they've decided to start a new life in. The film seeks to critique without being heavy-handed, an unusual triumph for subject matter of this kind.
The documentary highlights the perspectives of multiple communities in Handsworth. In on-the-street interviews, Black women recount the absurd number of Black men harassed in their own neighborhood. We hear the voice of Cynthia Jarrett's daughter recalling her mother's death after a police raid. They came into their apartment looking for her brother, who hadn't lived there for three years (which they'd known), causing her mother to have a heart attack. It also lets the evil speak for itself, as we watch Margaret Thatcher very matter-of-factly explain the importance of the preservation of Britain—a not-so-subtle white supremacist mindset that has not exactly been eradicated, fueling movements like the Alt-right and policies like Brexit.
The film simply shows the cause and effect of the 1985 Handsworth riots, leaving enough space for viewers to come to their own conclusions. It's meant to provoke conversation, and the way it's pieced together allows for that. I was drawn to the use of still images, suspended in the air one behind the other, gallery style, as the camera glides across them, a way of progressing the story forward as time sits still in the photos. The film feels prescient: it isn't that far removed from our current moment. This felt especially acute watching it in Missouri, where not too long ago Ferguson was exploding in real time for similar reasons. The film speaks to you, not at you.
Most inspiring is the BAFC's articulation of its own work. In the monograph written by Ashley Clark and edited by programmer Chris Boeckmann, the objectives of the group are published as follows:
1) to attempt to look critically at how racist ideas and images of black people are structured and presented as self-evident truths in the cinema; 2) to develop a "forum" for disseminating available film techniques within the independent tradition and to assess their pertinence for black cinema; 3) to encourage means of extending the boundaries of black film culture. This would mean attempting to demystify in our film practice the process of film production; it would also involve collapsing the distinction between "audience" and "producer."
Reading these objectives added breadth to the movies I had already seen at True/False, helping me place them in context both in and beyond the time in which they were made and reexamine the ways in which I engaged with them. This allowed me to experience the various stories from a place deep within the film, instead of on the periphery—a viewing strategy I'd long employed and failed to articulate properly until reading the objectives of the collective.
Documentary seems to be one of the few cinematic forms truly seeking to reconcile two things seemingly at odds—personal and interpersonal histories vs. the history of a place—and show how in the midst of the overlap of all those things there's an even bigger story. Blurring the lines of conventional storytelling and maybe even inserting a little bit of fiction helps us dig through and try to understand what is true. Filmmakers are actively pushing up against what it means to make a documentary at all, and the True/False Film Festival caters to and nurtures that objective. And I am especially thankful to True/False for exposing me to new possibilities for Black cinema—it's damn near unheard of for any festival to have programmed so many films by Black directors. At 15 years young, True/False is at the beginning of a long life of radical programming and facilitating provocative and important conversations for the industry and culture at large.