Lives in a Northern Town
Eric Hynes on Sheffield Doc/Fest 2015
For an American visitor, the depth of history in an English town like Sheffield can be daunting. Arriving by train you pass between rolling green hills bespeaking myths and Teletubbies, then wade into a modernized South Yorkshire village still stubbornly winding and sloped and blanketed in cobblestones. There's the Sheffield Cathedral, triumphantly rebuilt after incineration in the Second Barons' War; there's the legendarily beer-sticky Leadmill Club, home base for Pulp and Arctic Monkeys; there's the Skate Central Roller Disco, formerly the sixties-era Silver Blades ice rink, a stone's throw from a monument to the victims of the nineteenth-century cholera epidemic. All of these places hosted events of the Sheffield Doc/Fest, a six-day documentary convergence that takes place in early June. On the penultimate night of the festival, at a place more notorious than historic called The Plug, festival-weary filmmakers got lost in dance, college-aged volunteers grew increasingly horny and handsy, and, in the back, donors and arts council employees shout-kibitzed while queuing at the cash bar. The Sheffield anthem "Party Hard" by Pulp came to mind. Somewhere in the middle of the crowded dance floor was a tall, distinguished, middle-aged, French TV producer stock still amid the revelry. The longer he stood there, undisturbed from one danceable provocation to the next, the less he seemed like a sight-gag interloper than a monument to coexistence. A lot of intermingling goes on at Sheffield Doc/Fest, but rather than blending cultures, or subsuming them into an overarching Sheffield identity, the festival plays the genial, flexible host, able to entertain and maintain a variety of personalities and interests.
Settling on a proper size and scope for a film festival can take years. What started in 1994 as a two-day, modestly attended, parochially English affair has, in the decades following, tripled in length (it now stretches from Friday through Wednesday), welcomes more than ten times the number of visitors (over 3,000 badge holders and nearly 30,000 public attendees), and is now a tent-pole event on the international documentary industry calendar. In many ways the festival is still very UK-oriented, and specifically UK TV-oriented (BBC, Channel 4, etc.), since that's where a significant percentage of the money flowing into domestic docs, not to mention the festival itself, comes from, and where most films find their largest audience. But that domestic focus exists alongside a surfeit of visitors from Europe, America, and beyond, and a screening program of undeniable breadth and diversity.
As many would say over the course of the week, Sheffield is effectively two festivals in one: an industry sales and meet market, and a showcase for new films. The importance of the former isn't just evident around town, where hotel lobbies, student centers, and pubs became de facto pitch rooms—it's in the fest's DNA, established back in 1994. All 3,000-odd guests, regardless of their purpose or function, are still called "delegates," as if all were scheduled to speak on behalf of their peoples, and vote on the latest doc charter. Such terminology, and the percentage of visitors to which it applies, can make screenings feel like a break-time diversion from the wheeling and dealing, especially when business kicks into high gear on Monday and Tuesday. Yet there's enough care to the programming and presentation of films, and enough interest in watching and discussing them, to merit the notion that Sheffield has two vital missions, and furthermore that one might even sustain the other. (Even more impressive was that this proved to be the case during a year when the festival was led by an interim director, Mark Atkin, and curated by a first-year programmer, Claire Aguilar.)
Essential to its success is the fact that for a relatively modest-sized city, Sheffield has an excellent collection of movie theaters. There's the home base of Showroom Cinemas, which plays art-house films year-round on its four screens and serves a steady stream of clientele in its in-house café; there's an endearingly brutalist, slightly Soviet-looking branch of the Odeon chain; there's a brand new boutique outpost of the Curzon cinemas (a major player in the English art-house circuit); and there are fine repurposed spaces like the handsome art deco Library Theatre and the Majestic Oval Hall at Sheffield City Hall—all within five to ten minutes walk from one another. Meanwhile industry events and panels cannibalized spaces in the historic Town Hall, the metallic bra-looking HUBS complex at Sheffield Hallam University, and Hotel Novotel, whose swank lobby hosted big wig confabs by day, and, owing to its being one of the few operational bars in town after hours, a neckties-and-lanyards-askance drunken cattle call by night. The festival itself has been part of a grand re-conception of the erstwhile steel and mining town as a cultural capitol, which has also involved an explosion of performing arts institutions throughout the same dense downtown area.
As an American journalist visiting the festival for the first time, my knowledge of the English and European documentary industries was fledgling at best, and my understanding of the role that broadcasters play in the funding and worldwide distribution of films was similarly novice. But my Yankee cluelessness did work in my favor when I walked wide-eyed into a screening of Whicker's World: Conflict in Kentucky, which turned out to be a late-1960s episode of a long-running serial travelogue/news magazine show of which I was wholly ignorant. The occasion was the launch of a scholarship foundation named after BBC on-air correspondent Alan Whicker, while my takeaway was how can I set my eyes on more of these strangely inspired short films. In Conflict in Kentucky, the bespectacled, dryly overwrought Whicker whiplashes his audience overseas to the exotic land of the 1967 Kentucky Derby, where a seemingly straightforward, possibly condescending report on the famous horse race becomes a firsthand account of a largely forgotten chapter of the American Civil Rights movement. Whicker and his crew become (or may have intended to be all along) perfectly positioned eyewitnesses as organized protests against racist real-estate practices draw violent reactions, mass arrests, appearances by Cassius Clay, Martin Luther King, Colonel Sanders, and the cancellation of the annual parade. Whicker's inability to blend in actually turns him into a rather honest on-screen presence, while the curiosity of the camera—whether it's inspecting dubious parade float signage or tracking unbroken down a city block's line of protesting clergy—reveals a deep commitment to understanding a culture in flux and transition. I can't imagine when I'd ever have encountered such a thing outside of this screening; it suggested there could be libraries of seemingly banal TV dispatches that are ripe for rediscovery.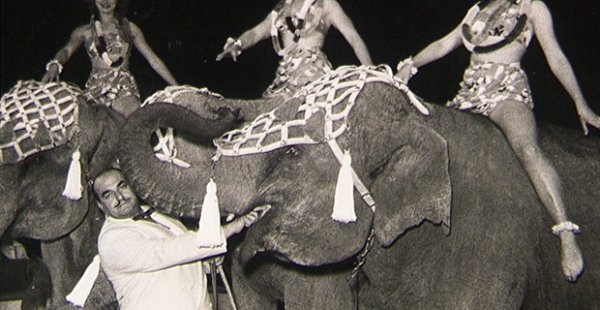 But that was just the first of many archival revelations at Sheffield. On opening night, The Greatest Shows on Earth . . . A Century of Funfairs, Circuses, and Carnivals proved accessible without going down too easy, despite its coffee-table-book title. Commissioned in part by the festival itself, Benedikt Erlingsson's film was created thanks to access to the University of Sheffield's singular National Fairground Archive, which clearly offered a mass of carnivalesque footage from around the UK, Europe, and North America. Spanning the silent era up through at least the 1970s, Erlingsson's film follows a schematic narrative structure, gathering and presenting footage thematically—from prep work and burlesque routines through lion taming, trapeze work, clowning, etc.—as if they were acts in a collective circus. While this risks becoming a wearying, collating of in-kind footage, a sense of drama comes from an unabashedly beautiful score by Georg Holm and Orri Pall Dyrason of Sigur Rós. While Erlingsson's gathering of dubious animal routines seems to cast judgment on the past—implicating both participants and ticket buyers—the romantic strings and reverent choral movements on the soundtrack serve as empathetic counterpoint, imbuing it with a poignant sense of loss. The people, the animals, that way of life—it's all gone now.
Also long gone are the people and worlds presented in Michael Nyman's War Work: 8 Songs with Film and Bill Morrison's Beyond Zero: 1914-1918, two films entirely comprised of WWI–era imagery, and similarly elevated by ambitious soundscapes. Nyman, the celebrated composer of scores for The Piano, Man on Wire, and several Peter Greenaway films, among many others, has recently waded into filmmaking in a fashion befitting his facility for rhythm, repetition, and composition. As the title suggests, the film's visual component is organized around eight themes, which are matched with eight era-appropriate poems orated by singer Hilary Summers (both of which were performed live at the festival), all of it collected from pre-existing sources. Working with editor Max Pugh, Nyman mostly dwells on activity surrounding conflict—training exercises and preparatory movements, material demos, soldiers' downtime, and hospital tours. The opening scene, in which a plastic surgeon proudly demonstrates his work by fitting a molded mask onto a man without a face, is one of the most devastating things I've ever watched. The patient has clearly never been filmed before—who in 1915 would have been?—and he seems frozen between humiliation and pride, an impulse to hide from the lens and look directly into it. It's an extreme, extremely early manifestation of one of the modern era's central dilemmas: does this machine elevate or degrade?
Morrison's film is just as mournful yet even more abstract, owing to both an aesthetic strategy and aesthetic necessity. The source material was entirely 35mm nitrate film, much of it barely legible, all of it rapturously damaged. You can just about discern a line-up of men, an awkward tank bullying its way across the landscape, or uniformed bodies in pursuit and retreat, before the scratches and tears and bubbled distortions vanish it away again. You're actively sifting through this feeble, damaged materiality for evidence of life now chronologically beyond memory, experiencing both gratitude and frustration for the experience. Meanwhile the Kronos Quartet's playing of Aleksandra Vrebalov's score provides a conspicuous foundation, offering continuity among the reels but little in the way of melodic comfort. Music was no less crucial to The Stuart Hall Project (2013), which screened as part of a sidebar retrospective of films by the English radical essayist John Akomfrah. An unapologetically heady archival pastiche on the life and mind of the hugely influential cultural theorist and public intellectual Stuart Hall, the film uses musical selections by Hall favorite Miles Davis as a structuring device as well as a thematic one. Songs are matched to developments in Hall's thinking, but in turn Akomfrah edits in answer to, and at the pace of the music—form and subject are in continuous, committed dialogue.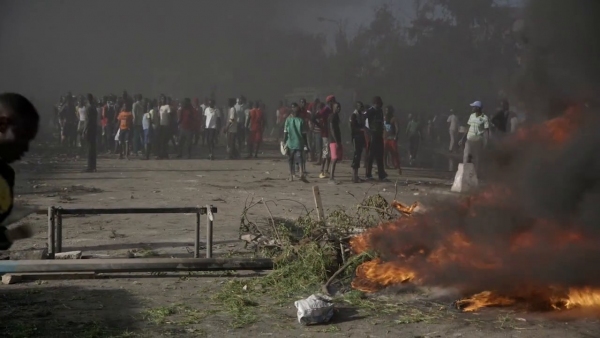 Such complex interplay between sound and picture is far from the norm in contemporary documentary. In many ways, E. Chai Vasarhelyi's Incorruptible is an impressive document of the 2012 Senegal presidential election, in which increasingly corrupt third term incumbent Abdoulaye Wade was finally toppled by Macky Sall, a former Wade ally whose triumph was aided by a rising student movement. Vasarhelyi's access is astounding, toggling from front-row audiences with each candidate to frontline accounts of the government's violent crackdowns on peaceful protests. But rather than rely on a crafted narrative, comprised of quite legible footage, to convey the moral of the story, Vasarhelyi leans on the horn by supporting footage of the protestors with a rousing, Senegalese-pop-blasted score . . . which drops away when we cut back to Wade or one of his collaborators—the serious-minded doc equivalent of a movie trailer record scratch. My guess is that her impulse wasn't to push a particularly Sallian agenda but to support a larger notion of collective opposition; in practice, however, the tactic transforms a potentially vital political film into a gratingly propagandistic one. Far more restrained, and necessarily less optimistic, was Michael McEvoy and Saeed Taji Farouky's Tell Spring Not to Come This Year, an embedded account of the embattled Afghan National Army during its first year of fighting without NATO support. While its portraits of a handful of young fighters aren't the most detailed or distinguishable, the larger canvas of enlisted life on the front—marked by insufficient supplies, perpetually delayed wages, dilemmas of conscience, sanity and patience, not to mention a steady barrage of incoming artillery fire—presents a powerfully grim picture of the ongoing struggle we left behind.
While I found far more hits than misses in the program—highlights included Michael Madsen's The Visit, which I was able to write about elsewhere—it was a few days into the festival before I fell in love with a film, an experience that always helps a hardened festival traveler remember what he's been chasing. (As the Pulp laureate sang in "Party Hard," "Entertainment can sometimes be hard when the thing that you love is the same thing that's holding you down.") The beloved was Nino Kirtadze's Don't Breathe, an absurdist nonfiction Georgian fable about a hypochondriac named Levan and his hyperactive, hovering partner, Irma, driven mad with concern over Levan's seemingly minor shoulder pain. An evident collaboration between filmmaker, subjects, and a community of unforgettable peripheral characters, Don't Breathe works riotously well as a comedy without ever stooping to mockery or condescension. Imagine The Death of Mr. Lazarescu except with a fully conscious hero, a league of well-intentioned and even semi-helpful medical professionals, and a license to really laugh. In the process, Kirtadze shows a society toggling between traditional and modern methodology, individualism and communalism, unrest and acceptance—but never at her characters' expense, and never in lieu of a well-wrought, well-photographed scene.
Instead of leaving us with a familiar takeaway that yes, we're all fucked by systems in the end—be they societal, biological, bureaucratic, or, speaking to the frustrated hearts of industry folk in attendance, economic—the film instead forwards the possibility of progression and regeneration, or at least endurance. There are worse things than living to gripe another day. Much as there are worse things than blinking away the dark of the cinema to see what else a spring evening in Sheffield might have to offer. After all, as the song continues, and as applies here and elsewhere, this night and the next, temporally and mortally: "If you didn't come to party, then why did you come here?"