Many of Reverse Shot's staff writers and contributors come from and reside in locations all over the U.S. and beyond. Escape from New York is a column devoted to reminding us Manhattan-and-Brooklyn-centric moviegoers that we are not the world when it comes to cinephila.
Iranian Cinephilia: Between Real and Surreal
by Azadeh Jafari and Vahid Mortazavi
If being a cinephile—watching, thinking, talking, and writing about cinema—is at once a social and solitary activity, how could one begin to describe the paradoxical situation of an Iranian cinephile? In Tehran, you might get a DVD of the latest Béla Tarr or Tsai Ming-liang film from a peddler on the city's most crowded street, knowing you would never get a chance to watch it at an "official" screening. Of course, in the age of the Internet, we have different notions of what access means, but film peddlers' continued role in Iranian cinephilia after more than a decade says a lot about the nature of this country's unique cinephilia. We're talking about a country in which any official film screening, even in a small cinematheque, requires permission by a governmental body; this means you should forget about not only watching a violent, sexually explicit Lars von Trier film on the big screen but also a Spielberg movie (too American). We're also talking about a country in which you would find more than a few hardcore cinephiles ready to talk passionately about Philippe Grandrieux or Lav Diaz, names rarely mentioned even in Chicago or New York. And we're talking about cinephilia in the capital of a country known for its strict regime, political instability, and the limitations put on its artists. This cinephilia mirrors the city itself: bizarre but common, scarce but abundant, disconnected but at the same time strongly attached to the world—a life that seems to oscillate between real and surreal.
There's a long story to how and why this two-sided cinephilia has formed. Since the Islamic revolution in 1979, very few foreign movies are screened in theaters, and whatever is shown on national TV—the only TV in Iran—is severely censored. But despite all restrictions, Iranian film buffs have for years used many different sources, even in the pre-download age, to watch the movies they want. Walking the streets of Tehran, one encounters various peddlers selling the latest movies from all around the world. You can find them at the entrance of shopping malls, restaurants, and subways, and they will offer you various cheap DVDs with decent-looking covers and Persian-English subtitles—anything from the latest Fast and Furious to Dardenne brothers title. If you are a more serious film lover, you can hire someone to deliver desired DVDs to your home every week. They are "movie couriers," carrying black suitcases full of films. Thanks to these secret agents—who were quite active even in the VHS years—Iranian film culture has remained as lively, colorful, and passionate as it was in prerevolutionary years.
But revolutions change almost everything, splitting cultures in two. Iranian film culture is no exception. Before the revolution, many American and some famous European movies were screened in theaters right after their international releases—and there were six years of first-class Tehran Film Festival screenings between 1972 and 1977, sometimes attended by major figures, such as Antonioni. Moreover, our national TV had fascinating movie selections during weekends and holidays—thus all Iranians were able to watch John Ford westerns, James Bond adventures, or Elizabeth Taylor vehicles. All of these were meticulously dubbed and reinterpreted (with added Iranian slang and jokes) to be more accessible to Iranian audiences. Usually the same person dubbed all the roles of a particularly famous actor, so these actors gradually attained their own specific voice, manner, and persona for Iranian film watchers. Some of them, like John Wayne and Jerry Lewis, became cinematic icons reflecting Iranian's social psychological ideal: Wayne via his masculinity, Lewis his naïve outsiderness. Others, such as Alain Delon, became sex symbols. Delon's figure is still inseparable from his softly masculine, dubbed voice for older generations and for some born after the revolution who grew up watching his movies on videotape with their parents.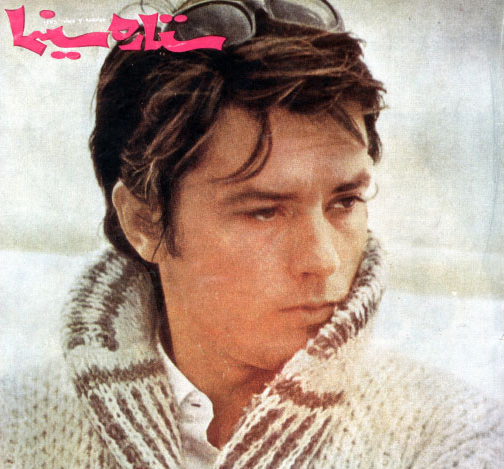 Iranians have long had a strong attachment to American cinema. Starting with the first Iranian film magazine in 1930, photos of American movie stars were published in magazines and newspapers, accompanied by gossip and news about their secret life. The writings in these publications—which only considered the story, plot, and actor or director's background—were banal, superficial, and without any critical edge before the mid-1950s. It was then that a group of Iranian critics, most of whom studied in Europe, founded the Society of Film Critics and Writers (the first group of its kind in the nation) and began translating articles from western writers, with an eye to reshaping the discussion around Iranian cinema. In the next two decades, pieces from Cahiers du cinéma and Sight and Sound were regularly translated into Persian, while at the same time Iranian film critics, now under the influence of western criticism, tried to find their own voices. Kiomars Vojdani and Parviz Davaei were two of the most famous critics of this period, and they would influence the next two generations of Iranian film writers, regardless of the fact that both stopped writing after the revolution, mostly for personal reasons. Another famous critic, Shamim Bahar, who wrote in a style influenced by Pauline Kael, harshly attacked some highly regarded films from home and abroad, including Bonnie and Clyde and Forough Farrokhzad's critically adored The House Is Black. After the revolution, Bahar also disappeared from film criticism, but his acolytes, inspired by his approach, remain.
During the 1979 Islamic revolution many movie theaters were shut down or burned by extremists, and, in the years immediately following, absolutely no foreign films were publicly screened. Television was turned into an ideological weapon in the hands of the new regime and stopped showing American movies or European ones that were deemed opposed to revolutionary values. So at this time a huge gap started to develop between Iranian's cinephilia and world cinema. But love for movies had been deeply rooted in the psyches of many Iranians—and once you experience the joy of cinema, nothing can stop you from pursuing it. So Iranians began to watch "forbidden movies" on worn, trafficked videotapes circulated from person to person. Since imported VHS tapes did not have any dubbing or subtitles, they were incomprehensible for many people. So only dedicated movie lovers truly followed world cinema during those years, many even trying to learn English to understand them better. Cinephiles started to form secret movie nights where they could watch and discuss movies. Film clubs were established inside universities, organizations that would develop and widen their archives over the years. Such student film clubs are still an important part of Iranian cinephilia, offering young movie lovers a space in which they can enjoy and discuss movies seriously.
Slowly, TV channels began to run older movies from Russia, Eastern Europe, and Japan. During the 1990s, the very popular and influential TV show called The Seventh Art showed and featured discussions of works by great directors such as Andrei Tarkovsky, Federico Fellini, Werner Herzog, and Akira Kurosawa, and selections by Italian neorealists. The screening of serious, art-house movies on television had varying effects on different viewers: it helped a new generation discover cinema via masterpieces at a very young age, but for others these mostly black-and-white movies were considered austere, tedious, and joyless, which created an even larger split between serious cinephiles and more casual movie-watchers.
We both remember, as a teenager, first reading about movies in FILM Monthly (Mahnamey Film)—the important and serious film journal established four years after the revolution—which made us very eager to watch and then try to find the movies under discussion. But searching for those movies—especially European ones—proved a difficult mission for a teenager without access to any archives. This unsatisfied desire expanded our imaginations and elevated the movies in our minds, turned them into something magical, extraordinary, and unapproachable. We believe our current cinephilia grew out of these sentiments: longing for cinema, not being able to watch films on a big screen, always feeling disconnected and isolated from the world. These feelings forced us to always crave more and to grasp any opportunity to watch a film, especially in a movie theater. Tehran's annual Fajr Film Festival was and still is one of the few places where we are able to watch foreign movies on a big screen with acceptable quality, even if they are censored.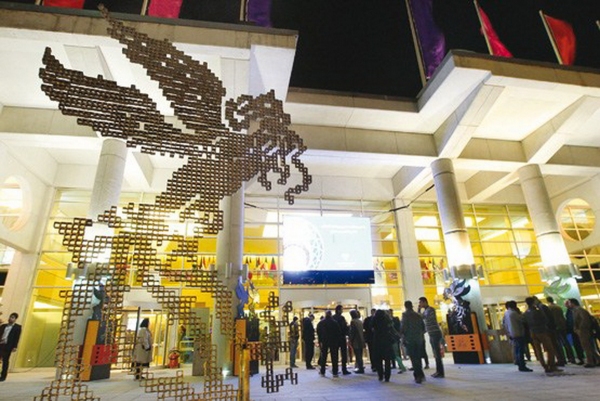 *****
FILM Monthly has long played an invaluable role in keeping passion alive for cinephiles in post-revolution Iran. The magazine was established in 1982 by three young critics and journalists who grew up amidst the changing atmosphere of the late sixties and seventies. Publishing a film magazine at that time was risky, because each individual issue had to receive official government permission before publication and there existed a great deal of hatred and suspicion toward movies among the fundamentalists governing the country. The publishing situation improved over the years, and now magazines only need official permission for their first issue. The main problem of all post-revolutionary Iranian film magazines is related to the process of selecting the films they are allowed to feature. (Writing about certain, sexually explicit movies, such as Stranger by the Lake or Nymphomaniac, can provoke the authorities to close the magazine.) The real paradox was (and still is) that officially you can publish articles about many films but you can't officially watch them!
Through the 1980s, FILM Monthly was the only major source for any eager cinephile to read about cinema. Its main focus was Iranian films, which got most of the coverage and incited the most debates. Bahram Beyzaie, a favorite director of FILM Monthly reviewers, whose films are rarely seen outside of Iran, was a common focus. And Abbas Kiarostami always had his supporters and detractors: just before the national release of Where Is the Friend's House? (1987), FILM Monthly published a monograph about him by one of its best film critics, Iraj Karimi. There persists a rumor that director Amir Naderi left Iran for the U.S. because of the very harsh attacks by FILM Monthly's reviewers on his wonderful 1985 movie The Runner (Davandeh). FILM Monthly also extensively covered contemporary American and European cinema, from Scorsese to Tarkovsky. In this decade, writings by some important western critics were translated into Persian—Robin Wood, Victor Perkins, Pauline Kael, Andrew Sarris, and Raymond Durgnat (but nothing from Manny Faber or Stanley Kauffmann). It should also be emphasized that translation has always played an essential role in building Iranian cinephilia after 1960s.
During the 1990s, accessing foreign movies became easier, which improved the situation for cinephiles. After the long, sad war with Iraq, the economic situation recovered and the new government reformed some of its policies toward the west, opening the borders so that upper and middle class Iranians could travel and be in closer contact with the world. The number of film magazines increased, and FILM Monthly was met with rival film journals of various tastes and points of view; meanwhile a new generation of reviewers at FILM Monthly showed different perspectives and approaches, even with the same editorial board. One of the most vital moments in Iranian film criticism occurred when this new generation passionately celebrated the decennial of The Runner and apologized for magazine's previous attacks on Naderi. FILM Monthly also enthusiastically received Kiarostami's Through the Olive Trees (1994), while other journals harshly reviewed it as an exotic "Western festival type-film." At this time, names like Jim Jarmusch, Hal Hartley, Lars von Trier, and David Lynch started to become heard among Iranian cinephiles and celebrated extensively in FILM Monthly. However, due to the lack of access, Iranians completely missed some important figures of that era, including Hou Hsiao-hsien, Edward Yang, and others. In terms of translated writings, new names appeared: David Bordwell's books and articles started to be translated, and a few young critics even tried to practice his formalist approach to film analysis.
In the new millennium, the emergence of DVDs have made it easier to copy, add subtitles, and distribute movies, turning film distribution into a business and an organized crime. Many Iranians began to watch foreign movies again, thanks to Persian subtitles, which has restored their faith in Hollywood. American TV series (Sopranos, Lost, Mad Men) have arrived in many homes, which is considered a threat to Iran's government, which views television as a cultural weapon. Actually, our national television has been gradually losing its audience, and accordingly its influence on the populace, partly due to the widespread availability of more popular American movies and series. So Iranian television executives decided to show dubbed, censored versions of American films to win back audiences. This time dubbed dialogue was not only modified to attract more people but sometimes completely changed to protect the cultural values of the regime. The movies on TV are distorted, censored, and dramatically changed—but still everyone, even in the most remote areas, was able to watch a short version of Breaking Bad broadcasted last Norouz (Persian New Year).
In more recent years, Iran's cinephile community has undergone enormous changes thanks to the Internet and download sites. A generation has emerged that wants to make close connections with the outside world by revisiting unseen parts of film history and committedly following contemporary cinema; at the same time this tendency is forming a huge gap between them and older generations. Critics like Jonathan Rosenbaum (who has been known and translated since the nineties), Kent Jones, and Adrian Martin have grown influential, and journals like Cinema Scope, Cahiers du cinéma and Reverse Shot have become tastemakers in some cinephilic circles. The emergence two years ago of Filmkahneh magazine, which publishes new Iranian film writers along with translations of contemporary English and French writings, can be read as a sign of such change. Some months ago, Filmkahneh published a special issue on contemporary world cinema, giving considerable attention to Hou Hsiao-hsien, Pedro Costa, and Lucrecia Martel for the first time in Iran. Meanwhile, online social media has accelerated these changes. Facebook, for example, is popular among Iranians (though it is filtered here), and many cinephiles and critics write their short movie reviews as status updates.
However, along with this climatic shift, new problems and conflicts arise. Even after fifty years, Iranian film criticism is still a self-starting passion without any strong tradition or state support. Writing about movies, even in famous magazines, is deemed a hobby rather than a real career with financial prospects, which prevents writers from being able to seriously devote themselves to it. It feels as though each Iranian critic works on a separate island, without any real connection to her or his colleagues. The gap between the new and old generations intensifies the insularty of the situation. And it's crucial to note that nothing important by an Iranian critic has yet been translated in an international journal, which would help reveal the Iranian perspective on those Iranian movies shown around the world. (Mehrnaz Saeed-Vafa's collaboration with Jonathan Rosenbaum on a book about Abbas Kiarostami is an exception, but she is a scholar in the U.S.). The limitations of the last thirty years have made Iranian cinephilia more passionate and immediate, and the new age is proposing alternative ways for Iranian cinephilia to build its own reality. But it will take more time to see what impact these changes will truly have on Iranian film criticism.