A Wider Expanse:
Christina Newland on the 10th Costa Rican International Film Festival
They drizzle a fine layer of hot caramel on their popcorn at the concession of the Cine Magaly, producing such an overpowering sweet scent in the lobby that you'd be forgiven for thinking it was a pristine confectionery shop rather than San José's oldest running art-house cinema. There would have been older ones—if they were still open—but the past few years have been tough on the Costa Rican economy, and as always, that's had a rippling effect on its culture. Cine Magaly is one of the main hubs for CRFIC10, the Costa Rican International Film Festival, now in its tenth year, and its pleasurable fragrance became familiar to me this June, when I was welcomed as one-third of the jury for Central American and Caribbean Feature Competition. I never had so much as a handful of that popcorn, but the smell of it—its vaporous memory—keeps returning to me when I think of my time there.
I arrive bedraggled and curious, after what turns out to be a marathon 36-hour flight path from London. From a taxi window, my first impressions: Costa Rica is just as Jurassic-level verdant as everyone says, beautiful and also pockmarked by deep poverty, with its razor-wired roofs and tin-sided shacks, conjoined with a mess of satellite dishes stacked on top like a pile of wobbly plates in a sink. It is wet, lively, and a little bit overwhelming in comparison to the orderly agrarian and suburban pockets of the English countryside I'm used to. As the capital, San José, appears in sight, cloistered on all sides by mountain and volcano (Costa Rica has 60-odd of them, a handful of which are active) it almost seems to be half-eaten by nature, constantly at threat of being devoured by the teeming forests and vertiginous heights surrounding it. In the eleven days to come, I will fall hard for this place, its people, its gallo pinto and fresh pineapple, and its rough, unpredictable charm. Oh, and all that vividness before we get to the movies.
Since 2010, CRFIC has premiered fiction and documentary features with a particular focus on Central American and homegrown talent. The films have often gone on to show in Toronto, Berlin, Cannes, Rotterdam, Mar del Plata, and Guadalajara, among other major festivals. For our jury, the task was to award three out of eleven films with much-needed cash prizes. Of that selection, the range of coproductions and genres were pretty staggering: from enigmatic Guatemalan domestic drama Roza to the powerful Haitian-Dominican period film Perejil, a striking and disturbing fictionalization of the "Parsley" genocide of Haitian people in 1937. In terms of the Costa Rican selection, there was the dislocated meditation on the haughtiness of religious thinking in Nicolas Pachecho's The Passion of Nella Barrantes, as well as Nathalie Álvarez Mesén's critical and festival success Clara Sola (2021), which was shown at the Director's Fortnight in Cannes as well as in Competition at CRFIC10. Clara Sola centers on a disabled middle-aged woman who is repressed and strictly controlled by her hyper-religious mother, embarking on a sexual awakening with destructive—and liberating—consequences.
I actively learned from what I saw at CRFIC: words, sensations, geographies, lost histories. And I learned even more from CRFIC's artistic director, Fernando Chaves Espinach, a curator with a strong sense of where the fest has been and where it is headed. "Over the 20th century, I think it was about 15 or fewer feature films that had been made in Costa Rica, and many of them were amateur or really small. In the '90s, no feature films were made at all. Then, with the rise of low-cost digital technology, it started changing. But the real turn of the tide came when Paz Fabrega had her film, Agua fría de mar (Cold Water of the Sea, 2010), and after that it became possible for filmmakers to start thinking about their films actually being shown in international festivals. You could actually have a career."
A little more than a decade later, that momentum is self-evident. You can see it in the liveliness of the films, the chatty, excited demeanor of the festival's workshops and sense of conspiratorial community at the mixers. On my first night, I met Sofía Quirós Ubeda, who made film history when she became the first-ever Costa Rican director to show her feature at Cannes Directors' Fortnight in 2019. She was 30. Her film, Ceniza Negra, a lyrical, sinuous story of grief and incipient womanhood, stars a young, orphaned Afro-Caribbean girl (Smashleen Gutiérrez) living in the working-class coastal Limon region with her grandfather and his wayward mate. A look both at the rural Afro-Caribbean communities of the area and a commentary that intertwines Quirós's personal life with the struggles of families who must often send away one or both parents in search of work in far-flung locations, it's a truly lovely film.
Felipe Zúñiga's debut film is similarly concerned with the landscapes and natural world of his home nation. (I digress: Costa Rican cinema's self-conscious love for its own immense natural beauty is notable, but how couldn't any filmmaker find love there? It's a nation roughly the size of West Virginia, with more biodiversity than the rest of North America combined.) Zúñiga's film, La Picada, is the story of an eccentric older woman who lives a solitary life in the company of her farm animals and her loyal little dog, seemingly unfazed by the active volcano that has, of late, been belching ash and flame down on the countryside around her, making local authorities fear for her life and eventually look to force her to relocate. In spite of her estranged teenage son's attempts, she will not leave. It's atmospheric and beautifully rendered, with volcanic spittle floating through shafts of light and the lined, unmoving face of its lead actress.
Charlie López's film Los Nadadores (The Swimmers) is a memorable gem from the CRFIC shorts selection, riffing on the various connotations of the swimming pool in public and artistic memory. The film has flow, sensuality, and melancholy packed into its short run-time. Filmed by DP Sebastián Garro with a lissome style that could pass for carelessness—were it not so carefully orchestrated—the film is convincingly tactile, its aesthetic making digital look startlingly like 16mm. The film borrows from the visual vernacular of Ed Ruscha and Frank Perry's The Swimmer, but with a distinctive sense of time and place.
Another specifically Costa Rican element of the film industry is simply the youthfulness of its players: many are still making their thesis films, plenty are under 40, and still more are women. Chaves explains, "In the past seven years, many people who studied—either here or at film schools in Cuba, Argentina, the UK, or France—finished school and wanted to come back and make a film in Costa Rica. But on average, it takes five years for a feature to get made in Latin America." Sixty-nine percent of the films shown at CRFIC this year were also directed by women. "We are proud to present a program that is diverse in gender and geographical origin," Chaves says. "Which shows that cinema has never been monolithic in its language or in its origin."
Our jury awarded the top prize of the fest to female filmmaking duo Ana Endara and Pilar Moreno's masterful hybrid documentary Para su tranquilidad, haga su propio museo [For Your Peace of Mind, Make Your Own Museum]. With subtle, elegant authenticity, it examines the recent loss of elderly Panamanian artist Senobia Cerrud, interviewing a series of the other older women who knew and loved her. They are filmed sitting in the same chair in the same modest kitchen, wearing a printed dress that gives them a visual uniformity that playfully contrasts their own wildly different personalities and mannerisms. Around the life and work of Cerrud, the film builds a truly beautiful and often funny portrait of women's lives in old age, giving spontaneity and a room for the film—and its occupants—to pause, breathe, and ruminate. It serves as a manifesto for the dignity and spirit of elderly women.
Even outside the confines of the festival itself, the experimental, often feminist nature of the work being made in Costa Rica also stands in stark contrast to the more male-dominated environment of other Latin American cinema. Many of the women making films here are focused on girlhood, coming of age, and the experience of womanhood in general. Alexandra Latishev Salazar's Medea (2017) is a story of unwanted pregnancy in a nation where abortion is illegal. Meanwhile, another thirtysomething Costa Rican woman, Valentina Maurel, premiered her debut, concerning a girl's turbulent adolescence, titled I Have Electric Dreams (Tengo sueños eléctricos), in competition at this year's Locarno Film Festival, and won three prizes: best director, actor, and actress—the first time a Central American film has won all three.
CRFIC programmer Cristóbal Serra Serra Jorquera says there are eyeballs on ones-to-watch in development, too. "Natalia Solórzano's documentary in development is about the first Costa Rican astronaut to ever go to space. And keep an eye out for Federico Montero's film, produced by Alexander Latishev Salazar, called Los Hombres morimos antes [Men Die Sooner]."
Despite this small but flourishing film scene, the overall industry is dealing with a number of challenges post-pandemic. The economic slump, with a drop in the value of the Costa Rican colón, has lessened the fest's financial capacity with a scythe-like force. As Quirós tells me, "In 2019, there was Ceniza Negra. The next year was Clara Sola. [Both films premiered at Cannes]. So, at the beginning, we thought it would be a change because the government, they're gonna say, wow, look what we can do, and accelerate the presence of cinema, and give us more money. We are a tourist country, so let's bring people through cinema. For me, after the pandemic, it's like: if you don't understand that culture is the only way to survive in this world, you're a fucking idiot."
More existential threats are possibly around the corner. The controversial new president, Rodrigo Chaves Robles (whose election slogans included "Alpha Male") is a populist of traditional stock, fired from the World Bank after sexual assault allegations, and he has minimal interest in encouraging the film scene in Costa Rica.
Earlier this month, the sudden dismissal of the Centro de Cine, or Costa Rican Center for Film Production (CCPC)'s General Director Raciel del Toro—widely beloved by the San Jose film community—was the latest regime change from the new administration's Minister of Culture. The outrage and pushback have been widespread across the industry. A disagreement over the firing of an entertainment lawyer who helped provide legal advice regarding film funding was seemingly the cause of the dismissal, though that motivation remains suspect. If there are any questions about how the new administration and the Ministry of Culture are dealing with dissent—or even the temerity of anyone asking questions of them—take a look at the fact that they also fired their own Vice Minister, Ernesto Calvo, for what he claimed was his disagreement with the firing of del Toro. (Calvo presented my jury's awards on the closing night of the festival, which brings this incident even closer to home.)
Raciel del Toro has been instrumental in the ongoing upswing of Costa Rican film. With his guidance, expanded funding has become available for filmmakers, CRFIC has made international connections with influential European fests like Locarno, and alongside Fernando Chaves and his team, it has helped to facilitate a touring program for the festival, which does pop-up screenings for indigenous communities around the more remote regions of the country.
I spoke to both Quirós and Chaves prior to the dismissal of del Toro, but both already seemed wary of the current situation. "Congress has always looked to see where too much money is being spent, even if they don't know what the program is actually doing. So, culture has always been on the line. In late 2020, there was a big discussion because they wanted to cut around 10% of the culture ministry's budget, which would have brought many of these programs to a standstill. They wouldn't have been able to even turn on the light," Chaves says. "So, I'm sure the current government is aware of that, and they know that people do pay attention, because there's an organized community now that emerges in defense of artists and filmmakers."
His words proved more warranted than either of us expected: the Costa Rican Film Production Center, the Association of Independent Costa Rican Film Producers (APICC), the Union of Directors, and many others have spoken out strongly against the firing of del Toro. Citing his tireless efforts, a group called the Dokus Documentalists Collective praises del Toro's "unconditional support of the industry," while hundreds more have signed petitions to the culture ministry to protest the move.
Helping to foster international recognition is not the only reason del Toro's reign was important. His work on the touring program has also brought films to disadvantaged communities, places with no actual theaters to show film. As he says, "Costa Rica is known internationally, but for high-end resorts, boutique hotels in the jungle… there's not much connection to the people that actually live here. So, I think it's important to show people what's going on in their country, but also how they can be a part of this wider film culture."
Listening to Chaves talk, it's impossible not to be impressed—and moved—by his determination. The images of loss, beauty, and deprivation I encountered in my time at CRFIC—articulated via a Central American cinematic language of its own, one that belongs to the graffiti-laden streets and the dripping palms and the kind hazel eyes of friendly locals—combine to create quite a brew. Even as those images shift and ripple in my mind, growing cooler in the light of the orderly British day, I carry them with me like a strange little talisman. Cinema and real life become a mosaic; iguana-filled jungle leaking precipitously into the white-sand coastline in Manuel Antonio, a popular tourist destination on Costa Rica's Pacific coast, but also the wild beaches of maternal drama in Carajita where outsiderdom, whiteness, and privilege make me recall my own as a stranger in this place. One day, during a national football tournament, I glimpse an eye-widening streak of De Palma-esque blood on the San Jose pavement. The day before, I watched the breathlessly sad Panama City-based film Plaza Catedral, concerned with the rampant street violence there, and the imagery became braided in my mind.
I think again of the scent of the Cine Magaly lobby, the rainy season deluges that start in the early afternoon and soak you right through to your underwear. Of the deceptively sleepy rhythms of daytime downtown with the dangerous frisson of the night. (One is advised not to walk alone after dark.) One evening, after the long phantasmagorical lights of the CRFIC logo screen, puce and bright green, had faded, I went with an acquaintance for a robust-tasting Costa Rican–brewed beer, Bavaria. He explained to me that there's a nation-specific slang word: tuanis. It's supposedly derived from English-language folks saying Costa Ricans were "too nice," and adopted for use in Spanish to apply to a range of things. Maybe a photo, for instance, or a pretty landscape.
Given my outsider, monolingual status, I'll go ahead and risk misusing it: the Costa Rican film scene is tuanis. More than nice; too nice. Too much so to allow the clenched-fist conservatism of its new government to let it flounder without the proper support. As the film community there grows increasingly unsettled by recent events, it's clear there's a willingness to offer a strong rebuke to the powers that be, en masse if necessary. There's true solidarity, real faith that what is being built is stronger than any attempts to knock it down.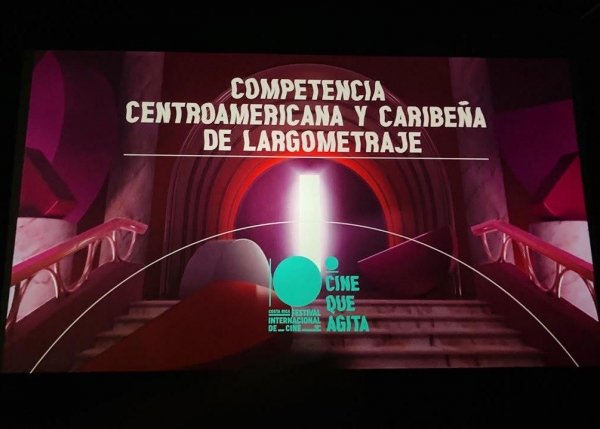 Photos by Christina Newland.