Make It Real: L'Age d'Or
By Eric Hynes
Welcome to the 20th annual declaration of the Golden Age of Documentary Filmmaking. Or is it the 25th annual? The moniker has been invoked intermittently for roughly this last fifth of the history of film exhibition, somehow considered ever apt despite tidal shifts in production, financing, distribution, inclusion, form, and aesthetics—not to mention turnovers in society, politics, culture, and the workforce. Did the Age really begin during the late '90s, rage through the George W. Bush years, continue undaunted through the 2010s, and remain with us undifferentiated and unabated for the streaming and awards campaign phenomenon of today? Is it really both about art and commerce, innovation and industry? Does it really apply equally to revolutions against the talking head status quo, headline-grubbing agitprop, tidy storytelling, dubious observation, and the constraints of the feature? Whose Age are we even talking about? And does every critic have an applicable trend-piece skeleton in their closet, or is it just me? (It's hard to imagine that I'd ever get a chance to start this column, initially during the summer of 2015 for Film Comment, without this evergreen notion that nonfiction cinema is having a moment.)
The longer we recycle the term the more insecure and schoolmarmish we sound. If it doesn't go without saying—indeed if it needs to be claimed for twenty-odd years—then maybe, just maybe, this is not quite a thing outside of a community of self-promoters and deadline pitchers. I'm not saying that this is all noise, or that my own interest in the art of nonfiction wasn't sincerely and profoundly sparked by creative trends I've encountered this century. But I am starting to think that such sloganeering hasn't convinced anyone to watch a movie they weren't already curious or predisposed to watch, nor has it eroded the barriers between movies and "docs" in many people's minds. Those ignorant and intractable enough to see these as distinct rather than in any way overlapping definitions of cinema would seem the least receptive to such hype.
Vagaries aside, there have been distinct flashpoints within this hazy golden era, including two that took place in the early aughts. First was the proliferation of the regional film festival, particularly those dedicated to documentary film, such as Dokufest in Kosovo, True/False in Missouri, Camden in Maine, and Millennium Docs Against Gravity (MDAG) in Warsaw—all launched soon after the turn of the century. Second was the Palme d'Or (the Golden Palm) victory of Michael Moore's Fahrenheit 9/11 at Cannes 2004—it had been nearly half a century since a work of nonfiction took home that prize. The first marked an ignition of emerging cultural forces and societal curiosities—or at least amenabilities—building and then connecting audiences over time; the second was an isolated incident, fueled by the political moment, wishfully interpreted as a harbinger. A more recent flashpoint has been the rise of streaming platforms and their high metabolism for fresh content, of which nonfiction has proven to be a reasonably priced source—which has certainly been a boon for production, and less certainly a sign of artistic evolution, formalist flowering, or audience gravitation. (No one consuming or churning out true crime serials thinks they're participating in any kind of golden age.)
This May I traveled to Warsaw for my first visit to Millennium Docs Against Gravity, after which I traveled to Cannes—my first visit since 2019. A tidy, two-hour flight connects two regions that are just 1,000 miles apart; both are world-class film festivals, with one serving as the most consequential and ballyhooed of them all, and the other Poland's ascendant top documentary festival. Filmmakers such as Sergei Loznitsa went from one to the other (the industrious auteur presented different films at each) as did various industry folk like me. Whiplash is an apt but inadequate term to describe what it was like to toggle from one festival, city, and reality to another. The vitality and consequentiality of independent nonfiction film was redolent at the first; at the second, where Moore's victory has yet to be repeated and furthermore has had zero influence on programming: as usual, there were no works of nonfiction in the Official Competition.
In Warsaw, evidence and talk of the war in neighboring Ukraine was everywhere, from a certain second language constantly being overheard on the street (reports were that the population of the city had risen by 20% in recent weeks) to long and winding food distribution lines outside of the central train station, to plentiful flags, posters, pins, and ad-hoc speeches of solidarity. Now in its 19th year, the festival attracted robust local audiences and hosted numerous filmmakers from Ukraine and Belarus, including subjects from Simon Lereng Wilmont's Sundance-winner House Made of Splinters, as well as seven teams that presented works in progress—works whose progress has been hugely affected by the war. MDAG presented a strong slate of international features, from imports such as Cow, The Territory, and We Met in Virtual Reality (with all three directors, Andrea Arnold, Alex Pritz, and Joe Hunting present) to Grand Prix–winner The Pawnshop, which had its world premiere in director Łukasz Kowalski's home country. The Polish competition was headed by Special Jury winner Angels of Sinjar by Hanna Polak (taking a turn to the investigatory and incendiary after her intimate marvel Something Better to Come) and Marek Kozakiewicz's Silent Love, a deserving Grand Jury Prize–winner that elegantly explored the risks and complications of two women navigating a life together. Meanwhile one could audit ambitious retrospectives of Susan Sontag and archival deep-diver Bill Morrison, whose The Great Flood was performed with a live score by Bill Frisell and friends. Their challenging and dexterous collaboration gave the festival a touch of full house Saturday night razzle dazzle—or as much razzle dazzle as an experimental film about a deadly flood, accompanied by an august jazzman and hosted on the grounds of the Warsaw Ghetto (currently the POLIN Museum of the History of Polish Jews), can reasonably yield. In other words, even this showcase event was freighted with weight and rigor, overtly reckoning with a complicated past and irreconcilable present.
Cut to the Croisette, where, upstairs in the cavernous Palace of Festivals and Congresses of Cannes at the Buñuel Theater, a suited Thierry Frémaux introduced the first documentary of Cannes 2022. Though Christophe Castagne and Thomas Sametin directed For the Sake of Peace, the center of Frémaux's attention was the film's producer, Academy Award–winning American actor Forest Whitaker. Actually, Whitaker wasn't just the producer, he's also featured in the film; and his nonprofit organization, The Whitaker Peace and Development Initiative, didn't just commission the film, it's frequently name-checked for catalyzing all that transpires within it. Less a documentary feature than a fancily produced promotional/propaganda reel disguised as a two-character profile. For the Sake of Peace isn't the kind of movie that's typically programmed at reputable film festivals. And yet. Far better nonfiction titles were to come at Cannes, though such a selection, and placement, augured a nonfiction slate defined by incoherence and diffusion, and risked irrelevance.
Incoherence may be inevitable at a festival that's lacking in any dedicated series or organizing structure for nonfiction cinema, save for a relatively recent (circa 2015), oh-hey-what-about-docs jury prize, called L'Œil d'or (or Golden Eye). Presided over by three nonfiction luminaries, the jury considers every documentary playing anywhere in the festival, regardless of section or premiere status. Everything qualifies, from the Palais-sanctified Whitaker advert to De Humani Corporis Fabrica, the latest virtuosic, queasy-making eyeful from Lucien Castaing-Taylor and Véréna Paravel, which premiered in the Quinzaine. While the jury had to consider a whopping 28 films in all, it's an abundance accumulated from scarcity: less than a quarter of this year's Cannes titles were documentaries, and none were selected for either the Official Competition or Un Certain Regard. Furthermore, only one received a red-carpet premiere at main venue the Grand Auditorium Louis Lumière: Brett Morgan's David Bowie jamboree Moonage Daydream. Meanwhile, the film that took home the L'Œil d'or, Shaunak Sen's magisterial knockout All That Breathes, was actually a Sundance 2022 prizewinner, which should do wonders for that film's European prospects but little for the festival's ear-to-the-ground programmatic reputation.
Yet Cannes remains the first stop for several major new works of nonfiction every year. For these films and their teams, the festival's vast internationality and high selectivity, not to mention unbeatable name recognition, evidently outweigh its lack of curatorial context or institutional respect. The latter likely isn't a problem for those arriving with notable names of their own attached—often notable both behind and in front of the camera. With hardly any advance messaging, Ethan Coen unveiled his first solo project: Jerry Lee Lewis: Trouble in Mind, a brief and brisk archival gloss on The Killer's long and still active career. While more respectable than For the Sake of Peace, the film is still an utter bafflement, seemingly comprised solely of easily accessed YouTube clips and presented like a late-night internet deep dive, absent a point of view other than that, well, Lewis is compelling to watch. I didn't get to catch Moonage Daydream, which I hear has far more to offer than Trouble in Mind, but midway through such a strong year for celebrity-adjacent time capsules, which had or will have premieres before (Sara Dosa's Fire of Love) and after Cannes (Laura Poitras's All the Beauty and the Bloodshed), Coen's uninspired offering didn't dispel an air of indiscrimination wafting over the Mediterranean shoreline.
Such lack of rigor did no justice to several excellent films, including two titans returning to Cannes. While remaining committed to linking and overlaying contemporary Chilean society and politics with its tragic and corrupt past, Patricio Guzmán's My Imaginary Country alters the ratio significantly to dwell almost entirely on present-day activism, yielding his most vital work since Nostalgia for the Light (2010). He bookends the film by casting back to Allende-associated optimism and subsequent detonation—that's his ground zero, and always will be—but otherwise lets his admiration of and curiosity with a diverse spectrum of younger people define the film, employing his expertly refined voiceover to segue and support rather than comment or reframe. It bears an intergenerational restraint and openness rarely accomplished outside of an Agnès Varda travelogue.
After receiving a Special Jury Award for Babi Yar. Context at last year's Cannes, Loznitsa returned with another archival thunderclap, The Natural History of Destruction. Evoking W. G. Sebald's essay collection On the Natural History of Destruction, Loznitsa uses WWII footage from a wealth of sources to mount an implicit, insistent assertion that our current callous acceptance of, or even appetite for, mass destruction emerged during that war's aerial bombardments. Location specifics are often elided, and backstories are nil, which instead places emphasis, and our attention, on bombing raids that devastated civilian populations. Such an approach courts accusations of equivalence among German, English, and American violence, but Loznitsa's agenda dwells not on the morality of why these countries were fighting, but rather how, and of how a mutuality of tactics laid a foundation of violent dehumanization that has remained with us—recently evident in Russia's murderous, terroristic bombardments of civilian spaces in Ukraine. Loznitsa's approach is to invert the customary abstraction: rather than specifying the militaristic who, what, and where while coolly tallying numbers of casualties, he blurs the former to show us the misery of individuals and communities ripped to shreds by bombs impersonally dropped from high in the sky. As evidenced in his open letter back in March—an anti-nationalist rebuttal to criticism from Ukrainian colleagues—Loznitsa is a deep and indefatigable humanist, unwilling to forsake human expression or freedom for the sake of political orthodoxy. It's not earning him many fans at this fraught moment, but there's rigor and integrity in the endeavor nonetheless.
Not that you'd have noticed on the Croisette, or at home tracking the festival buzz, but the most important and powerful film of the festival was its least polished—its least finished, in fact. An implicitly rueful sequel to the filmmaker's 2016 observational portrait of civilian endurance in the face of encroaching war, Lithuanian filmmaker Mantas Kvedaraviciu's Mariupolis 2 documents the first waves of this year's Russian bombardment, in which besieged and displaced townspeople are forced to improvise shelter, meals, hygiene, and safety protocols while enduring long days, joking with gallows humor, offering up amateur political theories, and noting the relative distances of audible artillery. It's an astonishing record, all the more so for Kvedaraviciu's matter-of-fact approach. Though the 45-year-old director had far more to show us, he was murdered by occupiers in early April, mere days after recording the film's most recent footage. Editing and completing the film was taken up by the director's partner, Hanna Bilbrova, who preserves Kvedaraviciu's maneuverings and unbroken attentiveness, leaning into the long-take rawness of his footage. The approach establishes a moment-by-moment presence while keeping the audience aware, especially as film draws to a close, of the preciousness of even this appalling version of life.
Shortly after leaving the screening of Mariupolis 2 in the Buñuel Theater, a team of fighter jets roared over the Palais in honor of the premiere of Top Gun: Maverick. Some in the press room looked through the windows to catch a glimpse, others watched TV monitors track the boyish reactions of Tom Cruise, Jon Hamm, and Miles Teller, all suited on the red carpet. Others flinched. It's not so easy to isolate the image factory from reality these days. Considering everything that's at stake, I don't know why we would. Imagine Polish fighter jets being redirected from the border to fly over Warsaw. I couldn't.
There's little to be gained by mocking or shaming the glitzy elements of Cannes, nor in judging those who exult in them. Movies are also a business, and this year's festival did augur an industry renewal, or at least a return to some kind of normalcy. Cannes uniquely pairs glamour with artistic excellence (or the ambition of thus), and at its best provides a compelling platform for both artistic and commercial prospects. That is the ideal. One of the values of a festival of Cannes' size and power is to elevate and amplify more commercially (supposedly) marginal work, to attract and grow an audience for this work, potentially pushing the industry to respond and grow in kind. It's harder than promoting Tom Cruise, but it wouldn't have been that hard, at really any point in the last 20 years, to have put a film by Poitras, Loznitsa, Guzmán, Joshua Oppenheimer, Frederick Wiseman, Wang Bing, Dieudo Hamadi, or Tatiana Huezo in the Official Competition, or even just come up with some semblance of a showcase for nonfiction amidst five currently existing programs dominated by narrative films. I think we've made enough noise about the supposed golden age. Narrative films dominate the spotlight regardless of whether they're gold, silver, bronze, tin, or porcelain grade. Recognizing, curating, and showcasing documentary films as films is really all it takes.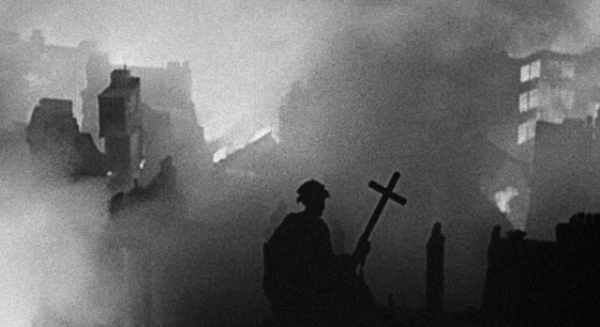 Pictured at top: Mantas Kvedaraviciu's Mariupolis 2
Bottom: Sergei Loznitsa's The Natural History of Destruction