Make It Real:
Encounters After the End of the World
By Eric Hynes
Near the end of the first episode of How To with John Wilson, the sublime lo-fi documentary series that debuted late last year on HBO, director John Wilson sits across from a stranger he encountered at a Cancun resort. The episode, "How To Make Small Talk," starts in Wilson's native New York, with the filmmaker wryly offering advice on casual conversation, before he's led out of state and into deeper engagement—to a self-appointed hunter of child predators in Pennsylvania, to a Craigslist transaction in which a storage facility becomes a confessional, and finally to a kamikaze-like plunge into hyper-socialization during Spring Break in Mexico. After some awkward attempts at joining the crowd, Wilson finds himself with Chris, a wiry, slang-slinging character some might ignore, and who indeed admits to experiencing social anxiety. But over an atypically long scene, all shot from the filmmaker's handicam POV, deck chair to deck chair, John and Chris progress from talking about the weather to each revealing grief over a deceased friend. Something passes between them, and in front of us, there's a moment as unforeseen and pure as a sudden barometric change in the air.
It's the kind of encounter that can only happen when two strangers commit to being present. And in film, it's the kind of exchange that can only happen with documentary. Preceded by innumerable decisions laying the groundwork for what might develop between these people, the camera ultimately rolls, filming on faith. Here the formal first-person POV harmonizes with the socially interactive perspective: a connection, and a moment, is made. Coming at the end of a year during which physical social interaction hasn't just been scarce but actively—and perversely, necessarily—avoided, the moment hits hard. There is no replacement for the spontaneous, unpredictable, incalculably generative phenomenon of people encountering one another in real time. Being open to the unanticipated experience, to possibly meaningful or at least notable encounters with people beyond one's sphere, is a moral posture as essential to documentary filmmaking and filmgoing as it is to an ethical society.
From the vantage of our quarantined silos, we've had occasion to reflect upon how and where we gather, particularly in independent film circles, and whether they might stand for improvement. The cliquishness of the "documentary film community," the infuriating institutional mirages that pass for representation and fairness, the self-serving vampirism of festival programming, the uncompensated grind of festival travel, the diminished returns of distribution and theatrical exhibition, the myriad inequalities of access due to geography, education, race, money, privilege: all overdue for questioning and testing. But only those most cynical, permanently socially fatigued, or financially invested in technological opportunism would claim we're better off without ways of coming together, off-line, to watch, discuss, disagree, encounter, and discover. Whatever we're going back to, or whatever we create instead, needs to foster community and discovery, and foster it for real, rather than affirming and profiting from our preexisting networks and tendencies.
Beware of anyone telling you a virtual party is actually a party, or that diminished opportunities aren't actually diminished they've just… migrated… or transformed… like dollars become quarters, or that an audience temporarily trapped and traumatized is any gauge over what audiences will be once they're not. Having viewing habits isn't really moviegoing. The first is passive, the second active, and both have been differently defined by the pandemic. Meanwhile, obviously, Zooming together isn't really being together, making do isn't really doing, approximating isn't experiencing. The answer can't be adjustment to being less present with one another, but rather how, once we're able, we can be more present than we've ever been.
As it happens, some of the year's best documentaries exemplify these truths in both content and form. Not because they were prescient about what we'd crave during a worldwide pandemic—all were filmed before March 2020. More that some filmmakers share an interest in the beauty and unpredictability of communal spaces and unscripted encounters. City Hall, the 46th feature by Frederick Wiseman, like numerous of his previous films, focuses on an institution. Yet the director's notion of municipal government doesn't reside in the brutalist building on City Hall Square in Boston's North End—instead he travels all over the city, witnessing holiday gatherings, meetings, speeches, charity dances, cooking tutorials, hearings over traffic violations, garbage collection, home inspections. At every stop, people associated with city government interact with people served by city government; and at every stop, the interloper Wiseman and his crew bring us along. In an extended session late in the film, the owners of a proposed medical marijuana shop field tough and varied questions at a community meeting required by law. The scene is filled with suspicious glances, distrustful speechifying, and filibustering businessmen, and yet everyone present is either advocating for or defending something that's bigger than oneself. And by choosing to be in that room, and subsequently privileging the scene in the edit, and focusing our attention long enough, incorporating enough voices and tangents to offer a simulacrum of our being there with him, Wiseman is able to make the case for a fair and workable society without asserting that what we're watching is a perfect example of it. It's in witnessing dysfunction within the mechanism of functionality, of recognizing the dutiful performance of care met by moans and quips of frustration, that we're given a chance to determine that it matters and maybe absorb the risks and opportunities evident in coming together.
In City So Real, the series directed by Steve James that debuted at Sundance last January in four installments before landing on Nat Geo in the fall with a fifth episode created during the pandemic, the residents of Chicago track the twists and turns of a crowded mayoral race while also weighing the kind of city they want against the kind of city it's become. James and company go all over the map, from the north side to the south side, and from the lakefront to the western suburbs to reflect a diversity of perspectives that rarely directly encounter with one another—outside of debates among the candidates. Few have ever captured Chicago and its environs as loyally, exhaustively, or unromantically as James, from Hoop Dreams and The Interrupters to his previous series, the phenomenal America to Me. He creates containers deep and wide enough to approach being representative, while also, in their curiosity and nimbleness, represent the city better than the city often presents itself. He's not afraid to ask black people about white people, nor to capture what white people say about black people when they're not around. He's a master at the direct cut from a Black barbershop to a white one—both in the same zip code—or from reactions to the conviction of a police officer charged with killing a Black citizen to tree-lined blocks of little kids trick-or-treating, or from a fancy private dinner among the city's cognoscenti to, well, everywhere else. Sure, the city is big, complex, and stubborn, but you're not really paying attention, or leaving your zip code, if you don't also feel the whiplash and consider its implications.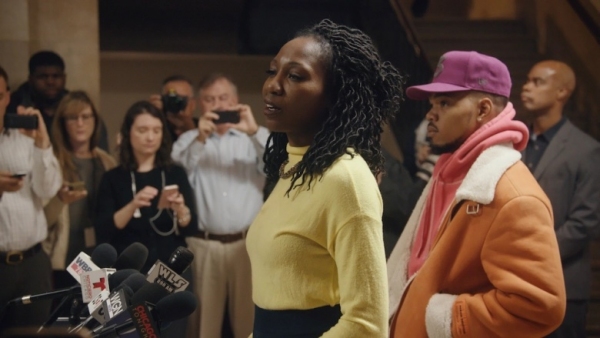 The mere existence of a community, and of a somehow functioning society despite decades of occupation, might be revelatory to some Western audiences of Mayor—a variously implicative surprise that director David Osit purposefully coaxes from those viewers throughout. Osit immerses us in the everyday life of Musa Hadid, mayor of the Palestinian city of Ramallah, a city that's largely both Christian and secular, and also seemingly quite chill when it's not being overrun by Israeli soldiers. While temperamentally different, Musa is similar to one of Wiseman's subjects, Boston Mayor Marty Walsh, in that he's hands on and he travels well. He surveys construction sites, spearheads school and road repair, weighs marketing and tourism campaigns, and takes special interest in a large, light-up water fountain in the town square. Normalcy is the point—radical given the context and also appalling for having to be thus. Osit, a New Yorker, is an outsider in Ramallah, a fact that isn't insisted upon but is nonetheless noted by Hadid, who openly wonders how the rest of the world might see Ramallah. There's a tacit agreement that their encounter is worthwhile for whatever it might yield.
These three works have suffered for being inaccessible for communal viewing, and the public has suffered in turn. Anyone who'd assert that documentaries needn't be seen on a big screen doesn't just degrade the audiovisual craft of these films but also fails to understand the power of sitting among people, most, if not all, of whom I don't know, to witness the interactions of other people, most, if not all, of whom I don't know. I'm not saying this is a consciously motivating force, but I do believe it's in play. No hyperbole: watching Wiseman films with an audience can be thrilling, in part because I tend to be more aware of the audience in these screenings: who finds which banal exchange to be funny; how many shoulders hunch forward during a long sequence, keyed into what's developing before them; when people dash to the bathroom, insecure about when the next scene might start or when the final movement might begin. (The genius of Wiseman's symphonic structures is always to leave me feeling that time is moving too swiftly towards the end, no matter how long the film.) Within the conventions of the space, our experiences and reactions are unforeseen. Particularly in observational documentary, the same can be said for what's transpiring on screen.
A film few have yet seen in theaters, to our considerable detriment, Dieudo Hamadi's Downstream to Kinshasa (pictured at top) offers a conveyance experience that's as intense, urgent, and shocking as any I can recall seeing. The subjects of Hamadi's film are arguably the least visible members of their society, or, perhaps more accurately, those that society is most eager to overlook. They are maimed survivors of the Republic of Congo's Six-Day War who have been told for nearly two decades that they will be compensated and cared for, but remain ignored, neglected, and effectively destitute. Hamadi tells their story, witnesses their lives, and follows them on a brutal river journey to petition the government. Throughout, these men and women form their own cohort, experiencing friendship, solidarity, and conflict, and also come into contact with their countrymen, most of whom treat them somewhere along the spectrum between pity and scorn.
There's another factor, though: Hamadi and his camera. The director, who shot the film himself, cares little about blending into the landscape or remaining an objective observer—in fact his approach seems intent on deemphasizing distance from his subjects and furthermore using his own attention to them to encourage, and in the case of studiously ignorant officials, shame those they encounter into seeing, acknowledging, and reckoning with them. Their physical presence, with some utilizing woefully outdated prosthetics and dealing with untreated conditions, is critical. And thus so is Hamadi's presence. The film doesn't adopt a structure that builds to redemption, or fulfillment, or a charitable URL, or a takeaway of any sort, really. But it does offer, and insist on, presence. Presence with things that cannot be taken for granted: care, visibility, respect, fairness, mobility. It's easy to see reflections of ourselves in others—most of the time that's precisely all that we're encouraged to do, for the betterment and self-affirmation of ourselves, and for the betterment of those looking to profit from our reflections. It's harder, and thus more important, to get beyond ourselves. It's especially hard when we're trapped with ourselves, and isolated from one another. Here's hoping we don't get too used to it, but rather make up for lost time and everything unforeseen.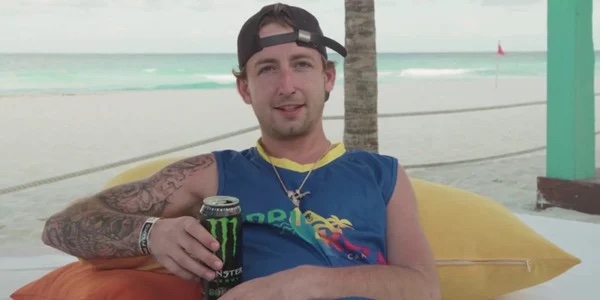 The column Make It Real, written by Eric Hynes, began at Film Comment magazine as an assignment by editor Nicolas Rapold and ran from 2015–2020.