The Aesthetics of Cope:
Panic Entertainment in the Pandemic Era
By Chloe Lizotte
It was a familiar sight: on February 28, 2021, Tina Fey and Amy Poehler reunited for their fourth run as hosts of the Golden Globe Awards. This time, due to the impossibility of gathering during the coronavirus pandemic, the ceremony was a bicoastal experiment. A split-screen setup divided Fey in New York from Poehler in Los Angeles, and celebrities from each location popped onto their local stage to present awards. Between well-oiled digs at unworthy nominee (and easy target) Emily in Paris, Fey and Poehler proudly pointed out that the audience was filled with masked first responders, while also reminding viewers that the show itself—under fire for having a nominating body with no Black members—was "stupid" and full of "flashy garbage nominees." Meanwhile, several presenters noted that the HFPA, MRC, and NBC were donating $2 million to Feeding America. Angela Bassett explained the COVID-era safety protocols the show would follow to hygienically deliver trophies to winners. In a sketch designed to thank medical professionals, Globe nominees hopped on Zoom telemedicine calls with real-world doctors, leading to hijinks like Lin-Manuel Miranda getting diagnosed with Schitt's Creek for GI symptoms.
In the end, the awards show embodied the crossroads that 2020 revealed to the entertainment industry. Existential concerns seemed to weigh on the producers: how important was it for the Golden Globes to go on? Doing so meant confronting questions of logistics and taste; it would be tone-deaf to avoid any statement at all in the midst of mass death and radical social upheaval. Yet probing too deeply might make the ceremony seem suspect. To compensate, each segment strove to frame the show as essential, even responsible, throughout an unmistakably non-essential four hours. A monologue calling out the HFPA's structural issues could never stand in for the behind-the-scenes work required to reform them—and a deep dive into the ethics of the Golden Globes is beyond the scope of this piece—but the broadcast needed to walk a fine line. It sought to confront the uglier realities of the new world, but anything more would mean rupturing some continuity with the past, a chance to escape into the E! red carpets of yesteryear.
The 2021 edition of the ceremony, held slightly more than a year after the CDC reported the first U.S. instance of COVID-19 community spread, exemplified a year of American media grappling with this identity crisis: call it an aesthetics of cope. New logistical work-arounds—some elegant, many awkward—sought to overcome the difficulties of physically congregating; each decision about tone could trigger dozens of questions. Are the problems we're experiencing self-contained within the pandemic, or perennial? What possibilities exist to radically reinvent ourselves, or is the status quo the final destination?
Is there a new world at all, or simply a world we've ignored?
On the Road
Before COVID-era filming protocols were instituted, the practical responses to these questions were most apparent on television in lightly surreal ways. Game shows became a convenient timeslot-filler, relying on smaller crews, social distancing, and canned applause (unless you were watching the 2021 reboot of Name That Tune, which decamped to relatively COVID-free Melbourne to convene rabid studio audiences in small, camera-friendly clusters). Starting in summer 2020, baseball games populated stadium seats with cardboard-cutout fans—or, in Japan, stuffed animals—and piped in audio of cheering crowds. Soap operas wheeled out mannequins for love scenes. And each network clung to their calendar to keep from evaporating; the tentpole Macy's Thanksgiving Day Parade, for one, was a television-only event without real-world crowds.
A scripted series, however, can't instantaneously be rewritten to conform to COVID-era limitations. Without any idea how long lockdown would last, high-profile shows like Succession and Atlanta temporarily halted to wait it out. The same issue arose for feature filmmakers. In March, Paul Schrader paused production on his next movie, The Card Counter, after a crew member tested positive for the virus. First, he posted on Facebook about hoping to continue filming with a typically shock jock–y quip: "I'm old and asthmatic—what better way to die than on the job?" Within a few days, he wondered if he should experiment with animating the handful of unfinished scenes.
Schrader was ultimately able to complete the movie with a COVID-safe shoot in July, but his two online reactions to the lack of short-term solutions—finding some way to film through it or finding an unorthodox plan B—were options that different projects did explore. The first door swung open for a project built on absurdist spelunking through reality: Borat Subsequent Moviefilm. The film began shooting in short, secret bursts in the fall of 2019, but when lockdown hit, the crew found themselves at an impasse. "We don't know what it's going to be like in the fall . . . are people going to be able to laugh at anything related to this?" director Jason Woliner recalled asking himself. But the production rhythm allowed them to try, since the team would regroup to write the next section in response to previous batches of footage anyway—and while Sacha Baron Cohen's bizarro Peter Sellers routine might need no introduction, Woliner also hails from the world of warped docufictional comedy, including Nathan for You and Good Morning Tri-State. So, in consultation with Johns Hopkins epidemiologists, the team leaned into hand-washing and outdoor shoots, and then set about shaping the story to fit.
When quarantine begins, Borat stays for two weeks in a cabin with two QAnoners (Jerry Holleman and Jim Russell, with whom Baron Cohen claims he lived for five days in character), and the three attend a pro-gun, anti-mask rally in Olympia to look for his daughter Tutar (Maria Bakalova), now an alt-right reporter. Since Baron Cohen and Bakalova couldn't safely interact with non-actors passing by on the fly, the film relies more on contained scenes, including the infamous interlude with America's Mayor, Rudy Giuliani, which takes place in a bottled interview setting. Even the framework of the rally was meticulously planned; the crew set up a fake MAGA super PAC to fund the live music, thus creating an organic way for Baron Cohen to stoke a crowd from a distance.
Out of necessity, Subsequent Moviefilm departs from the gonzo mockumentary style of Larry Charles's Borat and into an oddly hermetic parallel universe. Yet the parts of the film that linger are the mockumentary elements, more textural than bombastic this time around. The way that normies navigate Borat's antics speaks intriguingly to the way that conspiracy theories percolate in isolation: Borat's QAnon pals find his "medical diagrams" of a male baby walking upright out of a womb outlandish, but the idea of the Clintons drinking babies' blood is not. Watching Giuliani fall for Tutar's schtick also registers as a casualty of a lack of media literacy—another misadventure of a man who, in November 2020, would hold a press conference behind a landscaping company. These moments refract termite-level 2020 context better than the Trump-specific notes that the film strikes, like the far-too-easy coaxing of racist rhetoric out of the rally crowd, or the epilogue's concluding, earnest call to vote. (As far as anti-Trump rallying cries are concerned, it is still more satisfying to watch Borat defecate on the Trump International Hotel sign in the first film.)
Subsequent Moviefilm may be a different beast than the original, and it is often quite funny; Borat is unveiled as patient zero of the virus in a '60s-caper, global conspiracy montage, complete with a Tom Hanks cameo. It's also true that the movie's desire to convey a specific argument about the world we knew—Woliner mentioned that they kept filming so that the movie could come out before the 2020 election—conflicts with the drive to capture something else as it is happening.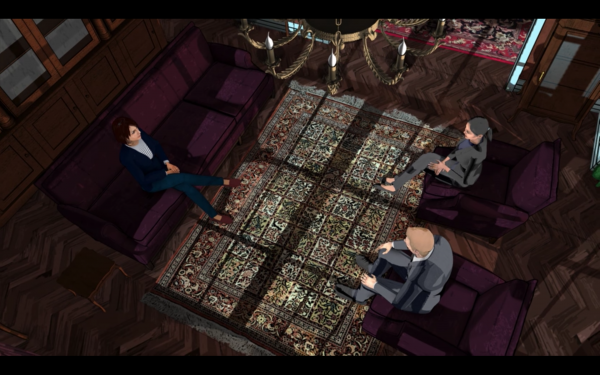 Toon Town
In his Facebook desperation, Schrader entertained animation as a last-ditch solution for his suspended production. Yet serious consideration of such an option was especially unexpected on major-network, primetime television—namely, the seventh-season finale of the NBC crime drama The Blacklist. When the shutdown began, the crew was five days away from completing their season's shoot in New York. As the producers brainstormed alternatives, one person brought up the show's tie-in graphic novel, and voilá. Working with Proof, a London-based animation studio specializing in previs—a style frequently used to demo action sequences in preproduction—the showrunners decided to work around the clock to animate the remaining half of their season finale.
The resulting episode—"The Kazanjian Brothers," which aired in May 2020—is so wonky it's endearing, and highly improbable in a medium driven by style templates. The hybrid episode pivots back and forth between completed live-action scenes and animated sequences, accented by comic book-style captions indebted to the pulpy look of the graphic novel. Since previs is not intended to make it to air, certain details appear totally sharp and others fuzzy; a rug pattern might be crisp while wine will look like a solid cone in a glass. All the same, there's a palpable level of commitment from the showrunners—and an impressive amount of leeway taken with network presentability standards.
Although the following season of The Blacklist settled back into live-action fare, "The Kazanjian Brothers" begs the question: why do big deviations from the style template feel novel—even when animation, relatively speaking, isn't so extreme? The rough-edged L.A. Noire look of the show is perhaps most noteworthy because it's an episode of The Blacklist: not particularly at the center of pop culture, let alone a showcase for experimental art, but a middlebrow brain-drain procedural to watch at the end of a long day. It's true that television and film are risk-averse except under extreme stress, but the industry has so consolidated in a way that precludes, for example, the way that the trippier sequences in Easy Rider borrowed from the American avant-garde in the '60s. And yet, why couldn't a Joker film, considering its aims, try on the aesthetics of midnight Adult Swim series—and that's thinking conservatively, since the network's Tim Heidecker and Eric Wareheim have had success directing commercials? Capitalist pressures, fan tantrums, et cetera. But when the cracks momentarily split apart a weekly James Spader vehicle, they hint at circumstantial weirdness that could bubble up elsewhere. And maybe the fear of backlash is premature; though Blacklist fans were divided, longer-form critiques suggested that the animators simply needed more time instead of rejecting the entire idea outright.
Full Frontal
In the prologue of this Blacklist episode, the cast and crew record themselves addressing the audience from their webcams. They cue viewers to the unusual conceit of the episode while also spotlighting the elephant in the room. There's lots of first-person-plural and direct address: "Like all of you…"; "Our lives were put on hold." The sequence tries to put the audience at ease, while granting permission to transition out of their lives and into the program. Whether it was The National Dog Show or the season premiere of Top Chef, these preambles became commonplace on television: the host or showrunner walks viewers through the safety procedures that have been implemented to film the event, while frankly recognizing hardships of the time. The intros are about connecting and seeming human: putting forth a "we're all in this together" ethos, but at a businesslike distance.
It only took a short amount of time—we're talking the first week of the United States shutdown—for it to become obvious how this sort of gesture could backfire. "Hey guys…day six in self-quarantine," began the now-infamous March 18 Instagram video from Gal Gadot, in which she and Wonder Woman 1984 co-star Kristen Wiig convinced several celebrities to join them in an a capella singalong of John Lennon's "Imagine." Since the entire video is front-facing, smartphone selfie–format, the participants seem unusually intimate, most recording themselves at home, but still worlds away; backdrops ranged from lavish bathrooms to inexplicable fields of flowers. "Doesn't matter who you are or where you're from: we're all in this together," Gadot reminds viewers.
Gadot's sentiment couldn't seem further from the truth, materially or conceptually—yet the aesthetic of the post presumes an odd universality. On the one hand, there was a sense that the world could bond over mutual uncertainty and fear; on the other, there was the more-glaring-than-ever truth of structural inequities, making our experiences unavoidably distinct. "It didn't transcend," was how Gadot summed up her video in an interview with Vanity Fair. But it did invite another kind of solidarity, through comedy, when "relatable" posting from celebrities reached an absurd fever pitch. Frequent Tim and Eric editor DJ Douggpound's "corona remix" of the "Imagine" video pitched the audio down and added a purgatorial ambience, like watching the original through the sunglasses from They Live. In October, comedian Gabe Gundacker filmed himself fully clothed while stepping in and out of his shower, nonplussed that Kim Kardashian—who had recently tweeted about taking a fully tested vacation to a "private island"—was actually not like him at all. "She was always me…now she is not me," he struggled to admit, noting their financial and emotional differences, and that they might not even share parents.
The confessional proximity of front-facing video became a newly fraught high-wire act in Ziwe Fumudoh's Instagram Live show, which preserved the premise of Fumudoh's YouTube series Baited (the spirit of which carries over into her new variety show Ziwe). Fumudoh invites a guest to have a conversation with her about race; in the livestreams, the splashiest guests have been canceled white women, like Instagram pseudo-celeb Caroline Calloway and food writer Alison Roman. Fumudoh's questions are direct—"When you write Black, do you capitalize the B?"; "Can you name five Black people?"; "Who is Marcus Garvey?"—but she also knows when to pause, allowing the guest to respond, or not, thus ceding the floor to the guest's insecurities. Meanwhile, Fumudoh, appearing in split-screen above her guest, will physically move closer to her camera as they reply, filling her half of the frame with knowing bemusement, almost like a silent-era actress there to ratchet up the discomfort.
The livestream format works for Fumudoh in a way that her pre-taped, edited shows do not: the interviewees speak through dead air and half-starts, prompting a larger reckoning with white feminism. Fumudoh has said that she hopes that bringing these topics out into the open—with a dose of confrontational humor—would be a way to heal and acknowledge the trauma of racism head-on; she's said that the most gratifying comments have come from viewers who turned inward, wondering how they might respond if they were interviewed. It's also a remarkably simple way of circumventing empty apology-speak, especially prepackaged PR rhetoric surrounding race, diversity, and equity. There's a sense that anything could happen, which helps flip the tired vlog format on its head; the guest can't mask a flub with a swift edit, instead submitting firmly, willingly to the hot seat.
Zoom was another fantasy of universal solidarity, particularly in the white-collar world. The service was meant to evince how seamlessly offices could shift into remote work (and, because it is so good at this, it may now rob children of snow days). But this wasn't quite true. The Golden Globes clarified this through its awkwardness: a grid of all of the nominees remained onscreen during each acceptance speech, drawing attention away from the person speaking and into the strangest domestic situation visible (there was a haunting glimpse of Jeff Daniels in an under-decorated bedroom whose walls are crammed to the gills with doors, a worthy candidate for the Male Living Spaces Reddit). Before commercial breaks, a grid of nominees from the following segment flashed onscreen, seemingly encouraged to chat; the celebs could only laugh nervously and shout "This is so weird!", unless you were Al Pacino, who politely sneaked a quick cat nap.
The idea of Zoom simulating person-to-person interaction is already dubious, but across the pond, the mediating technology was enough to unleash a scalding blend of resentment and fury outside of the entertainment world. This happened on December 10 during the Parish Council Planning and Environment Committee Meeting in Handforth, England, which was screen-recorded and uploaded to YouTube for posterity (highlights are here). The video is memorable not simply for the vitriol it contains—chaos ensues when one man changes his display name to "Handforth County Clerk" (he's not) and begins verbally harassing the designated meeting leader, Jackie Weaver—but for its unbridled digital dysfunction. All of the participants are of retirement age and aloof to proper netiquette; faces are slashed in half within too-low frames, one council member takes a personal phone call without muting her microphone, another gentleman appears for the first time with his back to the camera, and an octogenarian's semi-Satanic growling—"We're trying to have a team's meeting, you fool"—is audible through a feed named "Aled's iPad." The combination of humorous technical failure and seething hatred makes for a uniquely harrowing Zoom experience, since the program usually acts as a narcotic. But the meeting also transcends its online origins: the digital mishaps amplify the group's preexisting, real-world tensions. Though the meeting may seem absurd from a viewer's comfortable distance, it exposed patterns of toxicity that were due to explode sooner or later, as Weaver later explained.
Learning Curve
The plurality of 2020's aesthetic worlds—the seamless adaptation, the experimental Hail Mary, the constructed e-interaction—illuminates the questions that "cope" seeks to answer. Which aspects of life do you choose to acknowledge head-on? Do you simplify it? Do you tune it out or compartmentalize it? And once you do, what's left? As vaccinations continue and global inequities become ever more glaring, it's clear that there's no return to normalcy so much as an ongoing trauma that we have yet to collectively process. And though there are commonalities between us, each person's experience is the product of profoundly individual circumstances—an obvious point, but one that's often suffocated by a monolithic Royal We. For artists, a more appropriate question might be: how can the work, regardless of its form and tone, reckon with what's real?
One person who has figured this out is John Wilson, although his methods aren't necessarily prescriptive. Rather, they're based in curiosity. Wilson's fall 2020 HBO show, How To with John Wilson, expanded the affable first-person perspective of his body of shorts: Wilson chooses a framing question for each episode and, through hilariously detailed New York City street filmmaking and a keen eye for potential star interview subjects, lets the central theme expand outward in revelatory ways. The season finale, "How to Cook the Perfect Risotto," begins in typical Wilsonian fashion. Determined to master risotto to thank his elderly landlady for all the meals she's cooked for him, Wilson ends up absconding on a ski vacation at a moment of frustration—he realizes he's going through nicotine withdrawal after trying to quit vaping, and thinks a change of scenery will help him unclog his brain. When he returns to New York, it's the week immediately preceding the U.S. coronavirus shutdown. Wilson carries his camera through winding supermarket lines, emptied-out toilet paper aisles, and caution-taped fast-food joints: a travelogue of spaces rarely captured outside of journalistic photography or social media. All the while, he forges ahead with his risotto quest, then frets that he might accidentally spread the infection to his landlady through the food.
Wilson's story takes place on the precipice of change: he isn't trying to explain what it is but rather relay his first steps into navigating it. His series centers on that humble approach to the outside world, shaped by his point of view but not confined by it. "By the time I'm allowed to leave this apartment, there's going to be a whole new set of rules that didn't exist before," Wilson reflects in his typically endearing, tripping-over-himself narration, "and I may just have to relearn everything I thought I knew. But that's okay, because we're all going to have to figure it out together. And right now, we've got plenty of time." The idea of "relearning" is bolder than it might appear: a willingness to throw out assumptions, to look one's surroundings straight in the eye. The template may seem rock-solid and insurmountable, but shows like Wilson's envision a future that isn't completely subsumed by it. Even if How To won't reconfigure the industry on its own, its homegrown quality could also be its greatest strength, a gateway to something singular.