Cannes Film Festival 2016: Part One
By Jordan Cronk
With its programmers' predilection for marquee auteurs and icons of international renown, the annual Cannes Competition lineup isn't traditionally given to touting young or emerging filmmakers beyond a single token selection. After all, the Critics' Week and Un Certain Regard sections of the festivals are ostensibly designed to provide platforms for directors of such cachet, who may be too green or, more often, too willfully difficult to represent the world's most famous film festival. Which is all to say that the 2016 Competition stands out amongst recent iterations for its refreshingly youthful complexion. Save for a few requisite standbys (Ken Loach, Pedro Almodóvar, Jean-Pierre and Luc Dardenne, among them), this year's selection features a number of burgeoning talents as well as notable critical darlings, resulting in an uncommonly stimulating first week.
Two previous Un Certain Regard standouts opened the Competition on a strong note. Winner of the section's top prize for the 2005 New Romanian Cinema watershed The Death of Mr. Lazarescu, director Cristi Puiu brought Sieranevada, his first narrative film in six years, to the Competition, setting an imposing bar for a selection with no shortage of lengthy films featuring heavy subject matter. Returning to the dense nearly real-time exposition of Lazarescu after the serene, elliptically constructed Aurora (2010), Puiu offers a bleak comedy of contradictions that seemingly attempts to depict the entirety of the human condition through one event in the lives of an everyday Romanian family. Set largely over the course of an extended wake for the family's dearly departed patriarch, the film initially follows the deceased's son, Lary (Mimi Brănescu), and his family as they combatively trek to the mother's apartment. This opening sequence is one of only two moments in this nearly three-hour film set outside the cramped confines of the family home, to which Puiu appears to take particularly perverse delight in restricting the action.
Over the course of the wake, which we're told will culminate in a memorial feast, though it's clear from the consistently diverting discussions that Puiu will withhold the occasion until the last possible moment, an array of extended family and friends descend on the apartment to cook, commingle, and debate issues ranging from the familial to the political. A master of choreography and pictorial precision, Puiu navigates a dozen-plus characters—which include brothers and sisters, aunts and uncles, in-laws, children, a priest, and a passed-out party crasher—through a succession of long takes and patient, lateral camera pans, moving between characters and conversations with a casual yet inquisitive gaze. With debates concerning the Charlie Hebdo attack, 9/11 conspiracy theories, and the lingering effects of the Nicolae Ceaușescu regime, the film casts a wide topical net; meanwhile, the interpersonal arguments, which, among other things, expose a philandering husband and many a character's casual prejudices, humorously highlight human folly. More than his fellow guests, Lary appears to sense the irony and idiocy of many of these conflicts, occasionally laughing or stepping aside to observe the escalating drama. As the orchestrator of this chaos, Puiu shrewdly refuses to absolve himself from the argument. When, late in the film, one characters invokes Hamlet's famous line, "Brevity is the soul of wit," one cannot help but imagine the director off-camera, chuckling to himself.
Also debuting in Competition, French filmmaker Alain Guiraudie follows his highly lauded Stranger by the Lake (2013) with an altogether different sort of nightmare narrative, one far more given to flights of fancy than his unsettlingly earthbound thriller. Like many of his early films, Staying Vertical is an at times bewildering combination of diverging interests and obsessions. The film follows an artistically stunted filmmaker named Léo (Damien Bonnard), seeking inspiration for his next script, from the city to the countryside, where along the way he meets both Yoan (Basile Meilleurat) and Marie (India Hair), two unrelated individuals whom he attempts to seduce for no other apparent reason than possible creative inspiration. What transpires is a story rife with sexual and psychological frustrations, as Léo and Marie's casual liaison results in an unwanted child and the unconsummated relationship between Yoan and Léo grows increasingly complicated as Marie's father, a farmer named Jean-Louis (Raphaël Thiery), and Yoan's elderly host, Marcel (Christian Boulliette), cope with their own libidinous desires.
In Guiraudie's world, desire is humanity's most potent weapon, as well as its greatest hindrance. No one in Staying Vertical seems to know exactly what they want, and as a result either act on every impulse or attempt to suppress their needs. Left to fend for himself and their child when Marie flees in fear of further commitment, Léo tries to accommodate all parties, whether by caring for Yoan, humoring Jean-Louis's sublimated advances, or, in a moment of surrealistic grandeur, by granting Marcel a dying wish of ecstatic release. Mapping the film according only to its own unique logic, Guiraudie casually allows for ruptures in his characters' realities, thereby turning the film's pastoral environs into a playground of symbolism and psychosis: Man becomes one with his animal urges in flourishes of erotic longing, just as instinct takes hold when Jean-Louis's sheep continue to fall prey to a roaming pack of wolves. As fantastically conceived as it is primally pitched, Guiraudie's latest wrests visceral and existential delights from seemingly mundane sources.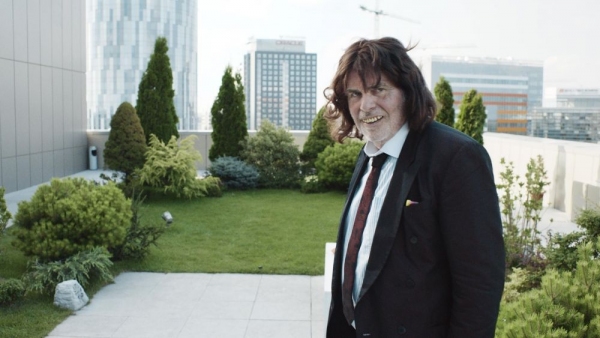 In what's sure to be the Competition's most pleasing, bated-breath triumph, German director Maren Ade has followed up her beloved Everyone Else (2009), with a film several times more ambitious—though you wouldn't necessarily glean as much from a simple synopsis. Indeed, a quick description of Toni Erdmann, which follows a dysfunctional father-daughter relationship through a series of awkward acts of attempted reconciliation, fails in nearly every respect to encapsulate the sheer ingenuity with which Ade approaches her material. (That an early log line for the film—"Without warning a father comes to visit his daughter abroad. He believes that she lost her humor and therefore surprises her with a rampage of jokes"—is both completely accurate and woefully inadequate only reinforces Ade's sly and boundless imagination.) But as is borne out through the film's effortless 162-minute runtime, Ade is an artist of incredible confidence and cinematic intelligence, emerging with a narrative feature that's as potent as one could hope to find in contemporary cinema.
Peter Simonischek stars as the eponymous Toni Erdmann, who is himself, in turn, a character, or alter ego, of Winfried Conradi, a single, middle-aged man (also played by Simonischek) who arrives unexpectedly in Bucharest to visit his daughter, Ines (Sandra Hüller). She is a thirty-something businesswoman whose past with her father appears to be less traumatic than simply strained from differences in demeanor and personality. In what amounts to a series of domestic set pieces, the film proceeds to follow Winfried as he attempts to win back the affection of Ines through a succession of juvenile jokes and costumed caricatures (often staged in front of Ines's friends and colleagues), as if she were still his grade-school princess. That these overtures don't go over well is no surprise, though Ines's reactions, which range from ambivalent to quietly enraged, in no way deter Winfried in his quest to make his daughter laugh. Suffice to say that the film offers no dearth of potential pitfalls for Ade, whose prior films found humor in emotionally fraught situations rather than outright comedy. Despite its length, her Toni Erdmann is a high-wire act of narrative economy and sustained humor, balanced by grace, insight, and finally, poignancy. Rare is the film that with every seemingly familiar setup and at every precarious juncture makes not only the right decision, but the wholly unexpected and exhilarating one as well.
Comedy of a different variety (to say the least) is on display in Slack Bay, French director Bruno Dumont's overdue return to Competition. Not that Slack Bay is any sort of capitulation to art house norms; Dumont's latest, the follow-up to his unexpected swerve into humor, Li'l Quinquin (2013), is actually one of his stranger films, of a piece with its predecessor's jovial stylings but one, by extension, of a bullheaded determinism, as if to confirm that the director is indeed committed to this new phase of creativity. Set on the Channel Coast of Northern France, Slack Bay tells of two families, the upper-crust Van Peteghems and the proletarian Bruforts, whose class distinctions keep them at literal and figurative extremes. Perched atop a hill is the Van Peteghem estate, where André (Fabrice Luchini) and his wife Isabelle (Valeria Bruni Tedeschi) are on holiday with the former's flamboyant sister Aude (Juliette Binoche) and her cross-dressing daughter, Billie (played by first-time actor Raph). Below amongst the marshes are the Bruforts, cast by Dumont from real-life locals, a family of fisherman who, we learn straight away, also moonlight as murderous cannibals. When tourists begin to go missing in the region, the authorities call in Machin (Didier Desprès) and Malfoy (Cyril Rigaux), a pair of bumbling detectives whose top hats, penguin suits, and contrasting physiques mark them as dead ringers for Laurel and Hardy.
Comedy in the mold of these and other early cinematic comedians, such as Max Linder and Charlie Chaplin, are Slack Bay's touchstones. From its first scene, the film is filled to the brim with pratfalls, sight gags, and exaggerated physical comedy of the sort popularized during the silent era. This being Dumont, of course, things aren't all slapstick juvenilia (though it must be reiterated, there are a lot of these hijinks): Issues of class and wealth manifest in the film's familial standoff, while the Brufort's teenage son (Brandon Lavieville), condescendingly nicknamed Ma Loute (a sexual slang with no direct English analog), unwittingly falls for the gender-bending Billie, inciting a variety of prejudices that further strain the relationship between the warring clans. Working for the first time with a large cast of professional actors, Dumont has a giddy time forcing these recognizable faces through a litany of contorted expressions and grotesque angles. Meanwhile, the collaboration between Dumont and his recent cinematographer of choice, Guillaume Deffontaines, pays particularly fruitful dividends, with the director's immaculate framing and opulent mise-en-scène attracting and maintaining interest even as the humor begins to grow tiresome. Dumont's dedication to material this singular and out-of-step with current trends is admirable, imbuing the film with a strange allure unlikely to be replicated elsewhere.
Compared to more contemporary filmmakers, Dumont can almost feel likea relic of another era. Likewise American indie iconoclast Jim Jarmusch, whose latest film, Paterson, is, even by his minimalist standards, pitched at a modest scale, albeit one of substantial virtue. Featuring Adam Driver as Paterson, a full-time bus driver and part-time poet living and working in Paterson, New Jersey, the film feels particularly personal to Jarmusch—not necessarily in the particulars of its threadbare plot, but in the ruminative, quasi-existential tone of the narrative, which follows Paterson over the course of a week in which not much happens and yet everything seems slightly askew from reality. Living in the suburbs with his girlfriend, Laura (Golshifteh Farahani), a visual artist whose wide-eyed, convivial demeanor verges on the saccharine, and his bulldog Marvin, Paterson appears to lead a typical if not terribly exciting life. Eavesdropping on passengers as he drives his daily bus route, and writing short verse poetry in his downtime, Paterson is an everyman with the soul of an artist. His nightly walks with Marvin to the local bar where he engages in anecdotal conversations with the same handful of acquaintances provide him only slight relief. Soon a series of odd events and encounters mildly disrupt his routine, sending Paterson, otherwise content in his provincial existence, on something of a quotidian quest toward enlightenment.
Jarmusch's depiction of Paterson, both the city and the character, is serene and quietly observed, charting an observational course through the New Jersey streets while transcriptions of Paterson's poetry scroll across the screen. As in many of the director's best city-centered films, particularly Mystery Train (1989) and Ghost Dog: The Way of the Samurai (1999), Jarmusch's reverence for the complexion and integrity of the streets is an integral element of his formal arsenal; the largely static setups and tightly edited temporal montages breathe and exhale as if in concert with the city's palpable atmosphere. Jarmusch stylizes without idealizing his locale, noting the town's legacy of creative energy—an unusual amount of writers and artists call the city home, including Paterson's favorite poet, William Carlos Williams—even as his primary subject, as embodied by Driver, remains curiously resolute, toiling away without recognition (his "secret notebook," which he refuses to duplicate for the sake of posterity, becomes for him a kind of sacred totem). More than most American filmmakers, Jarmusch's ideology is grounded in history and culture while his ever-urbane worldview strives methodically to reconcile the philosophical potentialities of art. It's one of many reasons he continues to embody that most paradoxical of identities: the perennial youthful veteran.