Singular and Plural:
Imogen Sara Smith on Jean Grémillon
Museum of the Moving Image's Jean Grémillon retrospective ran from November 21 to December 21, 2014.
"A singular being in a plural world" is how Jean Cocteau described the French director Jean Grémillon. His films are sensitive to the tensions between individuals and communities, between the cyclical patterns of daily life and the private obsessions or conflicts that break these rhythms. A trained musician, Grémillon could pinpoint shifts from harmony to dissonance, and his best films contain exceptionally subtle, complex treatments of human relationships. Admired in France, Grémillon remains virtually unknown in this country, and a tantalizing mystery even to those who have discovered him. A Criterion Eclipse set of three films made during the Occupation drew recent attention, but the bulk of Grémillon's work is still difficult to see in this country. Starting on November 21 and running for a month, a retrospective at the Museum of the Moving Image presents an overview of the director's work, encompassing silent and sound eras, documentaries and dramas, spanning from his first feature, Maldone (1928), to his last film, made a year before he died in 1959.
A strange, dreamlike movie about a man torn between the worlds of idle wealth and proletarian freedom, Maldone forms a blueprint for Grémillon's career, introducing the elements that would recur throughout his works. First, there are landscapes that exert a spellbinding influence on characters: here it is a flat, languid, summery countryside, dominated by big skies and the shimmering light of a canal. In later films it would often be the rocky, storm-swept coast of Brittany or the sea itself in its ever-changing, never-changing vastness. Second, there is a love of work, of the detailed processes of physical labor and machinery. Here, the camera follows grain passing through a threshing machine; elsewhere, it studies the gears and pistons of ships' engine rooms, the construction machinery of a dam, the repetitive cycles of a printing press, the revolving lens of a lighthouse. Third, music and dance are continually present, embedded in the rhythms and structures of the films but also revealed as the beating heart of communal life. The farandole, a traditional chain dance and archetypal image of village festivity, snakes through Maldone, Gardiens de phare, Lumière d'été, and Le ciel est à vous. There is old-fashioned waltzing at wedding parties in Remorques and Pattes blanches, modern social dances in nightclubs in La petite Lise, Daïnah la metisse, and Gueule d'amour.
Finally, Maldone revolves around obsession and inner conflict that push a man towards madness—a pattern repeated in many of Grémillon's films. The titular hero (Charles Dullin) is divided against himself; a gypsy reads his palm and tells him, "Your enemy is inside you…One must destroy the other." Years before, he fled from his wealthy aristocratic family and has lived happily as an itinerant wagoner, playing the accordion for tavern dances and flirting with Zita (Genica Athanasiou), a gorgeous young gypsy woman. When he returns to claim his inheritance and marry a socially acceptable woman, he remains consumed by obsession with his past life and with Zita. Through double exposures, his divided self appears on screen, the wagoner tormenting the lord trapped in "the prison of contentment." The increasingly experimental style of the film—with blurry handheld subjective camera and rapid editing—tracks Maldone's mental unraveling. This process becomes the whole focus of Gardiens de phare (The Lighthouse Keepers, 1929), a mood piece about a young man spending a month on a lighthouse off the coast of Brittany, who is bitten by a rabid dog. His illness and descent into madness are conveyed chiefly through the relentless revolutions of the lighthouse lens, casting prismatic patterns that blend into a fevered dream of couples dancing on a beach. The film recalls Jean Epstein's Finis terrae, made the same year, with its isolated islanders, images of burning seaweed and black-clad Breton women waving goodbye to departing boats, and above all with its cinematic meditation on the lighthouse beam.
Born in Bayeux, Normandy, in 1901, Grémillon had Breton ancestry and had grown up partly in Brittany—his special feeling for the place is palpable in his films set there. His first love was music, and he defied his parents' disapproval by going to Paris to study violin and composition at the Schola Cantorum. In the early 1920s, he played in a pit orchestra at a movie theater: this path to cinema through music is irresistible as a key to Grémillon's essential artistry. Through a friendship with cinematographer Georges Périnal, who shot Maldone, he began working in the film industry, first as a title writer and editor. In the early 1920s he directed short documentaries that focused on industrial manufacturing, and he edited footage from these films into an experimental short called La photogénie mécanique. He wrote his own musical score for Un tour au large (1926), a documentary about Breton fishermen. But while the silent era may have been the most artistically pure and creatively satisfying period of Grémillon's career, it was with the coming of sound that he really set himself apart.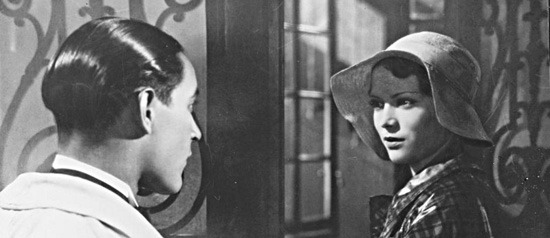 Henri Langlois wrote that La petite Lise (1930), Grémillon's first sound film, was the talkie that made him stop regretting the passing of silents. This regret has never entirely dissipated among cinephiles, even those born decades after the transition to sound; the principle of film as a visual art instills a lingering prejudice against sound as anti-cinematic. The assumption that images show while sound tells is embedded in this prejudice; but in La petite Lise, Grémillon provides a master class in cinematic sound, the audial equivalent of photogénie.
The film—a small, bleak story of a man released from a prison camp in Cayenne, returning to Paris to find his daughter ensnared in poverty, prostitution, and crime—is replete with off-screen sounds; overlapping dialogue; sounds divorced from their corresponding images; sounds that counterpoint or conflict with the mood of the action; sounds that bleed from one scene to the next. Virtually every innovative, sophisticated use of sound is sampled here, despite the limitations of early recording technology. Again and again, Grémillon demonstrates how sound enables a kind of obliquity and ambivalence that silent films, for all their subtlety and expressiveness, can scarcely provide. The camera follows a young woman upstairs, as she approaches the room where we know (though she does not) her long-lost father awaits her. When she goes in, the camera remains outside, as if overcome by tact or paralyzed by emotion, and we listen through the closed door to the inarticulate sounds of their tearful reunion.
When the daughter, Lise (Nadia Sibirskaia), walks with her boyfriend through the dark streets, the camera trails them from behind; their worried, melancholy dialogue is more poignant against the impassive view of their backs than it would be acted out on their faces. The shot echoes the film's unforgettable opening, in which a column of convicts is seen from behind as they shuffle through the gates of a prison camp, their heads lowered against the glaring tropical sun, their bare backs inscribed with tattoos. When two prisoners make a break, we stay inside with the others, listening anxiously to the guards' yells and whistles. Later, we experience a murder as a sickening off-screen thud and then a close-up of blood pooling among the broken shards of a vase. While Lise's father waits for her in his room, he inspects her photographs and keepsakes to the accompaniment of unseen trains roaring and rattling outside. This sense of things out of reach, on the other side of a wall, feeds the powerful sense of displacement and yearning that suffuses the film.
The film is bookended by tour-de-force scenes of massed bodies, rhythm, and music. The opening scenes depict prison as a hell of filth and squalor, but also movingly reveal a camaraderie of songs and games and shared survival. The camera pans over men crammed into long rows of bunks, their bodies blending together in extreme close-ups. Shaved heads and dirty white clothes blur in choking clouds of smoke; skin and walls alike are scrawled with words and pictures. Berthier (Pierre Alcover), a huge, gentle bear of a man, listens with tears in his eyes to the chorus of his fellow prisoners singing: in their midst he is cut off by his stillness and silence. In the film's final scene, Berthier's slow, agonized decision to sacrifice himself to save his daughter and her fiancé—who have killed a pawnbroker in a robbery attempt—plays out amid the noisy, frenetic revelry of a nightclub. Again the camera presses through jostling bodies, this time of dancers jitterbugging to lively jazz that seems to mock his tragic nobility. You can look away from what you don't want to see, but noise is unavoidable as fate.
The percussive jazz rhythms and black dancers—including a soloist in top hat and tails doing a hip-swiveling Afro-Latin number—are background here, but in Daïnah la métisse (1932) jazz and racial themes pervade the entire film. An intoxicating, stylized sketch (only fifty minutes long), Daïnah is more like a song than a drama. The setting is an ocean liner sailing through equatorial waters, its dazzling white decks and rhythmically pulsing machinery as rapturously deco as the liner Astaire taps on in Shall We Dance?, though considerably more realistic. Couples in evening clothes continuously revolve while a jazz band plays American pop tunes (the recurring theme is the bluesy, minor-key "Chloe"). Scenes of the dancers, the machinery, the ship's prow cutting through glittering waves, are like a refrain punctuating the feverish love triangle-murder plot. Daïnah (Laurence Clavius) is a beautiful mixed-race woman ("métisse" means mulatto), a flirtatious coquette who basks in the amorous attentions of white officers while pushing away her jealous husband (Habib Benglia), a black magician. When she disappears, suspicion falls on both the husband and the brutish white mechanic (Charles Vanel) who tried to rape her.
The centerpiece of the film is a masked ball, at which the magician's performance—ominously lit and poetic, as he manipulates a glass sphere, a dove, a knife—are intercut with white audience members in grotesque, oversize papier-maché masks. While they sport these ugly caricatures of withered European features, Daïnah wears a ravishing wire mask that transforms but does not hide her face, evoking both a delicate veil and fierce tribal war paint. This surreal, riveting sequence serves no real narrative purpose, but its sinister mood and imagery of masking, performance, obsessive gazes, and dancing bodies provide a concentrated and cryptic allegory for the whole film.
Reference-book entries on Grémillon describe the 1930s as a low period in his career, after the financial failure of La petite Lise diminished his creative autonomy and he was forced to take commercial assignments, spending several years working for studios in Spain and Germany. But if Daïnah la métisse is any indication, the early 1930s were not solely a time of "struggle and compromise" (Konstantin Bazarov, World Film Directors), when he made a "series of films without individuality" (Bernard Eisenschitz, Cinema: a Critical Dictionary.) During the late thirties and the war years, Grémillon produced the films for which he is now best known, poetic realist masterpieces that combine his distinctive lyrical-documentary style with brilliant screenplays by Jacques Prévert and Charles Spaak, and superb performances by some of French cinema's greatest stars: Raimu, Madeleine Renaud, Pierre Brasseur, Michèle Morgan, and Jean Gabin.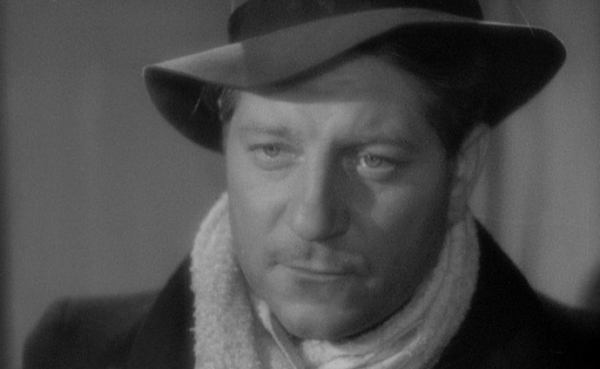 Grémillon's two films with Gabin, Gueule d'amour and Remorques, are star vehicles that extend the actor's mythic persona—the doomed romantic emitting what André Bazin called an "enraged outcry against the universe"—but Gabin's performances fit seamlessly into Grémillon's style and themes. The essential poetic realist antihero, his presence infuses the ordinary with mysterious force; his proletarian skepticism anchors the poetic visions of Prévert, Carné, or Grémillon. Gabin dominates the screen through unadorned directness, stillness that makes him a center of gravity. Again and again, his simplicity and integrity confront a complex, deceitful, morally compromised world, and he unleashes violent spasms of anger and disgust. Gabin's irresistible glamour is rooted in defeat, in losing, in being fed up. His feet are planted on the rock-bottom truth that—as poetic realist scripts reiterate—living is hard.
Gueule d'amour (1937), made for the UFA studios in Germany but largely filmed on location in Provence and Paris, tells a dark, cruel story in a setting of clear light and dancing breezes. The film opens with a luminous montage: shadows of branches quivering on sunlit white walls, water rippling, awnings fluttering, glass bottles shimmering on a bar. As the town of Orange excitedly prepares for the return of a regiment of soldiers, heralded by a jaunty fanfare, the camera floats through the streets, tilting up to watch shutters fly open and women appear at windows and balconies to wave at the parading soldiers. Smirking complacently, Lucien Bourrache (Gabin) accepts their tribute. His nickname is "gueule d'amour," an untranslatable phrase rendered as "lover boy" or "lady killer." ("Gueule" is a slang term akin to "mug.")
Nonchalantly dismissive of the townswomen who pursue him and send him gifts, Lucien meets his match in Madeleine (Mireille Balin), an exquisite, expensive kept woman he encounters in Cannes. As they stroll along a palm-lined avenue, Lucien diagnoses her malady: she is bored because she's too beautiful, and gets things too easily. She is also fickle, spoiled, reckless, and elusive. Enslaved by her even after she gambles away his money and slams the door in his face, Lucien gives up his commission and goes to Paris to work as a typesetter. They have an affair, and Madeleine seems to love him, in her way, but not enough to give up the wealthy man who keeps her (and her selfish, gluttonous mother) in luxury. Finally disgusted, Lucien returns to Orange, giving the film a symphonic, three-part structure that uses echoes of the opening section to accentuate Lucien's decline. He is now forgotten in the scene of his former celebrity; looking older and heavier, he hunkers in morose passivity until Madeleine comes looking for him. In the bitter, violent denouement, Gabin passes from an outburst of white-hot rage to weepy, sniffling helplessness—a display of abject weakness that no American male star of his stature would have risked at the time.
In many of the poetic realist films of the late 1930s, defeat in love seems to stand in for France's premonition of national defeat—these films were attacked by the Vichy government for weakening morale with their bleakness and fatalism. Remorques, begun in 1939 but not released until 1941, was described by Tom Milne as "feel[ing] precisely like the last European movie of the 1930s." It was Gabin's final film before he left for Hollywood, unwilling to work under the Occupation, and it reunited him with both his costar (Michèle Morgan) and screenwriter (Jacques Prévert) from Marcel Carné's Le Quai des brumes (1938). With a sharper realism and more mature complexity than Carné's sublime romantic work, this is the film that most perfectly balances Grémillon's lyrical style, his expressive use of sound and documentary-like focus on work and environment, with the best elements of commercial movies—an involving melodrama and richly drawn characters.
A long opening scene at a wedding banquet introduces a close-knit Breton community where life revolves around the men's dangerous ocean rescue missions. Tensions between the sailors and their homebound wives, between the deadly freedom of the sea and the dull security of life on shore, are felt through contrasts between the dark, rainy night and the warm, bright indoors where the party is held. The camera moves fluidly and naturally through the boundary between these two worlds, gliding between dancers, picking up snatches of talk about marriage and infidelity. André (Gabin) is the respected, effortlessly authoritative captain of a ship that rescues vessels in distress. "Remorques" means "tow-rope," and this crucial link aptly symbolizes the strained, frail connections between men and women, matrimonial ties that can all too easily shudder and snap. The wedding party breaks up when the men are called out by an S.O.S. Left behind, André's wife Yvonne (Madeleine Renaud) comforts the abandoned bride, but soon reveals her own unhappiness. She spends her life waiting for her husband to return and worrying about his safety; she is secretly ill, hiding her undiagnosed heart condition but brooding over it. As Yvonne talks about her fear of dying alone, the camera gently tracks away from her and passes out through the window into the rainy darkness.
André's rescue mission is a debacle that initiates a sea-change in his life. His submerged sense of frustration and restlessness is brought to the surface when the despicable captain of the ship he tows in cuts the rope at the last minute to avoid paying for the rescue. He also meets the captain's miserable wife, Catherine (Morgan), and his brusque aloofness soon gives way to barely suppressed yearning for her. In the film's haunting centerpiece, they walk together on the beach. A bird's-eye view shows two tiny figures on a wide, flat white strand, with cloud-shadows surging across it like tides. A close-up reveals their feet leaving prints in the damp sand. They sit on the skeleton of a rowboat, two figures all in black with pale hair tumbled by the wind. He gives her a dried starfish, like a token in some private game; she tells him that as a child she gave herself a secret name. The dreamlike mood brings out an aching, mournful intimacy between these two. They visit an empty house overlooking the sea, all white inside, the furniture covered with dust-cloths. A sanctuary haunted by ineffable sadness, it is a perfect setting for them to become lovers.
But storms soon return. André has an ugly fight with Yvonne, who has helplessly become a clinging, nagging wife, complaining about the boredom and emptiness of her "little life." On a rainy night, he is in Catherine's arms when someone comes to tell him that his wife is dying. The lovers look at each other as he leaves, silently knowing they won't see each other again, and you can almost see the tie between them shiver and strain with the ache of separation. André rushes to his wife's side, but though he's stricken with grief and guilt, he does not answer when Yvonne begs him to say he always loved her. The deathbed scene is accompanied by the eerie, moaning sound of a foundering ship. The final scenes of André setting out in the storm to rescue another boat are scored with a rather strident and overbearing incantatory funeral service (composed by Roland Manuel), a rare instance in Grémillon's oeuvre of sound that feels imposed on the images.
Grémillon returned to Brittany in several later films, including Pattes blanches (1949) and L'amour d'une femme (1954), which are strengthened by his feeling for the landscape and the atmosphere of rough, insular communities. Pattes blanches ("White Paws") follows a common premise for gothic melodrama, with a provocatively sexy woman arriving in a remote village and stirring rivalries among the local men. The stark, rocky cliffs and moldering chateau, night scenes and cave-like interiors give the film an otherworldly, dark fairy tale feeling that suits its archetypal characters: the fickle and selfish temptress (Suzy Delair); the lonely hunchbacked maid; the reclusive, eccentric aristocrat (Paul Bernard); and his gaunt, passionately resentful bastard half-brother (Fernard Ledoux). Appropriately for a melodrama (a term originally meaning music + drama), music and dance play especially significant roles, with a boisterous wedding party that echoes the one in Remorques, and a whirling fantasy waltz embodying the maid's romantic dreams.
An aristocratic past and a fairy tale mood also haunt Lumière d'été (1943), in which Grémillon richly visualizes an allegorical script by Jacques Prévert. This screenplay uses a stock premise of rivalry over an ingenuous young woman, and rather heavy-handedly contrasts a decadent upper class with honest workers. It is saved less by Prévert's poetic dialogue than by the surreal, unearthly setting and mood of disquiet. Sun beats down on a lunar expanse of treeless mountains; the steady, rasping buzz of insects is occasionally disturbed by explosions for a dam under construction, leaving clouds of dust to drift along the roads. A white, glittering, glass-paned hotel perches on a crag, with an elaborate aviary on the sun porch. This fanciful cage is an image with several variations in the film: the tiny cage in which a construction worker keeps a pet cricket, the latticed cabinet in which the artist Roland (Pierre Brasseur) paints a hidden landscape, the framed shooting gallery game played by Patrice (Paul Bernard), a cold, cruel aristocrat whose arrogant solipsism finally turns into full-fledged insanity. Characters are trapped in self-prescribed roles. The symbolic, theatrical quality of the film peaks in a costume ball; the mobile shots of a chaotic chain dance snaking through a chateau suggest feverish plague-time revelry. The finale in which party guests dressed as Hamlet, William Tell, and Manon Lescaut wind up at the dam construction site, stranded amid massive machinery and grimy workmen, pushes their irresponsibility and irrelevance to grotesque absurdity.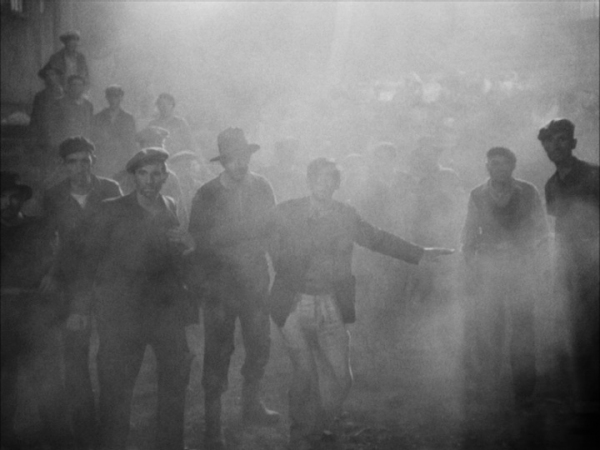 Remarkably, Lumière d'été was released during the Occupation after Grémillon argued his case before a Vichy censorship board. His next film, Le ciel est à vous (1944), was less obviously political but was recognized and embraced by audiences as a celebration of indomitable French spirit. Grémillon's most uplifting and warm-hearted film, it is nonetheless a clear-eyed, unsparing examination of the costs, as well as rewards, of single-minded drive and determination. It is also an extraordinary portrait of marriage as a partnership of equals working together, and most remarkable of all, the film takes its feminist stance for granted. A prologue added after France's liberation notes that the story was based on real people, centering on a provincial housewife who became an aviatrix and broke the female record for long-distance flight. Madeleine Renaud, who played clinging, jealous women in Remorques and Lumière d'été, magnificently personifies the paradox of Thérèse Gauthier: radiant with confidence and courage, yet inflexible and even blindly selfish in her obsession. As Thérèse becomes consumed by flying, a parallel plot follows her daughter's thwarted devotion to music. Seemingly unable to recognize the link between their goals, Thérèse forces her daughter to stop lessons in order to study a more practical subject, and sells her piano when she needs money to fix up their plane. Piano music is a recurring element of the film's typically sophisticated score, and the crash of the family's piano as movers attempt to hoist it into their new home foreshadows the risk in every flight.
The long opening section of the film patiently embeds us in the ordinary life of the family; by contrast, Thérèse's training and successes in the air are elided, and at no point is there any aerial footage. The real focus is not on the freedom of the sky but on the earthbound tug of emotions and obligations. Charles Vanel is deeply moving as Pierre Gauthier, a mechanic and World War I flyer who embraces his wife's ambition, only to realize that he is helping her to risk her life. Torn between the desire to protect and hold onto her, and the urge to support her dreams, he asks, "Which is the greatest proof of love?" The anguished suspense in which he waits to find out if she has survived her record-breaking attempt is so real and heartrending that it puts ordinary, calculated movie suspense to shame.
Throughout Le ciel est à vous, images of communal bonds—a herd of sheep, a group of orphans singing in unison and dancing hand in hand, crowds at the airfield moving together like a wave breaking or a flock of birds—counterpoint the unseen image of solitary transcendence represented by Thérèse's solo flight. In the 1950s, after two final fiction films (L'étrange Madame X, with Michèle Morgan again, and L'amour d'une femme, with Micheline Presle as a female doctor), Grémillon returned to documentaries and focused on visual arts and the creative process—looking both at individual artists (André Masson et les Quatre Elements) and at communal artistic production (La maison aux images, about artists in Montmartre, and Haute Lisse, about the weaving of tapestries.)
Bernard Eisenschitz wrote that Grémillon's films affirmed "the impossibilities of harmony." But taken as a whole they illustrate rather the fragility of harmony, and its resilience. The individual's story may end in failure and tragedy, but there is still the farandole, the prisoners' full-throated chorus, and the weavers knotting thousands of threads into a single tapestry.
Imogen Sara Smith is a writer living in Brooklyn. She is the author of two books, In Lonely Places: Film Noir Beyond the City and Buster Keaton: the Persistence of Comedy.