Getting with the Program:
Surveying the Nonfiction Landscape of the 2014 Toronto and New York Film Festivals
By Eric Hynes
One of the best viewing experiences I had this year was at a festival press screening that could fairly be called a disaster. The room was less than half full, and probably more than half of those who attended were gone by film's end. The description for I Am Here, Lixin Fan's follow-up feature to Last Train Home—one of the best documentaries of last decade—promised "a very different look at modern China," and was that ever true. Bankrolled by the People's Republic and offering an inside account of Super Boy, an American Idol-meets-Big Brother–style television singing competition, I Am Here comes on like a badly translated promo video (cue the walk-outs) but then gets weirder and more outlandish the longer it hangs around. Witness the aggressively arrhythmic editing; the odd fetishization of the teenage boy stars' physical injuries (by trampoline! by toxic paint!); the emo montages scored to soft-strummed ballads, which outdo the "Wake Me Up Before You Go-Go" sequence in Zoolander for homoeroticism, yet are played seemingly straight. As I said to, and heard from, everyone I encountered afterwards who had been in that theater: "What the fuck was that?" I was exhilarated, and grateful for the opportunity to be so exhilarated, regardless of Lixin's intentions (which I'd love to learn, but wouldn't really affect the effect). But I also have no idea what the film was doing in the main documentary slate of the Toronto Film Festival.
Film festival programming isn't, and frankly should never be, an exact science. Depending on the festival and programming team, there may be a set of agreed-upon criteria, some guidelines for determining what is or isn't a good fit for a program or particular year of the program—none of which is likely to be made public. There's also personal taste and curatorial vision involved, as well as the activation (or absence) of specialty knowledge. Yet for as much thought and labor that goes into a program, there's a responding wave of thought, industry, and consequence that comes out of that program—especially for higher-profile festivals, and extra-especially for documentaries, for whom a robust festival profile is essential for finding any kind of audience. Why this, why not that, and if this, what's it mean? It's impossible not to play along with questions like these, but it's also not just a game. This is what programming, with its vetting, privileging, clustering, and critically asserting, is all about.
For all of its size, power, and flypaper ability to attract buzz and paparazzi, the character of the Toronto International Film Festival can be hard to quantify when it comes to documentaries. There's no question that the fall prestige film season begins in earnest at TIFF (after a semi-start at the tony, for-profit, let's-pretend-we're-easygoing-mountain-people-whilst-charging-exorbitant-entrance-fees festival at Telluride, with which TIFF has lately engaged in a self-serving turf war.) But the doc calendar follows a different logic. The festival arrives eight months after Sundance sets the year's doc clock in motion (and four months before things start up again in Park City), not to mention three and a half months after Toronto's own massive Hot Docs Festival. Offering a high profile launch without necessarily acting as a feeder for the awards buzz-saw, TIFF Docs, much like the rest of the festival's programming, tends to be an inclusive enterprise, and this year's slate was true to form, veering between crowd pleasers and gut punchers, profiles and propaganda, masterpieces and curios.
Additionally, and rather curiously considering such inclusiveness, some of the festival's best nonfiction films didn't come courtesy of TIFF Docs, but via the ever-expanding, avant-garde facing, fiction/nonfiction–agnostic Wavelengths program. TIFF's nonfiction flagship isn't as reliant on politically efficacious, subject-oriented films as Sundance's documentary competition, and is hardly allergic to playful approaches to the form (witness the stop-motion animation of The Wanted 18, or the homemade 3-D family tree of Iraqi Odyssey). But for all their diversity of form and place of origin (less than half hailed from Canada or the U.S.), films in the survey did seem magnetized to either hot-button issues or mass-appeal stories, leaving Wavelengths a rather wide berth in which to program, puzzle, and exult in the current state of the film art.
Any discussion of documentaries at TIFF 2014 needs to begin with one of the festival's most highly anticipated films, which also happened to be one of its best. Two years after introducing The Act of Killing to the world, the festival hosted director Joshua Oppenheimer's prequel/sequel, The Look of Silence. While it doesn't foreground formal experimentation quite like its predecessor (i.e. no feathered-dress, Busby Berkeley-esque dance sequences), the new film is nonetheless still cinematically engaged and enraged, trading in high concept genre play for drama constructed from the very building blocks of cinema: close-ups and wide shots, dialogue and expression, shot and reverse shot, tension and confrontation. What it expresses, and what it achieves, could only be accomplished via film. Which is not to say that unfathomable inhumanity, denial, and sorrow are the exclusive purview of cinema. It's to say that a certain articulation and understanding of those things could only be achieved thanks to the formal and ethical choices of Oppenheimer and his collaborators, many of whom again are credited anonymously (the necessity for which the latest film makes even clearer). In other words, not only is the film destined to draw even more attention to Indonesia's ghastly past and morally untenable present—not to mention the complicity of the United States and other nations in that horrid state of affairs—it's act two in a project that's reframing the parameters of what's possible, perhaps even necessary, in the art of nonfiction filmmaking.
I saw The Look of Silence within hours of arriving in Toronto, and never fully recovered for the rest of my stay. But that doesn't mean it was the only film that stuck with me. In the searing, epistolary essay film Silvered Water, Syria Self-Portrait, directors Usama Muhammad and Wiam Simav Bedirxan exchange videos and missives from two very different vantages on the Syrian civil war—he from political exile in Paris, and she from under the wreckage of Homs. Between her firsthand footage and his selection of YouTube clips from other Syrians, what's presented is an unshakably harrowing document of violence and suffering. Yet it's also, thanks to the warmth and sincerity of their efforts at bridging their divides, and thanks to the battered poetry of what they've constructed, uniquely, if tenuously, affirming.
Perhaps two epistolary docs were considered one too many for the main program, or perhaps it's a matter of disparity in political urgency, but the equally fine Letters to Max could be found in the Wavelengths program. As with Silvered Water, there are two points of view in the film, yet here both are filtered through pointed and playful scrims of translation. Twelve years after visiting the fledgling Caucasian state of Abkhazia, director Eric Baudelaire posts questions to friend and former foreign minister for Abkhazia, Maxim Gvinjia, about how things have or haven't changed, and Gvinjia answers via what would seem to be remote audio clips. Baudelaire mixes footage from his previous visit with newly shot material, interfolding observation with memory; Gvinjia's personal relationship to the land with Baudelaire's inquisitive, touristic one; and sound (Gvinjia's voice) with picture (Baudelaire's footage). So attuned does one become to this duality that when sound and picture finally sync 45 minutes in, it feels like both a relief and disappointment.
Another doc dissertation on duality, and also in Wavelengths, Songs from the North sees South Korean filmmaker Soon-Mi Yoo muse about her attraction to and empathy for North Korea. Along with cannily chosen movie and television clips and interviews with her own father, Soon-Mi searches for hidden truths in the cracks of state-sanctioned tours. She finds at least one great one, via a long take in which sentimental patriotic music echoes out of tinny loudspeakers while frigid citizens silently trudge across a snow-covered lot. "Is North Korea the loneliest place on earth?" the filmmaker asks via intertitles. "A country without friends, without history. Only myths, repeated endlessly from morning to night." Speaking of myths, it's easy to imagine how differently I Am Here would have been received had it appeared in Wavelengths, where its mytho-campiness could have been isolated and embraced, whereas in the higher profile TIFF Docs section, that oddness seemed, well, at odds with the ethnographic promise (i.e. the newsworthiness) of the premise. (Or is the avant-garde strictly for works that unambiguously aim for it?)
Meanwhile, back in TIFF's main ring, slick, through-the-front-door topic-oriented films like Robert Kenner's Merchants of Doubt shared space with sidelong takes on global issues such as This Is My Land, an atypically fair-minded and ruminative look at how various Israelis and Palestinians teach, learn, and discuss their shared history. I wasn't at all taken by Red Army, a tricked-out, bells-and-whistles documentary that's so determined to entertain people who don't ordinarily watch documentaries that it condescends to both its subjects and the audience (so much use of Cyrillic as super-cool design, so much stereotypically Russian music, so much riffing on the Cold War as a groovy spy-tastic time). And though it's wise to be suspicious of movie stars moonlighting as documentarians, there's nothing at all amiss about Ethan Hawke's Seymour: An Introduction, a warm, ingratiatingly modest profile of Manhattan piano teacher Seymour Bernstein, whose life-earned wisdom is exceeded by his openness to change and discovery—the master as perpetual student.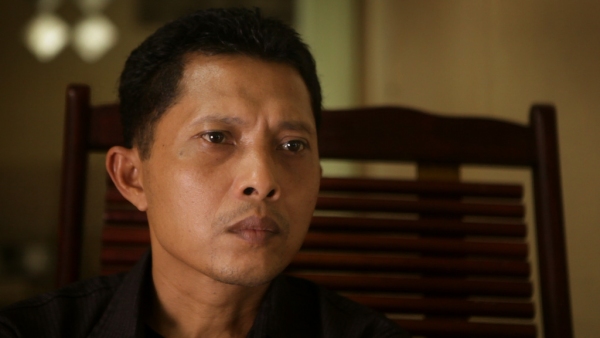 Seymour himself was on hand for the film's hometown screening at the Film Society of Lincoln Center, as part of the 52nd annual New York Film Festival. Following just two weeks after the end of TIFF, and dedicating numerous slots to films that just premiered in Toronto, the New York Film Festival occupies an even odder, and more tenuous spot on the doc calendar. Of course, the fact that there's even a reason to discuss NYFF in terms of documentaries is thanks to the festival's very welcome expansion of doc programming in recent years. After comprising a respectable percentage of the festival's Main Slate in its first few decades, doc representation at NYFF had trickled to a very few, often forgettable selections (Methadonia, The Axe in the Attic). Then, starting last year, a sidebar entitled "Spotlight on Documentaries" was added to an expanded festival lineup, bringing in upwards of fifteen additional nonfiction features into the fold.
Such inclusiveness has only been a good thing. But now that we're a few years into the bigger NYFF, some questions arise. Since the Festival still has a reputation, fully earned, I think, of being a "festival of festivals," a best of the best of the year (dependent on taste and subjectivity, thankfully), should we consider these nonfiction selections in the same light? Or are the selections, pace the nine films that also screened in TIFF, more seasonally determined? (Unlike the narrative titles, there were no Sundance holdovers among the docs, nor were there titles that played in the crucial documentary showcases True/False, SXSW, or Hot Docs.) And perhaps most importantly, since docs are still eligible for, and indeed still appear in the Main Slate—that the designation remains, despite the expanded scope of the fest, speaks to the importance of its selectivity—should we assume that docs programmed in this "Spotlight" section are lesser films, less deserving, less, well, "Main"?
That last one is an honest question, but it also arises from frustration. This year two nonfiction films were selected into New York Film Festival's Main Slate: Nick Broomfield's Tales of the Grim Sleeper and, as a last-minute addition, Laura Poitras's Citizenfour. Now, make no mistake: both of these are worthy films. I caught the first in Toronto, and wrote about it at length here, and saw the second at its world premiere screening—which, for the purposes of protecting and preserving its newsworthiness, involved sequestering the press in a 23rd St multiplex while the paying public (and let's be honest, "select" press as well) watched simultaneously uptown in Alice Tully Hall, where Poitras, Glenn Greenwald, and others were on hand for hosannas. Though Broomfield's film is his best to date, it still grates at times for being too blunt of an object, and while Poitras's has some unbelievable footage (which is brilliantly and sensitively captured), it's a bit formally ragged and politically single-faceted, and doesn't quite reach the level of the first two installments in her surveillance trilogy: My Country, My Country and The Oath.
That I think that both of these films have flaws doesn't at all negate their vitality or challenge their belonging in the Festival—in this or any other year. But how could these films rank as Main Slate when films like The Look of Silence, J.P. Sniadecki's The Iron Ministry, and Frederick Wiseman's National Gallery were relegated to Spotlight on Documentaries (which, at the risk of needling, isn't much of a spotlight or achievement when it's the eleventh option under "Lineup" on the NYFF website, right above "Free Events"). You don't have to love these three movies as much as I do to acknowledge that they aren't minor. That Oppenheimer's masterpiece could be programmed into any kind of sidebar, in any festival or setting, is hard to fathom. You don't have to love or like it—and you can certainly find it problematic or tough to take or I guess even suspicious. But dear god, it is nothing if not "Main."
Neither is The Iron Ministry minor, as it takes a cubistic tour of the Chinese rail system, combining the experiential, sound-picture sculpturing of Lucien Castaing-Taylor and Verena Paravel's Leviathan (with which it shares an affiliation with Harvard's Sensory Ethnography Lab) with a disarming reportorial interest in individual people's stories, ideas, and politics. Nor is National Gallery (which also screened in TIFF Docs) sidebar material—not just because of Wiseman's towering reputation and excellence but also because of how curious and inventive his cinema remains. Here he's spelunking into London's National Gallery and coming back with a nimble celebration of our ways of looking, learning, performing, and collapsing time.
Beyond the other titles also seen at TIFF (Seymour, Sunshine Superman, Merchants of Doubt, Silvered Water, Red Army), there's much to be said for Debra Granik's Stray Dog, which starts as a frankly intimate portrait of Vietnam veteran and burly biker Ron Hall and gradually opens up into a story of Hall's evolving, multicultural family, and of how his tight-knit, conservative community in Branson, Missouri, adapts in relation to it all. It's also impossible to not be charmed by Albert Maysles's Iris (the sole World Premiere in the section) which sees the legendary octogenarian filmmaker train his (and others', including Sean Price Williams's) camera on the equally legendary nonagenarian Iris Apfel. A peerless designer, stylist, and fashion icon who's also a peerless doc subject, Apfel serves as an adorable, mutually affectionate foil for Maysles—who occasionally appears onscreen and speaks up from behind the camera, poignantly underscoring the mirroring at play in a collaboration between artists determined to keep working until the bittersweet end.
Inherent to these questions about how and where and why these films are programmed is a belief that nonfiction films merit the same kind of platform and support that narrative films receive. Not just out of an ethical sense of equality, but out of a belief that much of the greatest work being done in cinema today can be categorized as documentary, along with a belief in the fluid barrier between docs and narratives. To me, a film like The Princess of France (Main Slate in NYFF, Wavelengths in TIFF) has at least as much in common with The Look of Silence (each foregrounds conceit, form, craft, and performance) as it does with, say, Mr. Turner or Foxcatcher; I also see stronger parallels between the Safdies' Heaven Knows What and Stray Dog, and between Godard's Goodbye to Language and The Iron Ministry, parallels that seem squandered when all of these films can't mingle in the Main Slate.
I love that there's a privileged Main Slate, and that its moniker doesn't distinguish between nonfiction and narrative, but the implications of its programming in light of its two doc outliers, and the separate Spotlight section, are hard to deny and to square. Having the Broomfield and Poitras docs as outliers in the Main Slate simultaneously asserts that these are the two superlative docs in the Festival, and that these are only two such docs worthy of the company of 29 narrative films. Is it that the Poitras and Broomfield films are perceived as having greater appeal because of their U.S. subjects, or greater newsworthiness because they touch on domestic issues? It would be unfortunate if so, given that these distinctions have nothing to do with the art or power of nonfiction films—surely of interest to a festival of festivals that offers a pulse-check on the state of the cinematic art—and also that it's a standard that's hardly applied to far-flung fiction titles like The Wonders, Timbuktu, Horse Money, or Hill of Freedom.
The great legacy of the Main Slate emerges from its twinned standards of artistic excellence and formal inclusivity, disregarding budget, size, notoriety, nationality, or release date in its selectivity, conflating Hollywood auteurs with first-timers and European small-bore experimentalists. If the new-look NYFF would make a real claim on documentaries, on filmmakers who deserve a bigger platform, on an approach to the form that gels with the festival and its programmers, what would it be like? I hope to find out, because if the quality and breadth of docs at this year's TIFF and NYFF are any kind of harbinger, the art form is certainly going to merit such a platform.