Best Supporting Actress: Lesley Manville in Phantom Thread
The past year saw no shortage of movie-stealing performances from formidable women in supporting roles, from Laurie Metcalf to Tiffany Haddish to Holly Hunter—each of whom elevates her respective film, bringing it somehow more vividly to life. By contrast Phantom Thread hardly needs any "elevation," with Daniel Day-Lewis and Vicky Krieps achieving a perverse delirium matched in every moment by Paul Thomas Anderson's sumptuous moviemaking. But Lesley Manville as Cyril, with her deft take on the Mrs. Danvers archetype, achieves something altogether singular. Initially, her Cyril is the model of perfect control: stoic, brutally direct, unmoved by impulsive emotion. She willingly volunteers to dump the live-in girlfriend of her brother, Reynolds (Day-Lewis), and, later, cuttingly (and literally) sizes up the next in line, Krieps's Alma. It would be easy if the twist for this character were that she reveals a secret loneliness or insecurity, but Phantom Thread doesn't traffic in easy reveals. Instead, Cyril becomes an unlikely ally to Alma—for reasons she attributes, compellingly enough, to fondness—thus disrupting the tenuous emotional balance of the House of Woodcock. Manville's performance is the kind of tour de force played out entirely through glances, barely perceptible shifts in expression, and slight changes in intonation. In this sense, it couldn't be further from another indelible role of hers, the so-obviously-readable-it's-embarrassing alcoholic embodiment of loneliness that is Mary in Mike Leigh's Another Year (2010). That the same actress has given us both of these complicated, haunting, and yet completely different women is nothing less than astonishing. —Chris Wisniewski
Inaugural Sam Dodsworth Award for Best Studio Picture Deeply and Seriously Concerned with Life Choices: Downsizing
Downsizing entered the world complete with major studio backing, so it's tempting to view its hero's climactic decision to fuck the future and live with the woman he loves before the world ends in a cloud of methane as the latest instance of "be in the moment, dood" Hollywood movie pabulum. But this is Alexander Payne, a major American filmmaker who has attained success while managing to keep his art attuned to the grubby realities of life for those in flyover America. Downsizing is satire, yes, but it wins the inaugural Sam Dodsworth Award (named after the titular hero of Sinclair Lewis's novel and one of William Wyler's greatest films, a wealthy industrialist whose carefully curated life craters) because it points toward something beyond its sly critique of the contemporary moment. Downsizing's superstructure is built from broad-based societal satire, and the film certainly looks, on first glance, like it has real interest in interrogating the intersection of theorized "greater goods" and individual self-interest. But by the film's end, it's clear this is all a ruse—a kind of conceptual smokescreen that slowly clears to reveal how deep Payne has dug into the life of an average man who exists, like many of us, unhappily, and who is so intent on making choices to best position himself for imagined happier futures that he nearly botches a chance at satisfaction in the present. —Jeff Reichert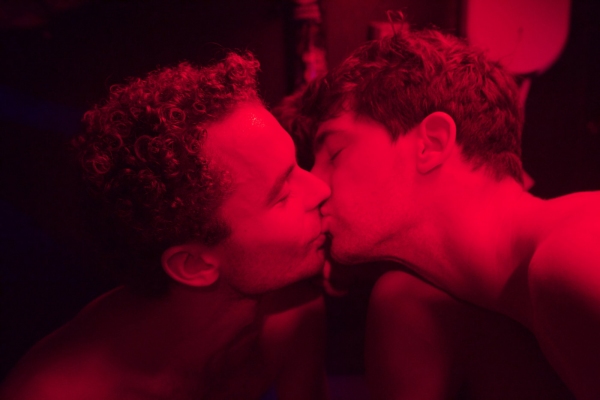 Best Good Sex: Paris 05:59—Théo & Hugo
Sometimes it takes years, even decades, to find love, for two people to settle into a groove and rhythm and discover they were there, right in front of each other all along. And sometimes you just look across the room during an orgy in the basement of a blue-and-red-light-drenched gay sex club at 4:30 a.m. and you lock eyes with a stranger while he's fucking some other stranger and you see each other and you just know, so you proceed to fuck each other right there in the middle of the room while the world spins. The tour de force 20-minute, "real-time" sex scene that kicks off French filmmakers Ducastel and Martineau's tale of the burgeoning, one-night romance between two men—one HIV-positive—is a feat of barely simulated intimacy, one that doesn't shy away from ball-licking and erections but which is more remarkable for the way it makes anonymous sex a thing of beauty and emotional connection, a rarity in narrative cinema, which usually punishes its characters for their sexual license. Alongside BPM: Beats Per Minute and Princess Cyd, this was a banner year for casually joyous depictions of queer love.
Best Bad Sex: Lady Bird
While not quite as mortifying as bad-teen-sex hall-of-famers Kieran Culkin and Anna Paquin in Margaret, the abrupt, joyless deflowering of Saoirse Ronan's "titular" character by Timothée Chalamet's Zinn-reading douche-bucket is sad and fumbling enough to throw cold water on all memories of the sexual excitements experienced by the same actor's Elio in Call Me by Your Name. For many viewers, this is the Chalamet they won't get out of their heads.
Worst Bad Sex: Song to Song
Amidst his many crimes, Mephistophelean music executive Cook (Michael Fassbender, who also won this honor in 2011 for Shame) leads kindergarten teacher Rhonda (Natalie Portman) down the wrong path, initiating her into a life of shame and regret typified by both drug use and coercion into an m-f-f threesome (from psychedelics to poisonous lesbianism—shock to shock!). Malick's ever-developing and loosening technique is often remarkable, even radical, yet it sometimes awkwardly rubs up against his more outmoded tendencies, which never feel more apparent than in his depictions of sex or at least sexual anxiety.
Worst Good Sex: The Shape of Water
When your only other option seems to be a sadistic sociopath who thinks your muteness is your most attractive quality, then I suppose the scaly creature from the black lagoon might seem like a good bet for a boink. But I still wished that Sally Hawkins could get it on with someone a little less amphibious before relocating forever to the bottom of the damn ocean. —Michael Koresky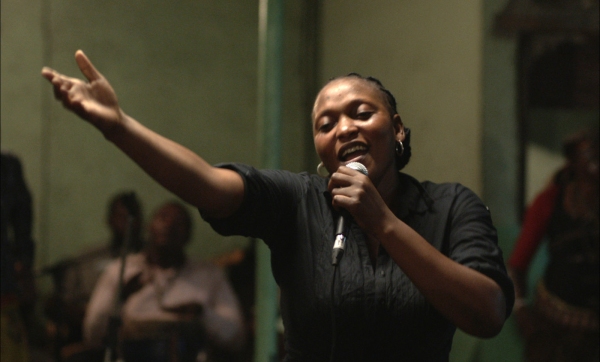 Best New Face: Véro Tshanda Beya Mputu in Félicité
Story goes that French-Senegalese director Alain Gomis was holding open auditions to cast the lead in his upcoming film, Félicité, when a little-known singer with scant acting experience showed up, coaxed by a friend. Gomis thought she was wrong for the part, but recognized something in her presence, and after some months of interaction, Véro Tshanda Beya Mputu both taught the director more about the film's setting—DR Congo capital Kinshasa—and was cast as the title singer. Following the trials of a dive bar chanteuse who finds herself on a desperate quest for money for her family, Félicité is eventually wearying, but Mputu's often frame-filling face consistently grips your attention. One character describes it as "like an armored car, " and its opacity keeps you guessing as to the varying amounts of tenacity and sweetness Félicité contains. As she enacts the mortifying stations of gathering money for an injured son's operation, Gomis and DP Céline Bozon's fleet camera stays trained on Mputu's expressive/enigmatic face, with its weary scowl (when scrounging) or dissatisfied grimace (when observing the drunken customers at her band's performances). The film is a testament to Mputu's performance, and the continued value of open auditions. —Justin Stewart
The True Darkest Hour: Bright
Bright is one of those movies that's easy to hate without actually bothering to watch: it's the Orc cop movie co-written by Max Landis, certified douchebag cum poster child of Hollywood privilege, and David Ayer, brain genius behind Suicide Squad. That their allegory for race relations in the U.S. is terribly flawed is unsurprising; the ways in which it is flawed are quite revealing, though. Bright takes place in a bland VFX Los Angeles where Orcs are persecuted for siding with the Dark Lord two millennia ago, and are meant to signify Latinx and African-Americans in our world—even though racism against the latter two groups clearly exists in this imagined one. Despite this systematic (but deserved??) oppression, Orcs have no culture to speak of, and instead are shown with hip-hop and cholo signifiers. To misunderstand that these subcultures are more than just something you can try on or shorthand for "poor" shows the lack of thought that went into this moronic attempt to heal the nation. I don't even know what to say about the Elf race, which suggests something between the Illuminati and international Jewish conspiracy. —Violet Lucca
"Take Pains. Be Perfect": Hermia & Helena
I get the feeling that people are taking Matías Piñeiro for granted, which, to be fair, is what happens when a filmmaker does consistently excellent work in a similar register over a long enough timeline. So Hermia & Helena hasn't popped up on too many year-end lists (including this site's), which is a shame because as far as I can see, the Argentinian director—working for the first time in the U.S. (for half the film's running time) and in English (for half the dialogue)—hasn't dropped below the level of Viola or The Princess of France. In some ways, he's raised his game. Hermia & Helena has more plot than its predecessors, and more clearly defined emotional stakes; in addition to the usual dizzying romantic roundelay between a (flawless) ensemble of grad-school-age characters (not patterned after, but chasing each other in the same giddy spirit as, the ancient sex comedy of A Midsummer Night's Dream), the film accesses tender, aching sensations about being caught between different "homes" (a dimension surely drawn from the now-relocated filmmaker's own experiences). There's a scene of familial reconciliation that's as direct and moving as the sequences surrounding it are more typically elliptical. Piñeiro is a filmmaker who plays games with language (often via his translation-obsessed characters), but he's also become great at enfolding abstract ideas into concrete, physical depictions of objects: he can shoot a postcard so that it becomes a fleeting, perfect metonym for absence, distance, and longing. —Adam Nayman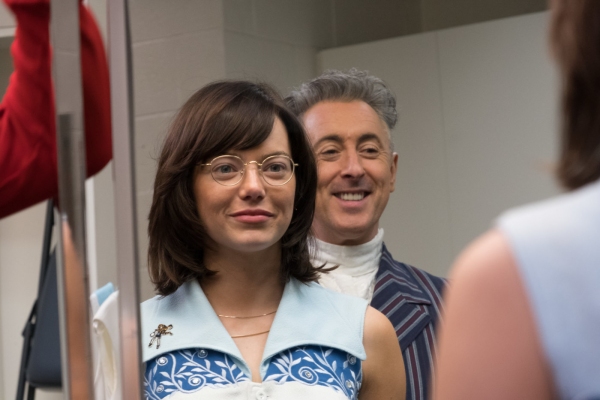 Worst Supporting Gay: Ted in Battle of the Sexes
A portrait of a public figure at the intersection of two identities, Battle of the Sexes paints itself into a frustrating thematic corner. Jonathan Dayton and Valerie Faris's film focuses much of its first hour on tennis legend Billie Jean King (Emma Stone) as she tentatively explores her repressed lesbianism with kind-eyed hairdresser Marilyn (Andrea Riseborough). Eventually, Battle of the Sexes pivots toward the titular exhibition match between King and aging pro turned clownish male chauvinist Bobby Riggs (Steve Carell)—the outcome of which becomes a de facto referendum on King's crusades against professional tennis's institutionalized misogyny. The film ultimately oscillates between King's public feminism and private struggles with the closet rather than seeing them as intertwined threads of a single politicized identity. And fair enough: that's a tall order for what's essentially a piece of well-intentioned Oscar bait.
Or, it would be, if not for the eye rolling "solution" that Dayton, Faris, and screenwriter Simon Beaufoy arrive at to stitch together their two concerns: the introduction of Ted (Alan Cumming), fashion designer for King's Women's Tennis Association. With Ted's flowing scarves and limp wrists, his sole function becomes playing fairy godfather to Billie Jean, dolling out fashion tips and pseudo-coded advice about the vicissitudes of the world's acceptance in equal measure. To be clear, the issue here is not Ted's flamboyance. (In a masc-for-masc world, a dash of the nelly queen is quite nice.) Even as it gestures toward second-wave feminism's impact on King's on-and-off-the-court achievements, the film can only conceptualize a gay man as dispenser of apolitical truisms and you-go-girl bromides at a historical moment where LGBTQ people were achieving unprecedented cultural visibility and social progress. As a result, Battle of the Sexes can't really represent Billie Jean's identity as a lesbian in the 1970s either. It gets sloppily grafted onto an easy listening, HRC-approved narrative voiced by Ted in the film's closing scene. "Someday," he coos in King's ear, "we will be free to be who we are and love who we love"—as if the fight for those ideals weren't taking place at precisely that historical moment. And, for the record, Ted Tinling was a famed fashion designer within the sport, as well a tennis player, commentator, historian, and inductee into the International Tennis Hall of Fame (and British spy!). But why gesture toward any of that when you can turn him into a walking #loveislove bumper sticker? —Matt Connolly
The Missing Piece: Song to Song
So it's unanimous, then? Its absence from most year-end lists means Song to Song is a relative misfire by Terrence Malick? He's, er, gone too far this time? Too impenetrable, too repetitive (how dare parental resentment appear in more than one of his films?), too many subjective fish-eye shots of incredible-looking people gliding about, too much Arvo Pärt? But what's really changed from the other two pictures that make up his modernist triptych, To the Wonder and Knight of Cups? Not a lot, really—if anything his storytelling methodology has evolved (or fragmented) further with each film. Maybe now that we know so many of Malick's previous actors resent him, we cannot believe that these slightly hesitant A-listers (Ryan Gosling, Michael Fassbender, Rooney Mara) don't? Was it that he had the audacity to include that fallen icon of atheism Patti Smith (last seen recording the signature song for Darren Aronofsky's Noah) in his musico-theistic love story? Or is it that any film in which Val Kilmer steals the show must, by definition, have problems? It's a puzzle. More likely, Terry's just doing what he wants and not what we want—and we all want different things from him anyway. "We" may never know. —Julien Allen
Most Tonally Strange: The Lovers
Is it a good thing that the estranged husband and wife played by Tracy Letts and Debra Winger begin shacking up again in Azazel Jacobs's latest? Or is it a terrible idea? Are each of them better off with their younger paramours? Or have these extramarital affairs been distractions from the real work that needs to be done at home? It's a tribute to Jacobs's dexterity with his scenario that at different points the answers to all these questions shift cleanly from "yes" to "no" to "maybe" to "who the fuck knows" without ever feeling like screenwriting contrivance. As with his earlier films Momma's Man and Terri, Jacobs conjures worlds of weirdness, scenarios that seem strange until you exit the theater and re-enter your own messy, complicated lives with a shock of recognition. His films have the power to make the tidiness of Hollywood dramas seem like sci-fi. —JR
Best Age-Inappropriate Romance: Film Stars Don't Die in Liverpool
Thirty-one-year-old Jamie Bell might not have the lanky genetic perfection of Armie Hammer (also 31), but the modest yet mighty sex appeal the diminutive Brit oozes as he romances 59-year-old Annette Bening's tender incarnation of American film star Gloria Grahame in Paul McGuigan's likeable, if overly morose love story puts the Arm & Hammer heir to shame. Thanks to the amusing miscasting of the godlike Hammer as the early twenties (!) Jewish (!) intellectual (!) against baby-faced, willowy kid Timothée Chalamet, Call Me by Your Name functions much better as a tale of a teenager's lost and lingering puppy love than of mutual adoration. Film Stars, on the other hand, despite an even larger age differential between its leads, feels like a genuine expression of two souls—separated by class and nation—aspiring to be spiritual and romantic equals. Bell is also a way better dancer. —MK
Biggest Scapegoat: The Emoji Movie
In an era of constant crisis, it's easy to lose perspective. Donald Trump isn't the first foul-mouthed president, and just because Sir Patrick Stewart voiced an anthropomorphic shit doesn't mean that The Emoji Movie is the nadir of kiddie films. Critical reaction to this instantly forgettable flop was overblown, and widely ignored far more incoherent or mean-spirited garbage for children also released in 2017, like Diary of a Wimpy Kid 3, The Nut Job 2, or The Boss Baby. It seems everyone wasted their ire on The Emoji Movie instead of a truly apocalyptic children's movie that actually deserved scrutiny in the moment it was released—you know, like, Three Billboards . . . —VL
Better Criticism Through Watching: Good Time
"...You could look at [Good Time's] riot of racial signifiers—the musical and pop-cultural references as well as the demographics of the setting—as a form of trolling, a coy, self-disavowing provocation," wrote A.O. Scott in The New York Times of Josh and Benny Safdie's after-hours thriller. Yes, you could, but why would you? At the risk of making it sound like Good Time is anything less than excellent, the film is not subtle in making its point that, in his quest to rescue his injured brother from police captivity via a hospital emergency ward, Connie (Robert Pattinson) continually screws over fellow New Yorkers of color, culminating in a brutal assault on an amusement park security guard (Barkhad Abdi) who—and again, this is not subtle dramaturgy—ends up in police custody taking the rap for his assailant's appalling behavior. Does the fact that the Safdies fail to include dialogue explaining that this is a bad thing push their work into Harmony Korine-ish realms of grotesque art-horror pranksterism—or "coy self-disavowal"—or are they granting the viewer a certain amount of space and respect to examine the variables in play and draw his or her own conclusions? Is it possible that this movie—which genuinely tests its audience's responses (subtly or not)—is operating at a higher level of artistry than ones that capitulate to preconditioning? Is there anybody who sees the neon-lit, bottle-blonde Pattinson stealing a toque reading "Security" from a bloodied and beaten black man and doesn't immediately connect the semiotic dots? —AN
The Poughkeepsie Dinner Theater Medallion: The cast of Wonder Wheel
Too much fruitless reading between the lines of Woody Allen's 1950s Coney Island–set latest for signs of creepiness (going in with your mind made up is not a good look for a critic) took the attention away from where it belonged: on its bizarrely mismatched cast of four who seem really put through the ringer thanks to Allen's forthrightly stagy blocking and Vittorio Storaro's super-stylized, quite possibly insane use of color gels. The deadly Justin Timberlake, as always, seems to believe he can rely on his innate pop singer's charm to carry the day rather than embody another character's experience or emotion, but the other three are really giving it their all. Juno Temple, admirably chewing through a Brooklyn accent, gets away mostly scot-free; Kate Winslet (who also appeared in the last film to win the Poughkeepsie Dinner Theater Medallion: Polanski's Carnage) fires on all cylinders, stammering and unraveling in true blue Jasmine style, leading to a left-field Norma Desmond climax; but, most of all—and I do mean most—there's Jim Belushi's Humpty (character name of, at least, the year), a merry-go-round-operatin' slob husband who wears wife-beaters about as well as any human being alive and whose vein-popping emotional outbursts are meant to constitute the tremors of real working-class angst. Make what you will of Allen's Eugene O'Neill-esque exercise—the film really seems to channel a post–WWII American consciousness, for better or for worse—but never forget that Belushi showed up and he's giving you a damn show. —MK
Best Privileged Christian: The Square
Claes Bang's handsome, cosmopolitan, wealthy Stockholm art curator Christian pushes boundaries of taste at his museum with a succession of half-baked provocations after contracting obnoxious millennial marketers to do his bidding and is ultimately punished for his negligent transgressions, losing his job and cast out into the world to perhaps one day reconnect with a demographically evolving Europe.
Worst Privileged Christian: Fifty Shades Darker
Jamie Dornan's handsome, cosmopolitan, insanely wealthy Seattle businessman Christian pushes boundaries of pain in the bedroom after contracting an obnoxious millennial named Anastasia Steele to do his bidding in his juvenile sex cave and is ultimately rewarded with an epic three-part narrative in which Anastasia and viewers seek to understand and redeem a not remotely interesting man whose only attributes are his abs and his money. —MK
Best Withering Glares: Michelle Pfeiffer in mother!
Even for those who understandably can't get on Darren Aronofsky's wavelength with this one have to admit that Pfeiffer is pure magnetism, alternating between ingratiating hominess (those lemonades!) and eye-narrowing skulking that's as hypnotically unpredictable as the precarious film itself. She's a gloriously beautiful terror who seems to have arrived at Jennifer Lawrence's home for some sort of inexplicable, single-minded retribution, and Aronofsky's most brilliant stroke is to take her out of the narrative halfway through, leaving you wanting, yet fearing, a return that never comes. —MK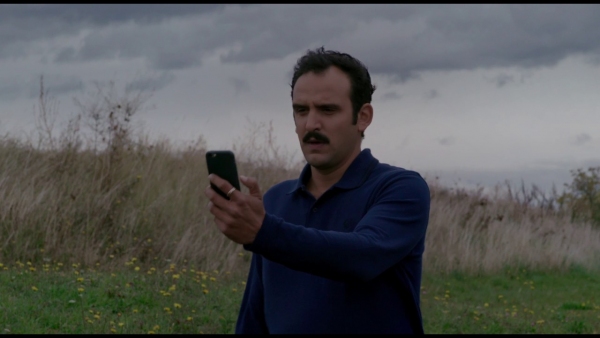 Best Performance by a Smartphone App: Grindr in 4 Days in France
Jérôme Reybaud's epic gay road trip follows Paul as he tracks his disappeared lover, Pierre, through the French countryside. Paul doesn't know where Pierre has gone, but is able to track him by checking the popular hookup app to see if he is nearby. Thus grandiose shots of the French countryside are interspersed with close-ups of smartphones filled with grimy, overlit selfies of penises and bare chests. Grindr is central to the film's slyest joke: unlike most movies in which technology only drives people further and further apart, here is a film in which two men from Paris learn about themselves, their relationship, and their country, coming to a richer, closer connection with all of those things via an application designed to create opportunities for immediate, ephemeral release. —JR
Best Monologue: Rebecca Spence in Princess Cyd
Forget Michael Stuhlbarg's wish fulfillment tear-jerking spiel in Call Me by Your Name: it's less direct and more prescriptive than the brilliantly instructive, mildly wine-fueled dressing down Rebecca Spence's novelist Miranda Ruth gives to her teenage niece Cyd (also superb Jessie Pinnick) in Stephen Cone's wonderful Princess Cyd. Following one of the bohemian, literary salons Miranda regularly holds at her house in suburban Chicago, where the motherless Cyd is staying for the summer, Cyd makes a passing, childishly cruel comment to Miranda about her chocolate cake intake, and how it might relate to her chronic singleness. Miranda's exasperated response, which Spence brilliantly, effortlessly makes seem like it was unwantingly yanked out of her, is undoubtedly one of the greatest "Bitch, you don't know me" monologues I've ever seen, all the more cutting for how sweet-edged Spence and Cone ultimately make it. What makes it truly refreshing, though, is Miranda's ultimate point, which flies in the face of most depictions of middle-aged female characters in film: a woman doesn't need to get her groove back to feel fulfilled. Everyone's life is her own. —MK
British Farmers' Dispatch: God's Own Country and The Leveling
Hey, it's not all Working Title Films and Danny Dyer over here. Two of the best of a new generation of UK filmmakers—Francis Lee and Hope Dickson Leach—chose rural England (Yorkshire and Somerset respectively) as the settings for their directorial debuts and in the process created intense and moving love stories in 2017. As Ben Wheatley's recent output is to the British rural horror film (Blood on Satan's Claw, The Wicker Man), Lee and Leach's films are to a more realist tradition (Akenfield, Dulcima).There is an unflinching harshness to both the landscape and lifestyle depicted in these films, one that is not—by anyone's reckoning—set to improve post-Brexit. Their mixture of beauty and ugliness is a fitting aesthetic for Britain right now. —JA
Best Closing Shots: By the Time It Gets Dark, Call Me by Your Name, Wonder Wheel
Best Opening Shots: Columbus, The Meyerowitz Stories (New and Selected), A Quiet Passion
Worst Closing Shots: Happy End, My Entire High School Sinking into the Sea, Split
Worst Opening Shots: I, Tonya; The Killing of a Sacred Deer; Three Billboards Outside Ebbing, Missouri ("Hey look, it's the three billboards!")
Best Supporting Actor: Rob Morgan in Mudbound
Few characters in 2017 felt more sadly lived-in than sharecropper Hap Jackson, trying to keep his family safe while they work the land owned by the white McAllens in post–WWII Mississippi. As played by Morgan, Hap has clearly internalized the institutional racism that governs and severely limits his every move and word in Jim Crow South, and it's a burden that registers in the actor's smallest gesture. Even after the many grand narrative movements and outsized tragedies of Dee Rees's film, Morgan's weary trudging forward (he's nearly matched by Mary J. Blige's self-negating work) is what has most stayed with me. —MK
Most Mudbound: All the Money in the World
Ridley Scott has for years tried to communicate seriousness by offering up images that look like they were dragged through dirt, and his latest heaping helping of over-budgeted misery is perhaps his most visually disgusting yet, a repetitive, pointless regurgitation of the true-life J. Paul Getty kidnapping scandal that adds no new shades or nuance to the case, falling back on "money corrupts" bromides as it lurches from one mud-brown, underlit, backroom confrontation to another. Side note: I'd pay all the money in my change purse to see the outtakes from the Kevin Spacey version of Getty's death scene, which even in the able Christopher Plummer's hands, is perhaps the most embarrassing passage of cinema in 2017. —MK
Most Suspect: Dark Night
"Being offended" can be a lazy response that easily ignores both aesthetics and history in favor of a hyper fixation on one or two hot topics, and the subject's failure to measure up to modish values. But Tim Sutton's hybrid doc Dark Night is offensive because it so insidiously employs its ample superficial aesthetic virtues in support of dubious, muddled, and ultimately odious aims. For whatever reason, Sutton decided to obliquely dramatize the events leading up to the horrific 2012 Aurora, Colorado, movie theater massacre via "naturalistic" vignettes of six young strangers scattered about Bradenton, Florida. The snatches of life consist of everything from mundane conversations to one-on-one interviews to the peculiar steps-measuring rituals of one very James Holmes-like teen with his sinister large black canvas bags. Lest you mistake these portraits as benign and not about something, some characters are seen watching Aurora courtroom coverage. The touchstone every reviewer caught is Gus Van Sant's Elephant, a better film but one with a similarly blithe, near-arbitrary relationship with a real-life shooting. In 2017, Sean Baker better exploited Florida's dark, pastel ambience, and Eliza Hittman more intelligently used the talents of cinematographer Hélène Louvart in her superb Beach Rats. The pictures here are pretty but ill-utilized, and Sutton's careful, politely removed neutrality makes one long for the lurid eye of a Larry Clark, who at least has a perspective. Per arthouse cliché, Sutton cuts just before the inevitable violence. The viewer's awareness of Aurora is the tantalizing carrot that teasing emcee Sutton dangles throughout. Bizarre claims of the "major" film's "importance" that "will stand enduringly" notwithstanding, Holmes's gruesome body count is the only foundation Sutton's galling film has underneath it. —JS
Paul Giamatti Award for Overacting: Bryan Cranston in Last Flag Flying
It was a year of real contenders: Gary Oldman's Winston "Glick" Churchill in Darkest Hour; Jim Belushi's lumpy Humpty in Wonder Wheel; Jake Gyllenhaal's knobby-kneed Bill Nye the Animal-Torturing Guy in Okja; James McAvoy's serial-killing Sybil in Split . . . But no slice of ham came thicker or saltier this year than Cranston's growling, prowling Vietnam-vet bartender Sal in Richard Linklater's semi-sequel to The Last Detail. To be fair, the direct appeal of Linklater's film didn't always leave room for nuance in performance, but Cranston, who has already proven his overacting bona fides in Trumbo, Breaking Bad, and the hilarious television ads for his Broadway turn as LBJ in All the Way ("Heh, heh, heh. It's not personal, it's just pawl-a-tics…"), bit off a bigger hunk of Acting than anyone should ever be allowed to. Wildly gesticulating even when talking about contemporary radio music, baring teeth, narrowing eyes, and overplaying every millisecond of male bravado as if it was his last chance to relate to other humans before being thrown back in a padded cell, Cranston never lets you forget for a second that he's performing. The tired glances he gets from Steve Carell (telegraphing subtlety) and Laurence Fishburne (achieving subtlety) come to seem more like responses to Cranston than Sal, and he ultimately throws off the equilibrium of a movie that should be all about balance. —MK
Worst High Concept Horror Metaphor: The Killing of a Sacred Deer
Best High Concept Horror Metaphor: Get Out
Worst Scenes: Anything Set in Michael Shannon's home in The Shape of Water
The fishiest thing in Del Toro's fishy film may have been the track into Shannon's sadist government agent sadly perched on the couch in his prefab suburban home, the camera gliding past his kids on the floor stacking their Lincoln Logs with clueless abandon, completely incognizant of the suburban malaise writ on daddy's face. In an earlier scene, he summarily shut his wife's mouth during a violent sexual encounter (to unsubtly underscore his creepy affection for Sally Hawkins's mute janitor at work). Intended to reflect his contemptible patriarchal chauvinism, these scenes, by disallowing the other family members to be anything other than cardboard cutouts, end up only turning his wife and kids into the kinds of tokens it presumably attempts to critique. Like everything else in the film, they're sketches of clichés of American movies imprinted on its director's memory rather than recognizably human moments. —MK
Worst Tease: Split
That's all it was? We had to sit through 23 agonizingly bad performances by James McAvoy to realize that Split was one long trailer for an Unbreakable sequel? Say what you will about M. Night Shyamalan's career, he was once an adept, even inspired visual storyteller who got off on the pleasure of welcoming viewers into completed, contained worlds. But here he was in 2017, taking part in his own kind of world-building, the natural progression for a self-mythologizer looking for a way back in to an increasingly craven Hollywood only interested in franchises with built-in audiences. Of course he was welcomed back into Hollywood's fold with open arms: product branding is now the order of the day. Thanks for making this one a hit, guys: here comes Glass, the unlikeliest sequel since depressing surprise blockbuster Jumanji: Welcome to the Jungle. —MK
Best Poison by Mushroom: Phantom Thread
Best Bookends: A Cure for Wellness
The first sequence of A Cure for Wellness features a bland-looking, middle-management type keeling over dead in an empty corner office at night. The tableau is creepy and strangely suggestive: we could be watching the beginning of a sleek corporate murder mystery, or else plunged into one of Kiyoshi Kurosawa's ultra-modern techno-phobias. Gore Verbinski's movie goes elsewhere, however: physically it decamps from New York to Switzerland, while moving tonally in the direction of quasi-Gothic body horror that never quite resonates as the director intends. By turns satirically controlled and lazily tasteless, A Cure for Wellness is the very definition of uneven, but it ends as wonderfully well as it starts: the startling, barreling final shot seals the proceedings with a maniacally far-gone grin, courtesy of star Dane DeHaan, that belongs on the shortlist of recent genre cinema's heartiest last laughs. —AN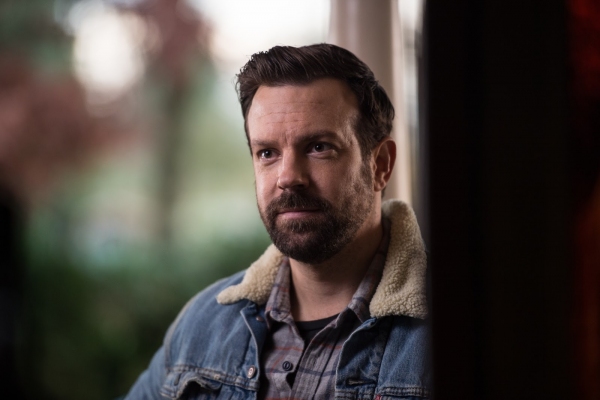 Least Convincing Normie: Jason Sudeikis in Colossal
SNL everydude Jason Sudeikis remained on moviegoers' radars in 2017 in two of the more conceptually ambitious films of the year—Alexander Payne's amusingly novel (then elegiacally profound) Downsizing and Nacho Vigalondo's bizarre kaiju riff/toxic relationship whatsit Colossal. Downsizing's abrupt left turn a little less than midway through (once Hong Chau seizes focus) has proven divisive, and it leaves behind Sudeikis's Dave Johnson, who convinced old bud Matt Damon to go through with the central shrinkage procedure. But the minor performance benefited from Sudeikis's persona, a sort of frat-nerd sarcastic joviality with a vague menacing undercurrent. Dave's casual love of the easy life and comfort in his own tiny epidermis is appealing, knocking back drinks from Leisureland's endless supply. The drinks drained by Colossal's Oscar are considerably less cheerful—in Vigalondo's scheme, Sudeikis's small New England town bar owner is all menace, with only the thinnest veneer of bonhomie initially evinced towards returned childhood friend Gloria (Anne Hathaway), who struggles with her own alcoholism (their mutual problem leads to a giant monster and robot wreaking real havoc in South Korea, but no space to get into that here). There is something unreal and wildly off about Sudeikis's attempt to convey bottomless self-hatred and despicable violence (repeatedly knocking Gloria to the ground and, you know, stomping countless Koreans to death) in the guise of normal-guy microaggression. Sudeikis's cornfed, comfortable-living complexion and general healthy bearing don't connote sordid addiction. His tactic is to go flat, hoping he'll convey the dark heart that lurks in every neighborhood Joe Bartender, or something, but like Jared Leto's laughable readings in Blade Runner 2049, the effect is all the more jarring and atonal for its forced attempt at casualness. —JS
Best Misheard Title: Our Souls at Night
"Arse-holes at Night??" asked a friend, aghast.
The Remaining Manny Kirchheimer Award for Remaining Resolutely Manny Kirchheimer: Manny Kirchheimer
Did anyone actually see New York documentary legend Manny Kirchheimer's Canners, a ramshackle look at the lives of people who collect cans off of New York City streets, upon its release this year? The director's first film in five years seemed to pass almost entirely unnoticed save for a handful of reviews (including, to his credit, A.O. Scott). It certainly doesn't look to have played any of the major documentary film festivals, and it hasn't really entered the conversation in the nonfiction community. Perhaps that's for the best—a discourse so obsessed with "characters" and "story" and "access" sadly makes little space for minor-key sonnets to real life being lived. Canners is a lovely film, as humble as it is human, its lack of technical polish more than made up for by the personalities bursting off the screen under Kirchheimer's patient gaze. Hopefully viewers will make their way to the film the way its creator works: in their own time, their own quiet rhythm. —JR
Super Villain: Adam Driver in The Last Jedi
From my non-franchise-superfan vantage, The Last Jedi is too long and a bit too insistent on the idea (hatched in The Force Awakens) that the new Star Wars is about reckoning with the old, a move somewhere in between renovating its audience's comfort zone and reupholstering it. But I'm grateful that Last Jedi has something that no other recent movie in its budget range can boast: a vivid, funny, and complex villain. In his debut, Adam Driver's Kylo Ren hid behind a mask in an attempt (by the filmmakers and the character) to emulate Darth Vader; here, he smashes his headgear to bits after his first appearance and stalks through the movie as the scarred, sweaty, oh so beautifully pointy face not of pure evil, but vindictive, narcissistic, fragility. That's why the script's feints at making him a quasi-good guy work, and why his turn away from redemption is, if not surprising, than at least as spontaneous-feeling as possible for something that's been so carefully worked out at this massive industrial scale. Driver's impulsiveness is energizing: when Kylo screams at an Imperial gunner targeting the Millennium Falcon to "blow that hunk of junk out of the sky!" it's a great moment because the actor gives it an unbalanced, temper tantrum inflection. That same exposed-nerve instability plays into—and, sorry Jedi lore purists, completely validates—the mystical sleight-of-hand that sees Kylo defeated in a final showdown that also serves as a metaphorical grace note. In what is in every way a bridging film (like The Empire Strikes Back), Driver gives the impression of somebody changing and evolving, not against his established nature but through it. —AN
Do I Really Have to See That? Logan Lucky
Did I Really See That? Patti Cake$
Do I Really Have to Say That? Kékszakállú
Most Comforting Truth in a Horrible World: The Ongoing Possibility of Linking the Oeuvres of Live and Darren Aronofsky
All the way back in 2006, while doing research for that year's edition of our 11 Offenses, I made perhaps my most exciting discovery as a critic. It seemed, based on their early-career work that the alt-rock band Live and filmmaker Darren Aronofsky were operating along parallel aesthetic trajectories. Now, over a decade later, when the world has gone completely awry, it was a comfort to encounter mother! and check back in with the output of Live and find that the comparison still holds, proving that there is some order to the universe.
Following the stinging rebukes received by our heroes of late-nineties/early-aughts alt-culture after issuing The Fountain and Secret Samadhi, both attempts at galactic, spiritually inflected Gesamtkunstwerks, we find retrenchment: the largely earthbound and gritty The Wrestler, in which Aronofsky restrains himself to minor league body horror and only one visual reference suggesting his main character is Jesus, and The Distance to Here, which dialed back the spiritual wanderings and interminable Zeppelin-humping riffage in favor of formulaic loud-soft-loud anthems. Emboldened by positive response and back on their grinds, Aronofsky and Live struck while their irons were hot; though neither Black Swan nor V represent advancements on their immediate predecessors, both feature noodling with formula around the margins—Aronofsky's dabbling in classical ballet and lesbian psychodrama, Live's attempts at strained bedroom R&B vocalizing and electronic flourishes. It goes without saying that both works prove their creators remain decidedly unsexy and decidedly unable to tinker too much with their creative DNA.
As both enter mid-careers, there are unexpected returns to grandiosity: The opening lyrics of Live's sixth album, Birds of Pray ("You don't need no friends / Get back your faith again / You have the power to believe"), could be speaking directly to the hero of Aronofsky's sixth film, Noah, and the album's tracklist, which runs from "Heaven" to "Life Marches On" to "Out to Dry" to "What Are We Fighting For?" practically narrates the tale Aronofsky related in his cracked epic, unexpectedly one of his best films. How to follow such grand statements? Getting groovy and loose and finally comfortable in their own skins: mother! is, down to the apostrophe in the title, the most Aronofsky film he's made (i.e. stupidly virtuosic, boneheadedly conceived, and all the more thrilling for being both) since Pi. Live's Songs from Black Mountain, their seventh album featuring lead singer/Aronofsky lookalike Ed Kowalcyk (they have since released one without Ed before reforming as a quartet last year), imagines an alternate universe where, instead of reaching for the electric guitars and competing with Creed and STP and their ilk for the arena rock crown after Mental Jewelry, the band kept poorly aping acoustic R.E.M. and became a warm-up act for Sixpence None the Richer. A band that titles a song "Love Shines (A Song for My Daughters About God)" gives not a shit about what you think of them; nor does a filmmaker who has the chutzpah to visualize the creative process as a literal Old Testament apocalypse. A poignant line from late Black Mountain track "All I Need" sums up where they're at: "Now I sit here / Like a buddha in this chair." —JR
Are You Not Entertained?: The Greatest Showman
"I wonder if we'll get our money back," my friend whispered midway through The Greatest Showman. She was referring to the sound of the fire alarm in the multiplex hallway, whose faint but insistent chiming was not quite enough to compel us to walk out of Michael Gracey's almost majestically mendacious pop-opera hagiography of P. T. Barnum. If anything, the slow, rhythmic beeping created a pleasant distancing effect that gave us space to process what the hell we were watching in real time. Plus the fact that the alarm stopped at almost the exact moment that a theatre was burned to the ground on-screen provided its own sort of spooky perfection.
Recently, Variety ran a "think" piece by Owen Gleiberman theorizing that the reason that The Greatest Showman is connecting with audiences (a significant box office uptick in its second weekend will help it stave off flop status, and suggests a measure of genuine popularity) and not critics is because the latter contingent has a cool complex. They do, but then so does anybody who claims to be cooler than cool ("ice cold," I believe, is the next position on the thermostat according to Andre 3000). And so it goes with The Greatest Showman: the script's inclusion of a humorless broadsheet columnist (Paul Sparks) to snootily condemn and then earnestly condone Barnum's troupe as "a celebration of humanity" hints that the filmmakers believe they can (and deserve) to have it both ways, to imply that their populist schmaltz shouldn't be taken all that seriously and then suggest a stealthily humanist agenda underneath.
Look, I'm no humorless broadsheet columnist, and shameless, tuneful pap is actually something I like very much. The camp factor of watching 49-year-old Hugh Jackman approximate starry-eyed young-adult optimism in the scenes depicting PTB's formative years is not inconsiderable (I thought of John C. Reilly insisting he was 13 in Walk Hard), and nor is the catchiness of a couple of the expertly generic songs written by the La La Land team. But even if you decide to completely ignore the underlying offensiveness of The Greatest Showman's entire premise—with its cheerful equation that being put on display for profit equals empowerment for Barnum's menagerie of human oddities (none of whom are given character arcs beyond supporting and redeeming our hero and his family unit)—or accept that this paean to entertainment as an escape hatch for the working-class paints said punters in broad, vague terms abutting on outright contempt; or forgive not one but three Les Miz-style whispered-through-tears reprises; or find Zac Efron completely magnetic in song-and-dance-man-mode (I have no snide qualifier here, he's great, he should be in every musical, love you Zac); the sanitized, family-friendly blandness of the whole thing is a deal-breaker. Say what you will about Moulin Rouge!, but its juxtaposition of 18th-century hoi polloi with Top 40 bangers at least generated some conceptual friction (as it did in the Shakespeare-meets-Radiohead space of Romeo + Juliet). Here, the artificiality is lazy instead of savvy, and the historical anachronisms are as vague and meaningless as the song lyrics ("I'm marching on to the beat I drum"). In the end, we didn't get a refund, or even ask for one, and there's a bit of poetry in that, perhaps. I humbly cede a portion of my earnings to the memory of a man who wrote a book called The Art of Money Getting. —AN
All the Sadness in the World Sweepstakes
Maybe it's the state of the world, but one look at Salma Hayek's masseuse in mourning in Beatriz at Dinner, the flowery-sheeted spirit across the way in A Ghost Story, or Okja's dewy-eyed, genetically engineered beast for the slaughter hit a nerve in me that's still reverberating. There's something in each of their stories that spoke to a particular strain of 21st-century ennui, a sense of not just being lost but of loss, of realizing the deck is stacked against us somehow, and that empathy, nuance, and sensitivity to human experience have become liabilities. Sounds pretty hopeless, perhaps, so I'll leave with the one character in 2017 whose melancholy actually gave me a hopeful lift: Millicent Simmonds's little lost Jersey girl in Wonderstruck, whose notes of existential yearning sent out into the great nowhere, scrawled on paper boats ("Help me"; "Where do I belong?"), actually get answered—by life experience, patience, and understanding. —MK