To the Moon
An Interview with Christopher St. John (Top of the Heap)
By Nicolas Rapold
Top of the Heap centers on a black D.C. cop who's frustrated with his job, but this is no run-of-the-mill seventies crime film. First-time director and star Christopher St. John creates a fascinating, volatile blend of police melodrama, Afrofuturism, counterculture satire, and sheer cri de coeur. His 1972 film, also featuring Paula Kelly and Allen Garfield, belongs in discussions of that decade's trailblazing cinema and to its innovative wave of Black filmmakers such as Melvin Van Peebles and Bill Gunn.
I watched Top of the Heap early in the pandemic and immediately wanted to know more about its director-star, whose career petered out in the years following his sole feature. I tracked down St. John, now in his 80s, and we ended up having an ongoing series of interviews about his life and work. With the happy occasion of BAM's revival run of Top of the Heap (which screened in the 1972 Berlin Film Festival), it's a pleasure to share excerpts from our conversations.
Top of the Heap played at BAMCinema February 18–24.
Reverse Shot: How did you get started in acting in the 1960s?
Christopher St. John: I didn't know anything about show business. All I knew is I had seen some movies in eighth grade in Bridgeport, Connecticut, when I would play hooky from school and sit in the balcony in a theater downtown. I knew that I had this energy, and I saw Sidney Poitier in these movies, and I thought to myself, "Well, he did it. I can do some of the stuff that he does. Maybe I can get lucky." I knew I was going to New York to try to be an actor, but I didn't have any experience of that world. My mother said, "Be careful, there's a lot of bad people there." I would pretend I was a tough guy, but I would go home and stay there, decompress at night, then get up in the morning and pretend I was a tough guy again. Little by little, somehow I made some inroads [in theater]. Years later in New York, walking up 57th Street, I saw Sidney Poitier walking toward me. I began to think he wasn't real, but he was really nice!
RS: Could you talk about your first experiences in New York theater?
CSJ: One day, an actress came to me and asked me to help her. She wanted to audition for the Actors Studio. So I helped her with the scene, and she completely bombed out. But they said, "We want you to audition again." So I did what they called a second audition, and I got into the Actors Studio unanimously. I thought, well, if nothing else happens in my life. I know I accomplished that. At the Actors Studio, Lee Strasberg would not let anyone say anything to me that was a criticism in front of everyone. He would only do it himself. I didn't understand for years that he didn't want anyone to hurt me.
RS: No Place to Be Somebody, which won the Pulitzer Prize, was a big play for you.
CSJ: I was performing in something at the Actors Studio, and someone put Chuck Gordone's script in my hand and told me to go to an audition. It's about Johnny's Bar in New York City, which was given to him by a guy who was a gangster in Harlem who had gone to prison. When the guy gets out of prison, he starts going crazy because he's not the same person. So we had all these characters in the play, and it was a great piece of work. I had been playing the lead, and I was on stage for three hours straight. It changed me completely.
It was a big influence on Top of the Heap. The language in No Place to Be Somebody was out there! It's a very tough play. Chuck didn't mince words. He said things in the play that would be like a torrential rain! And it entered my consciousness. Things inside me—what had happened to me, my family, all the Black people I'd ever known—it brought all that stuff up. When I'm acting, when I'm onstage or doing anything, I become this different person. And then when those moments are over, I'm just that scared Black kid growing up in Bridgeport who's afraid of everything. And I don't know anything.
I met people who helped support me to feel as strong as I could, that I could actually do something. When Shelley Winters was alive, she invited me to her big palatial place on Central Park West and said to me, anytime you're hungry, you come here, knock on my door. People saw things in me that I didn't know were there. St. Clair Bourne saw [Top of the Heap] way back in 1972. He was a first-rate filmmaker on his own, and he thought it was an important piece of work. I talked to him a few times on the phone and I didn't know what to say to him.
RS: Can you talk about Shaft, which was your big break in movies? It was a hefty part playing a neighborhood radical named Buford.
CSJ: My agent said, "Chris, go up to Fifth Avenue, you'll be reading for the part of Shaft." The producers were there, and the director, Gordon Parks, was there. I go in the office, and they give me the script and said, "We want you to read for this part of Buford." I said, "My agent sent me for the part of Shaft." And they said, "That part's been cast." I looked at them, put the script down on the desk, and said, "I should be given the opportunity to read for Shaft." I walked out! As I was walking home, I said to myself, what did you do? Leaving a part in a big Hollywood movie! That night, Gordon Parks called me up and said, "Chris, we want you to do the part of Buford. I know you said you wanted Shaft." They liked my attitude, so I got the part. I was so happy I didn't screw it up. But they turned Shaft into a cartoon character. And they never asked me to come back to do the second or third movie.
RS: How did Top of the Heap come to be? It's an unusual premise, a cop who daydreams about going to the moon.
CSJ: When I went to Hollywood, one producer said to me, "I like your movie, but why don't you make it about a baseball player. That's something you could be. You can't be an astronaut." I picked up my screenplay and walked out the door. I got a call from another producer who said, "You can do what you want." That's how it germinated.
I was into the concept that you put yourself into it, your own life. I had two brothers who were cops in Connecticut. I found that by using myself in that way, it was a deeper emotion I could portray. My brother died—he was shot by a friend we grew up with, when he was going to talk to him because he had to arrest him. [The friend] pulled his gun out of his holster and shot him. All these things happened. And I remember once I put on his uniform. I just went outside and started walking around. And I noticed how people would relate to me. I felt this animosity from people who didn't like me, because I was a cop. I'm a black cop, so I'm a traitor, all kind of stuff like that.
[The moon fantasies] were about him wanting to be at the top. I was always interested in space. I was watching a movie late night in New York City in my apartment, and I turn the TV on watching this movie, a guy in the spacesuit. It was a terrible movie, right? And I thought, the movie would be more interesting if it could be a black guy in space. . . . And [later] when this professor used the term "afrofuturism," I began to understand it more. Because I relate to Africa and to space, and I'm in the present. Three different ways—that's what he meant.
RS: Top of the Heap cuts freely between real life and fantasy. Could you talk about the editing?
CSJ: Well, that was my life. That's how I got through my life so far. It's not just a straight linear story about life. It's about how on an inner level, I was a lonely little boy. My father died when I was seven years old and I didn't know what happened. I had seven brothers and two sisters. I didn't know what I was doing in life so I was always hiding. My mother was completely devastated. Here's a black woman with ten children, and the father dies. And I realized some years later that she was so emotionally devastated that she never came out of it. All she did for the rest of her life was cook meals and put food on the table and do the best she could. She was so emotionally disturbed by it, and that disturbed me.
RS: There's a moving scene in Top of the Heap when your character sees his recently deceased mother in a vision, sitting in a rocking chair on the street. Earlier he had been reluctant to go back to Alabama for her funeral.
CSJ: I built up, through the course of life, this thing inside about my fears about Alabama. So I put the setting for where I came from as Alabama; it was a scary place to me because of all that had happened there. I was wearing all these hats in the movie, and for this scene, I was thinking, how am I going to approach it? Then the executive producer showed up on set, and started a big argument. He was saying, "What are you doing, what kind of movie is this?" They wanted to try to turn it into a Blaxploitation movie. So I came out on set and my head was spinning. I started shooting the scene, and the depth of the emotion was so deep. When I saw the woman playing my mother at the end of the street, I ran down and got on my knees. I said, "Momma, I walked on the moon," which meant to me something quite different than walking on the moon. I had found my way through this ugliness that is Hollywood and the terrible things that are done. So I started crying, and I remember her stroking my face, and whispering to me. And she was there for me. I just started crying real, real heavy tears for my life. She patted my face—she knew what happened with the big fight just before the scene. And she said, "Be strong, I know you can do it." She didn't want anyone else to hear it on the set.
I thought the producer ruined my movie because they had final cut. But I remembered Clint Eastwood saying he tried to only shoot a certain amount of material to not give the studio the right to turn his movie into something. In a certain kind of way I was doing the same thing but didn't know it.
RS: So you were able to channel what you were feeling?
CSJ: Yes. It brought all that stuff up inside me. All the things Lee Strasberg taught me about the level of repression we go through in life. By the time I did Top of the Heap, it was in its full bloom. It's a fierce kind of movie. I was fighting against the system with everything in my power. I was trying to make that stuff as strong as possible. Top of the Heap didn't belong with all those movies in the Blaxploitation era. But it managed to rescue itself.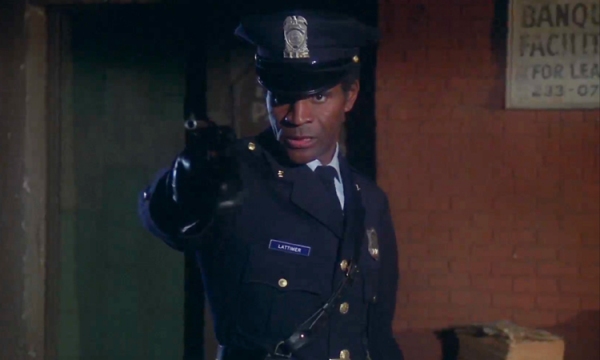 Images courtesy of the American Genre Film Archive.