What Women Want
Chris Wisniewski on Mad Men and The Best of Everything
Mad Men, season seven, episode six: Peggy Olson (Elisabeth Moss), the copy chief of Sterling, Cooper, and Partners, is struggling with her pitch to the fast food restaurant Burger Chef. She's done the research—interviewed countless moms rushing to pick up a quick family meal in parking lots around the country—but she has hit a wall. Her momentary professional crisis makes her wonder what she knows about these customers, and, by extension, what she knows about being a wife or a mother. Her uncertainty nags at her, in part, because these customers represent the woman Peggy isn't. Peggy has achieved professional success, but her life doesn't resemble those of the people she meets in her research. At her lowest point in her creative block, Peggy admits to her mentor, Don (Jon Hamm), that she has just turned 30 and now sees herself as "one of those women who lies about her age." She hates those women, she confesses. Her perceptions of her own failure have little to do with her job but rather with her life as a working woman: she's a gifted copywriter, but, since she is single and gave up her only child for adoption, she doesn't measure up as a 30-year-old woman in 1969.
Peggy began her career as Don's secretary and became his sometimes rival, sometimes confidante. Don is her former boss and also the person who may know her best. He offers solace, "I worry about a lot of things. But I don't worry about you."
*****
Caroline Bender (Hope Lange), the protagonist of the 1959 women-at-work CinemaScope sudser The Best of Everything, begins her career, much like Peggy Olson, as a secretary in New York City. Caroline takes a position at Fabian Publishing. Early in her tenure, she starts taking manuscripts home, reading them in the evening hours and offering notes. Like Peggy, with a small bit of initiative she demonstrates a talent for the business and ascends the corporate ladder.
Caroline's superior and sometimes-mentor Amanda Farrow (Joan Crawford) resembles an older version of both Caroline and Peggy. An indisputable professional success, Farrow is single and emotionally unsatisfied—an exacting editor who moonlights as a mistress to a married man. When Farrow gives up her job to wed a former boyfriend in Illinois, she opens a door for Caroline, who is promoted to replace her older, more seasoned colleague. Caroline feels triumph, telling Farrow that she finally has "everything."
Single and childless but accomplished and respected (like Peggy), Caroline bids Farrow farewell. Unlike Peggy, though, she gets cold comfort from her former boss. As she prepares to walk away from her life as a powerful working woman to become a wife and stepmother, Farrow discloses to Caroline, "I'm going to worry about you very much."
*****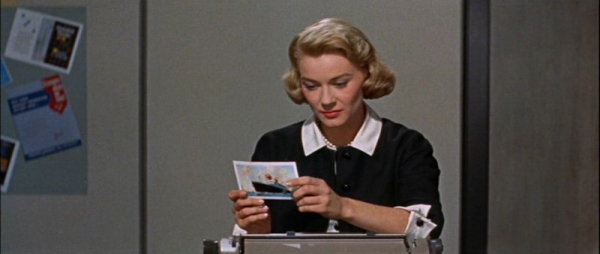 Matthew Weiner, the creator of Mad Men, singled out The Best of Everything as a piece of "required viewing" for his cast and crew. Writing about the film, Weiner derided it as "visually glamorized and extremely melodramatic." He also admitted that his characters would certainly have seen the picture and that "its story was a well-observed representation of working women in New York at the time. The workings of the office, the romantic complications, and the living situations all smacked of the truth." For Weiner, the film's glimpse of professional New York women before the second wave of feminism makes it valuable as a cultural artifact, if not as a work of cinema, though he perhaps undersells its occasional considerable pleasures.
The Best of Everything opens with a series of shots of New York City as the credits role in pink script and a title song, a ballad crooned by Johnny Mathis, plays in the background. The sequence settles on Caroline as she prepares to enter the Fabian Publishing building for the first time, holding a "Help Wanted–Female" ad for secretaries. The advert declares to its holder, "You deserve the best of everything! The best job – The best surroundings – The best pay – The best contacts!!" These opening moments clearly establish the movie, directed by Jean Negulesco (How to Marry a Millionaire) as a women's picture. The opening also introduces a tension implicit in the film's title that ripples out into its depictions of each of its principals. The "best of everything" promised by the Fabian ad has a purely professional connotation. It refers to jobs, surroundings, pay, and contacts. Yet the song drifting over the movie's credit montage tells viewers a different story: "Romance is still the best of everything."
The leading ladies of The Best of Everything want the best of both. Caroline, a Radcliffe grad, seeks an opportunity to make good on her college education while waiting for her unofficial fiancé, Eddie, to return from a year abroad. She moves in with two coworkers, April (Diane Baker) and aspiring actress Gregg (Suzy Adams), who are driven by a similar mix of romantic and professional ambition. The ladies are each a type—level-headed Caroline, naive April, beautiful but volatile Gregg—and despite the connective thread of Fabian Publishing, which anchors the film and brings the protagonists together, their romantic entanglements propel the narrative. In this sense, one could argue that The Best of Everything is a progenitor of not simply Mad Men but also Sex and the City and Girls (more than, say, the office-bound Mary Tyler Moore Show), New York tales of women with deep bonds of friendship and career aspirations that are nevertheless dominated by their relationships with men.
Adapted from a bestselling novel by Rona Jaffe, The Best of Everything begins as a single-girl-in-the-city adventure before taking a turn towards luridly satisfying melodrama and then rushing, in its final act, through its overabundance of plot. April and Gregg both meet men who are too good to be true and react to the inevitable revelations of their duplicity with reckless acts of self-endangerment that qualify as decidedly histrionic. Caroline, meanwhile, finds herself torn between two inadequate romantic options: Eddie, who returns to the States a married man but proposes an extramarital arrangement with Caroline, and her alcoholic colleague Mike Rice (Stephen Boyd). Her fairy-tale rise from secretary to executive is thus undercut by her bleak marital prospects. She may insist to Miss Farrow that she has "everything" after her promotion to editor, but as the movie winds toward its conclusion, it undercuts her claim. In the final scene, she exits the office for the weekend completely alone. By the standards she and her peers set for themselves, this makes Caroline something of a failure, and this is why Farrow, retreating from what she refers to as "the mountain top" of her editorial perch to a life as a wife and stepmother, confesses her worry.
*****
The Best of Everything was released several years prior to the publication of Betty Friedan's The Feminine Mystique, and functions as a time capsule. To the extent that Weiner conceived Peggy as a proto second wave feminist, a woman who began her career before the publication of Friedan's seminal book, one can see Caroline as the template from which she is fashioned. She's a humble Brooklyn girl and lacks the college education that partly fuels Caroline's ambitions. But like Caroline, she is smart and self-possessed, and actively pursues her career without wanting to sacrifice the possibilities of marriage and family.
Throughout the run of the series, though, Peggy's professional rise, which never seems much in doubt, does come at a price. At the moment of her first major professional triumph at the end of the first season, she gives birth to a child she conceived with a coworker. Rather than putting her career on hold to raise her child, she gives the baby up for adoption. As the seasons progress, she goes on to endure a series of failed relationships. In Mad Men's arguably best episode, "The Suitcase," Peggy and an increasingly drunk Don engage in a contest of wills while they brainstorm campaign ideas for the luggage brand Samsonite late into the night on Peggy's twenty-sixth birthday, while her boyfriend Mark waits at a restaurant, ready to surprise her with her family. By the night's end, Peggy will be humiliated by Don, dumped by Mark ("Back to square one. Single," Peggy says), embarrassed by her alcoholic ex-lover Duck (Mark Moses), and, finally, after several heated conversations, redeemed through her professional and personal connection with Don, which is at turns paternal, maternal, collegial, and intimate in a way that defies category.
As the evening wears on, Peggy and Don share a drink at a bar. She admits to having romantic and sexual insecurities, tied in part to Don's early rejection of her in the series' first episode. (He counters that he needs to maintain "boundaries," an excuse she throws back at him, since he has a history of sleeping with his other secretaries, and will in fact, several episodes later, go on to propose to his current secretary). She then reflects on the baby she walked away from, how the loss sometimes "comes up out of nowhere . . . playgrounds." In Mad Men, Elisabeth Moss has given perhaps the finest female dramatic performance on American television this side of Edie Falco in The Sopranos, and this simple exchange contains everything that makes her Peggy so fascinating and affecting—the unexpected cadences and pauses, the precise line readings, and her face, on the cusp of either smile or frown, dominated by her wide, soulful eyes, which seem constantly to search for, connect with, and then avert those of her scene partner.
"I know what I'm supposed to want," Peggy tells Don over dinner. "It just never feels right. Or as important as anything in that office." The problem with being a trailblazer, for Miss Farrow, and Caroline, and Peggy, is that it requires asserting values and desires that stand at odds with those one thinks one is supposed to have. Early in "The Suitcase," Peggy looks at herself in a bathroom mirror and has a conversation with Don's secretary and future wife Megan (Jessica Paré) and then with a pregnant Trudy (Allison Brie), the wife of Pete Campbell, father to Peggy's baby. These women are, in a sense, Peggy's mirror images, alternate versions of herself: Megan is the person Peggy might have been if Don had chosen her as a romantic partner rather than a copy editor; Trudy has the family with Pete that she almost had. When Megan finds out that Peggy, with all her professional success, is only twenty-six, she compliments her on "doing pretty well" for herself. Trudy, instead, reassures her, "Twenty-six is still, very young," implying she still has time to get what Trudy already has. These women function as human measuring sticks against which Peggy might gauge her own success, and they also represent ideals to which she does not necessarily aspire, even if she thinks that she should.
As The Best of Everything comes to a close, Caroline walks out of the office, alone, on a Friday afternoon. For all of the other women headed to their weekends, what they do at Fabian is just a job. For Caroline, it's a career. There is a melancholy tone to this sequence, and as the scene unfolds, it almost seems as though Miss Farrow's worry about her young colleague might have been well founded. The Best of Everything is a Hollywood confection, though, and this bleak conclusion takes an optimistic turn with the reappearance of Mike Rice, a deus ex machina that offers a hollow bit of uplift, proving Miss Farrow never really had anything to worry about after all.
With Peggy Olson, Weiner and Moss have achieved something far richer and more complex. Never fully in control of the opportunities available to her, Peggy is always torn between what she's supposed to want and what she feels is meaningful and worthwhile. There's no man waiting for her on the street, offering that missing sense of completion, and even if there were, he could never be enough. A character like Peggy could never get a Hollywood ending. She's too interesting for that anyway.
Still, Don is right not to worry.
Museum of the Moving Image's exhibition Matthew Weiner's Mad Men closed September 6, 2015. The Best of Everything played at the Museum April 18 and 19, 2005, as part of Required Viewing: Mad Men's Movie Influences.