Persistence of Vision
by Genevieve Yue
This year marked the debut of the Projections program at the New York Film Festival. In many ways it was a continuation of the previous seventeen years of the NYFF's Views from the Avant-Garde showcase, a weekend-long program of experimental film that had been widely regarded as the most important festival of its kind in North America. At Projections, amid the newer, noticeably younger crowd, there were still many familiar faces from the experimental film world, from Ken Jacobs, who flashed his always mischievous grin, to Lewis Klahr, who gave a heartfelt admission to a packed theater that this gathering remained the highlight of his year. The program, organized by Gavin Smith, Aily Nash, and Dennis Lim, was announced as "an international showcase of artists' film and video work," in contrast to Views' emphasis on "avant-garde" or "experimental" film. Though the renaming of the program, and a handful of terms used to describe it, may seem like a subtle shift, it resituates the festival firmly in the domain of contemporary visual art. The practice of avant-garde film, which has had a long and durable history in New York especially, may persist at Projections, but at least in name, its tradition as a relatively autonomous third term between commercial filmmaking and the art world seems to have been muted.
The change may have been inevitable, if gradual and somewhat difficult to perceive. Views incorporated the moving image work of artists from the start, and over the years, many of its regular filmmakers have migrated to the spaces of galleries and museums. Comparable experimental film festivals like Rotterdam, Oberhausen, the Wavelengths program at TIFF, and Ann Arbor, have similarly expanded the range of work they exhibit. This has both revitalized the practice of avant-garde film and made it harder to pin down, stylistically, institutionally, or otherwise. To the extent that Views strove to maintain a sense of the avant-garde's roots, sometimes to charges of stuffy conservatism, Projections seems to invite a broader, more overlapping range of influences. Its 2014 curatorial choices were almost uniformly sharp and surprising, evincing a confidence befitting a much more seasoned festival, or, for that matter, its predecessor.
This shifted perspective was evident in Projections' one repertory pick, culled not from the historical avant-garde but the work of Belgian artist Marcel Broodthaers. Better known for his assemblages and found object installations, Broodthaers also made over sixty films, three of which were shown here. His quirky wit was on display in each, and in Berlin oder ein Traum mit Sahne (Berlin or a Dream with Cream) (1974) it was accompanied by a breezy whimsicality apparent not only in the film's open windows and fluttering curtains but also its sense of gentle unpredictability. Berlin recalls the experience of drifting off to sleep, where dreams still resemble the setting of waking life, though its details are increasingly unmoored from reality. Adding to this lulling effect, the film alternates in a loose rhythm between exterior and interior: views aimed outside the window to observe midday activities along the Spree River, and apartment shots of a girl watering plants and Broodthaers himself seated at a table. There he smokes, studies an egg that has suddenly appeared underneath a taxidermied bird, and nods off. Accordion music plays sporadically, and Broodthaers seemingly wakes to find himself in a bustling restaurant with a heaping spread of desserts arranged on the table before him. He opens the newspaper, and, finding his glasses overturned on a dish piled with whipped cream, he puts them on and commences reading, cream-goggles and all. It's a lovely metaphor for the dreamlike seeing that the film describes: an altered, and somewhat cloudy way of looking at the world. As in dreams, anything seems possible.
Berlin's depiction of exchange—the flow of air between outside and inside, waking and dreaming—was suggestive of the dialogues that took place across and within many films. The Measures, a collaboration between Jacqueline Goss and Jenny Perlin, traces the journeys of Pierre Méchain and Jean Baptiste Joseph Delambre, two eighteenth-century astronomers who used telescope measurements to determine the precise length of the meter. The film's structure is correspondingly doubled: two sets of collaborators, two journeys, and a frame often split to convey the pairs' parallel paths. Starting in Paris, Méchain ventures south, and Perlin follows; Delambre, and later Goss, head north. Goss and Perlin film the beaches of Barcelona and the fields of Perpignan in their modern day appearances, and they expand their eighteenth-century itineraries to include such faraway locales as the New York City subway. Similarly, the two astronomers' letters match the cine-dispatches the filmmakers send, in which each speaks through voiceover and shows sights to the other. When Goss and Perlin film the same location, we take note of the differences in their perspectives, their exposures, the way their horizons line up, or more often don't. The seven years in which Méchain and Delambre abstracted their distances to determine the precise length of the meter was fraught with unforeseen events: the outbreak of the Terror, the rise of Napoleon, and a star whose erratic measurements revealed the imprecision of "an inconstant earth." Méchain and Delambre's meter has become a well-established unit of measurement, but over two hundred years later, the world remains as unpredictable as it ever was.
Sara Magenheimer'sSeven Signs That Mean Silence offered a more contemporary take on a shared pursuit of discovery. What begins as a series of inquiries into the meanings of various typographical signs becomes an exploration into the differences between two speakers, Paul and Veena. In a minimalist framing of stark, digitally rendered screens, the pair discuss what they apparently "see." Yet their sight is a matter of conjecture: their voices are instantly recognizable as those of computers, built for text-to-speech applications like Siri or the menu-option hell found on the end of a customer service line. Her this is not: their voices are distinctly flat and uneven, and when Veena trips up on the word "squirrel," the pair ponders their comparative abilities. "You never know when it will be hard to say something," Veena opines, her tone almost approaching chagrin. Their observations—digressive, funny, and inventive—tend toward lyricism, and at one point Magenheimer herself sings an a cappella version of "Everybody's Talkin'" (sending up Scarlett Johansson's coquettish whisper-singing), which gives license for every object, not just computers, but also an array of fruit and vegetables, to speak. Chatty as the film becomes, however, everyone eventually encounters the limits of language.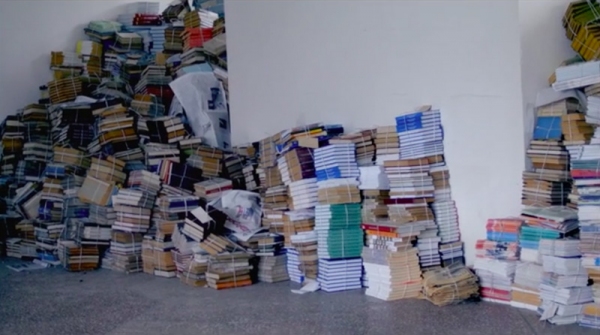 The shared pursuits in The Measures and Seven Signs were put under various pressures in Letters to Max. The film is structured as an exchange of letters between filmmaker Eric Baudelaire and Max (Maxim Gvinjia), a former foreign minister of Abkhazia, a country that split from Georgia in a violent civil war, and is currently recognized by only a few nations. Most of Eric's words appear silently in the form of onscreen text, while Max responds in an engaging, thoughtful, and surprisingly candid narration over footage of his daily life sharing breakfast with his children, working at the office, or surveying the tree roots that have grown over ruined buildings. "Are you there?" Baudelaire asks repeatedly, his urgency underscored by the friends' concern that the letters may never arrive in this newly formed and politically contentious state. The question also destabilizes the film's very structure, prompting us to wonder whether the pair's correspondence took place at all. The images are even less certain. From Baudelaire's letters, we ascertain he spent time in Abkhazia in the early nineties, as he asks Max to update him on matters like a shipwreck that had washed ashore. Yet the images do not always match what we hear, nor is it ever certain when they were taken, or by whom. Did Baudelaire return to Abkhazia to shoot? Knowing the answer, perhaps, would destroy the film's epistolary tension, and the plurality of tenses it is able to maintain as the film explores the past, the present, and the future of the troubled country and Max's life there. Baudelaire himself leaves this question open: "Tell me Max," he implores, "did you ever really receive my letters?" An early image of a room filled with books sticks in the mind. This trove of writing, reminiscent of the mountains of goods hoarded by Balzac's usurer Gobseck, could be the fate of their "impossible letters," a way station where the distance between friends remains yet uncrossed, and where Max and Eric's letters, and those of many others, are still waiting to find their readers.
Lisa Truttmann and Behrouz Rae's Babash focuses on a dialogue as well, though it's between a man, Rae, and a parrot, Babash. Babash speaks, in a sense, when he croaks out a greeting of "salaam" and laughs heartily in the manner of an elderly woman. The filmmakers take a turn at mimicry, too, pairing the sound of Babash's flapping wings with rapidly alternating frames of green, rust, and yellow, the colors of his feathers. Truttmann and Rae make no attempt to speak for their brightly colored subject, and are rather content to speak with it. The result is a sensitive and often surprising portrait of an interspecies friendship. We see the bird's trust when Babash reaches his webbed feet to Rae's outstretched index finger or pokes his beak inquisitively at Rae's mouth. This sense of companionship spills into their surroundings and literally gives it color. Against the otherwise white and gray décor of a suburban home, Babash is a flash of brilliant hues, and his plumage is matched in the bright green of a soccer videogame Rae plays, a vase of flowers, and large foam-board swatches leaning against the wall.
The easy rapport between Rae and Babash stood in sharp contrast to the human-animal relationships in Phillip Warnell's Ming of Harlem: Twenty One Storeys in the Air. Ostensibly about a former Harlem resident, Antoine Yates, and his tiger, Ming, and to a lesser extent his alligator, Al, the film uses the unusual household as the springboard for philosophical musing in the guise of a poem by Jean-Luc Nancy (as whisper-recited by the Icelandic musician Hildur Gudnadóttir), which was composed for the film. Unfortunately, and despite the film's title, these ideas never seem to get off the ground. Nancy's questionable lyrical abilities aside, the poem conveys little of the richness of Yates' story, namely how he came to live with wild animals, and how he lost them. While Yates is given voice at the beginning and end, the film seems chiefly concerned with its overlong, airless middle sequence. This includes, in addition to the poem, an elaborate, apartment-like set, built within the Isle of Wight Zoo, into which one of their tigers is released, promptly pissing on every surface. The alligator, confined to a single room, generally limits its movements to squinting its eye. It would be wrong to call these reconstructions, as Warnell never gained access to Yates's apartment and was unfamiliar with the layout. Seeing a 500-pound tiger rub against a kitchen counter is undoubtedly mesmerizing, but this is little more than the kind of gazing one does at a zoo. The camera positions are fixed, and the filmmakers were presumably kept at a safe distance. Yates, meanwhile, offers intimate glimpses into his domestic life with exotic animals. In interviews, he describes what he fed Ming, the tenor of the tiger's roar, how secure the locks were. As he speaks, we see him in the backseat of a sedan, riding through his old neighborhood and marveling at the changes in the years since he moved away. The drive, however, has the unfortunate connotation of a safari tour, as if Harlem and its residents were, like the tiger that eventually attacked Yates, predatory beasts. We learn little about what happened after Al and Ming were removed from the apartment, how Yates was subsequently imprisoned, and what his efforts were to sue the city for confiscating his giant pets. There is one brief glimpse of a local assemblyman defending Yates to a television news reporter: "He's member of our community, and we have embraced him." The same could not be said of Ming of Harlem as a whole. Far less than the people it involves, the film is more concerned with its animals.
Mónica Savirón's Broken Tongue provides a simple, but no less powerful, reminder of the history that Ming of Harlem manages to ignore, that of the centrality of African American experience to American history and its popular cultures. The film features Tracie Morris's poem "Afrika," whose single line Morris repeats, in whole or in fragments. Her voice rises and dips throughout the short duration of this potent film, quavering high or dropping low, but she remains in steadfast control, never veering into hysterics: "It all started when we were brought here as slaves from Africa." Her fractured words, her insistent voice, resound over a rapid accumulation of images culled from the January 1st issues of the New York Times between 1851 (the year the newspaper was founded) and 2013. Savirón includes "all the news that's fit to print" and then some, including among the headlines and crossword puzzles the classifieds that embed a newspaper within the life of a community. Morris's voice, and that single line that can't be repeated enough (especially in an experimental film context that all too rarely addresses the issue of race), seeps into these places, too, reminding us how deeply the fact and legacy of slavery inform both public and private life.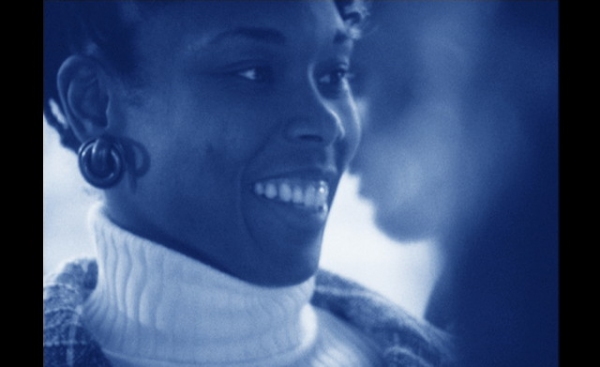 Sugarcoated Arsenic, by Kevin Jerome Everson and Claudrena Harold, similarly aims to recover African American experiences from histories that otherwise neglect or occlude them. This work of restoring such a past, and the difficulty of doing so, forms the film's central tension. Everson and Harold include the archival audio recording of a 1987 keynote address by Vivian Gordon, a former director of Black Studies at the University of Virginia, and, in response to the lack of film footage from the event, they restage it with current students. The film is accordingly split in two. The first half depicts Gordon (played by Erin Stewart) speaking at the university's Luther Porter Jackson Cultural Center. She recounts her experience growing up on the campus of a historically black college, Virginia State University, and as a graduate student and later faculty member at the predominantly white University of Virginia. Diagnosing the present with a view of the past, she reflects on the new, more insidious forms of racism that have taken shape at UVA and elsewhere. She calls it "sugarcoated arsenic," and her voice takes an arch tone: "It's easy to swallow but kills you just as bad." Decades later, the university remains a majority white school, and the situation Gordon described has only worsened. In the film's second half, the original recording of her speech plays over footage of black students playing foosball or talking to each other on white marble steps. Though they're dressed in seventies garb, Gordon's impassioned plea to continue fighting for racial equality, and to insist on the past and present visibility of black experience, is as urgent as ever.
If I learned anything from years of attending Views from the Avant-Garde, and from Mark McElhatten himself, it was, as the name indicates, a way of seeing: letting a film wash over and confuse you for a while. Though critics can be eager to offer an explanation or account of a film immediately, I became accustomed to waiting, to allow some time for a film to work its magic. This can be lonely-going if you're at home watching screeners, but the communal festival experience gives room for puzzling over films in conversation. Thankfully, the Projections team seemed to understand this as well. They wisely avoided counterprogramming, and at thirteen sessions it was significantly trimmer than Views had become in recent years. These choices allowed the audience to see everything together, and time to talk in between screenings.
Mary Helena Clark's The Dragon Is the Frame was the film that most confounded me upon first viewing, and haunted me for days after. As a detective thriller of sorts, in which San Francisco is rendered as a city of clues, it borrows most immediately from Hitchcock's Vertigo. In that film, Scotty Ferguson tracks a woman who, as he discovers, might never have existed at all, except, perhaps, as an image. Clark traces these same signs: a blonde on a bus, a church cemetery, a slice of a redwood tree, and snippets of Bernard Herrmann's score. Her search, of course, is contemporary, and like Perlin and Goss, she films the sites as they currently are. These are no less mysterious. A dense wall of fog at the Golden Gate Bridge reminds us how remarkably clear Hitchcock's San Francisco is. In Dragon, by contrast, the cloudiness fades into a shimmering swatch of sequined fabric. Like Scotty, Clark is searching for an elusive figure, someone who might emerge from the film's many deep shadows. This person, Mark Aguhar, a genderqueer artist and activist who committed suicide in 2012, is named in the film's dedication, and she also appears in several YouTube clips under the guise of xEmoboy1987x. We see her twisting and flipping her hair, the image doubled in a video called "WHY BE UGLY WHEN U CAN BE BEAUTIFUL?", and in "GAY GAZE" she scrutinizes her appearance as if looking in a mirror. Aguhar's own work was concerned with the malleability of the self through adornment and clothing, and Dragon is suffused with the same anxiety that pervades Vertigo, the same inability to separate a person's identity from the signs of her physical appearance. We last see Aguhar on a small monitor engulfed by the darkness of the frame. The film cuts to black, and she blinks out. There's a moment she remains as an afterimage, cast from a projection, the ghostly trace of a person we'll only ever know as an image.