Cannes Film Festival 2015: Dispatch Two
By Jordan Cronk
In 1981, Portuguese director Manoel de Oliveira filmed Visit, or Memories and Confessions, a last will and testament disguised as a kind of home movie. Oliveira, 73 years old at the time, had recently completed work on the 19th-century–set Francisca, an Agustina Bessa-Luís adaptation that in many ways represents the culmination of the director's second phase after his initial break from full-time filmmaking during the Salazar regime—an era in which he was forced to dedicate his time to other vocational pursuits, namely in the arenas of architecture and agriculture. Perhaps sensing that his career was approaching its conclusion, Oliveira produced Visit, or Memories and Confessions with the express purpose of withholding it from public view until after his death. As is well documented, he would go on to live another 33 years and produce another 25 features; when he died this April, he effectively closed the circle on the greatest third act the cinema has ever seen.
Following a screening two weeks prior at the Cinemateca Portuguesa in Lisbon, Visit received its overdue unveiling at this year's Cannes Film Festival. Shot in and around the home where Oliveira lived with his wife, Maria Isabel, for over four decades but which was soon to face foreclosure, the film takes the shape of a visual diary of the director's life and loves, careers and conflicts. Framed by the arrival of two unseen visitors, the narrative proceeds like a guided tour through the house and histories of its inhabitants. We meet Oliveira sitting at his desk, typing what we later learn to be a prospectus for an evolving project concerning Portugal's vast history of military misfortunes (he would complete and release the resulting film, entitled No, or the Vain Glory of Command, almost a decade later), and from there he escorts us, camera trailing, through a series of hallways and rooms holding a bountyof personal and professional ephemera. He describes photographs, points to heirlooms, and projects 16mm footage of his family and friends on the wall, narrating his experiences living and working and raising his children under authoritarian rule for much of his adulthood. "I love life but do not fear death," he plainly states at one point, looking directly into the lens. This love, as well as this unquenchable spirit, is felt in every carefully composed frame Oliveira ever shot, and it's what makes Visit, or Memories and Confessions less a forlorn farewell than an inspiring invitation to push valiantly onward, no matter what time or circumstance may otherwise dictate.
The placement of Oliveira's film in the Cannes Classics lineup was indicative of a festival whose rewards were spread far and wide throughout various strands and sidebars. Only one film, however, was itself dispersed, unveiled piecemeal over multiple days. Arabian Nights, a three-part, six-and-a-half hour magnum opus by Portuguese director Miguel Gomes, premiered over three alternating days in the Directors' Fortnight, in effect blessing itself as the film of the festival by perpetuity alone. But any misgivings about its length or programming particulars are handily assuaged by the work itself, whose tripartite structure was not only preconceived by Gomes but is also reflected in the distinct narrative and stylistic discourse of each section. Not an adaptation, as its title may suggest, of the beloved Arabic folk tales, but rather a reflection on its themes and allegorical interests, the film takes as its subject the economic and cultural hardships that have recently plagued Portugal and places them into modern-day parables of vast tragicomic intrigue. If Tabu was Gomes's elegant, melancholy reflection on colonialism, then Arabian Nights is its pointed inverse, dismantling contemporary sociopolitical ironies from the inside out.
The film's three volumes—"The Restless One," "The Desolate One," and "The Enchanted One"—do not follow a prescribed narrative, instead functioning as mostly individual entities, although topics, and occasionally characters, reemerge in reference to prior episodes. Volume one, shot in a vérité fashion familiar to Gomes's Our Beloved Month of August, engages most directly with nonfiction elements, beginning with a lengthy passage of narration atop images of modern-day Portugal, and ending with an extended sequence of interviews with the working-class citizens most affected by the politics of the time. Of course, Gomes's humor asserts itself in the film's more playful and surrealistic sequences, which riff on Scheherazade's tales in brazen and bizarre fashion. In the first volume alone there are exploding whales, errant erections, and talking cockerels, while volumes two (the funniest and most fluidly structured) and three (the most emotional, mythical, and, finally, transcendent) involve prescient pooches, moving musical numbers, and a chorus of chaffinches. The entire film is essentially composed of a series of indulgences and digressions—some angry and some absurd, but all imaginatively composed and invigoratingly unconcerned with the boundaries of traditional storytelling. Nothing at Cannes could match its ambition.
Also in Directors' Fortnight but pitched at a much smaller scale was Peter Tscherkassky's The Exquisite Corpus, the first new work by the veteran Austrian avant-garde filmmaker in half a decade. Shown in a four-film shorts program which, as far as I could tell, had no overarching theme, Tscherkassky's 20-minute sensory spectacle was a true anomaly at Cannes, a blatantly experimental work whose aesthetic and thematic pleasures are inextricably linked to its author's analog approach and sense of formal foreplay. Constructed from strips of vintage erotica and associated paraphernalia, the film centers its threadbare narrative around a literal nightmare of sexual indulgence. In the initial footage a nudist couple stumbles upon a naked and unconscious woman on the beach. Proceeding from this setup (which seems to nod to the aesthetics of silent cinema) is an eruption of heavily manipulated images, presumably memories or death-rattle hallucinations from the mind of the unresponsive girl, which Tscherkassky edits into a cascade of overlapping limbs and disassociated debaucheries. Superimpositions stack one atop the other, creating a kind of carnal conniption where divergent figures and detached narratives collapse into single frames that flicker and fragment in a display of accumulating sensation. I was reminded of Jack Smith's Flaming Creatures on more than one occasion, and at its hallucinatory best, The Exquisite Corpus approaches a similar plane of enraptured physicality.
Rather than advance to competition status with his fifth feature (and his third to premiere at Cannes), Romanian director Corneliu Poromboiu instead returned this year to Un Certain Regard, where he won the top prize in 2009 for Police, Adjective. The most adventurous and slyly political of the New Romanian guard, Poromboiu has of late been applying in increasing measure his self-reflexive sensibility to what might be called absurdist parables, pitting archetypes against unseen (and occasionally self-conceived) institutions in alternately humorous and biting fashion. His sense of situational satire reaches perhaps its most deceptively whimsical height yet in The Treasure, an allegorical morality play that, like his last narrative film, When Evening Falls on Bucharest or Metabolism, makes a virtue of its economy of gestures. With the help of a metal detector expert (Corneliu Cozemi), neighbors Costi (Cuzin Toma) and Adrian (Adrian Purcarescu) embark on a dig of the latter's family home, where his grandfather was said to have buried a small fortune. Rather than turn up treasure, their search—which Poromboiu films in long takes with little action—amasses a bounty of incidental humor, as clever visual and aural cues reorient the film's dramatic properties into circumstantial comedy. Lengthy stretches of the film consist simply of these three characters engaged in this by turns complimentary and contemptuous endeavor, the blind logic and dogged determination of their quest intensifying even as their reward appears to be growing ever more elusive, as if the promise of any ill-defined honor is satisfactory enough to distract from their otherwise mundane existences. In the end, Poromboiu isn't so devious as to deprive the characters (or the audience) their prize, but the results of their efforts are satisfyingly ironic, which proves to be the wryest joke of all.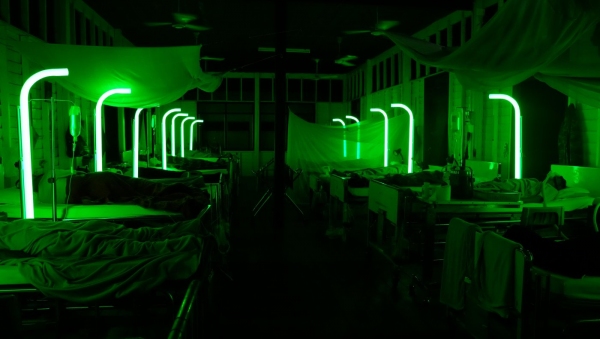 If The Treasure seems a curious omission from the competition, then the absence of Cemetery of Splendour, the latest from Thai master Apichatpong Weerasethakul, winner of the Palme d'or for 2010's Uncle Boonmee Who Can Recall His Past Lives, is an exclusion bordering on the incomprehensible. Apichatpong's latest (the unequivocal highlight of this year's Un Certain Regard) is something of a cumulative work for the director, drawing on the thematic wellspring of his prior work while undemonstratively expounding upon his spiritual concerns. Set in and around a remote military hospital in the director's hometown of Khon Kaen, the film commences with the arrival to the clinic of the partially crippled caregiver Jenjira (Jenjira Pongpas Widner), who tends to the comatose soldiers as their dreams are monitored by primitive machines with vertical tubing that glow florescent as day turns to dusk. Jenjira is intuitively drawn to one soldier in particular, a narcoleptic young man named Itt (Banlop Lomnoi), whose drifting states of consciousness appear to move in synchronicity with Jenjira's touch. Meanwhile, construction threatens to swallow the facility along with the memories of its inhabitants, the industrial clamor of the surrounding activity ringing through the becalmed hospital corridors.
Distinct as they are, Apichatpong's films all appear to emanate from the same familiar world, their narratives echoing and expanding on one another in a sometimes literal, sometimes enigmatic manner. Ghosts and spirits and the souls of the dearly departed continue to physically manifest themselves in Apichatpong's work, walking and talking amongst the living, imparting wisdom and elucidating personal and historical particulars all at once. Cemetery of Splendour forgoes much of the grotesquery and exotic imagery of films like Tropical Malady and Uncle Boonmee, instead integrating such elements at a more anatomical level (in this and other more appreciable ways the film feels most akin to Syndromes and Century). The narrative moves at a methodical pace, the director's visual language by now an elegant, organic facet of the film's formal infrastructure, accumulating dreams, desires, and divine insight along the way. Among other qualities, this may be Apichatpong's purest work to date, a film of acute spiritual and personal resolve with a boundless sense of natural wonder.
The competition managed to offer two of the festival's standout films in its second week. Mountains May Depart, by increasingly restless Chinese filmmaker Jia Zhangke, is, like his left-field genre experiment A Touch of Sin, both the product of filmmaker now working under sanction of his country's government and a wily indulgence of the cinematic tropes this concession encourages. A three-part family saga set variously in 1999, 2014, and 2025, the film, bookended by a pair of instantly indelible dance sequences, follows Shen Tao (played by the director's wife and longtime lead, Zhao Tao), her husband Zhang (Zhang Yi), and their son Dollar (Dong Zijian) across an unpredictable landscape of comedic caroms and melodramatic maneuvers. There's a nagging humanism at work in each episode, mitigating the love triangle machinations of the first act, accentuating the mournful air of the second, and softening the earnest romanticism of the third. By the latter, Tao and Zhang have divorced, and Dollar has migrated to Australia, scattering the once-close knit clan across the western hemisphere. Never before have Jia's themes of globalization and economic paralysis been rendered on such a simultaneously vast yet intimate scale, his vibrant digital images encompassing an entire era of industrialization and an equally vast emotional spectrum. It's the Cannes title likely to benefit most from a second viewing and a careful consideration of its cultural and cinematic connotations.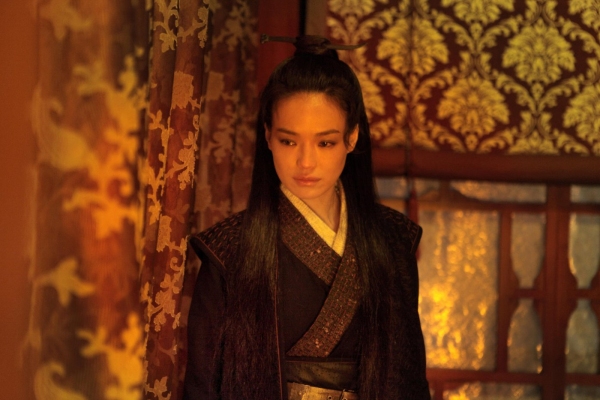 Appropriately, the film I did manage to see twice was the one most had been waiting for the longest: The Assassin, the first feature in eight years by the great Taiwanese filmmaker Hou Hsiao-hsien, which in fact emerges as a kind of belated follow-up to his midcareer masterpiece Flowers of Shanghai. Only the second time in Hou's three-plus decade career that he has taken as his subject a matter of Chinese history, The Assassin represents a rare engagement with genre cinema for a director most associated with films of social and political realism. But if the conception has changed, the aesthetic articulation remains the same. Hou's film, inspired by a popular work of ninth-century Chinese literature, is, like all his period work, more concerned with the nuances of its dramatic configuration and the formal expression of character psychology than it is in fulfilling any sort of traditional narrative. Classically framed, the plot itself is light on action yet rich with fundamental moral and romantic intrigue. Centered on a young female assassin (Shu Qi) sent back to her homeland by her master (Sheu Fang-yi) to kill the cousin (Chang Chen) to whom she was once betrothed, the film abstractly charts the reluctant measures all parties must take to fulfill their destiny. Working with his longtime cinematographer Mark Lee Ping-Bin (whose resplendent 1.33:1 images nearly overwhelm with accumulated gravitas), Hou directs the palatial drama with methodical poise, shooting extended takes in graceful movements, while the brief bursts of action link close-ups and long shots with tight edits, substituting sharp aural accents for graphic violence. Almost nothing about The Assassin, from its stately demeanor to its hypnotic rhythm to its sublime serenity, seems apt for the bustling setting of Cannes, though it's the film I imagine will one day be most closely associated with this year's festival.