Cannes Film Festival 2015: Dispatch One
By Jordan Cronk
With no less than four non-American directors making their English-language debuts in competition at the 2015 Cannes Film Festival, the strain from the unfortunate state of worldwide film funding has been felt more than ever at this year's festival. Of the first time English-language crossovers which have premiered over the first week of the festival, there's Italian director Matteo Garrone's stylistically ambitious yet thematically muddled Giambattista Basile adaptation Tale of Tales, as well as the latest from Yorgos Lanthimos, The Lobster, which continues the Greek provocateur's streak of conceptual narrative conceits but fails to provide any sort of rationale for its allegorical missive—if indeed there is one at all.
More substantial than these is Louder Than Bombs, by Norwegian filmmaker Joachim Trier, though even it eventually gives way under the gravitas of its subject matter. Trier's latest—starring Gabriel Byrne as Gene, a widowed businessman whose two sons, Jonah (Jesse Eisenberg) and Conrad (Devin Druid), have each dealt with the death of their mother, Isabelle (Isabelle Huppert), in different ways—is another maudlin mood piece, and a deepening of this talented director's thematic preoccupations. As the film opens, Jonah's wife has just given birth to their first child, and before he can get more than a few hundred feet from the delivery room, he's run into his ex-girlfriend (Rachel Brosnahan) in the hallway, whose own mother we learn is succumbing to cancer. Meanwhile, the teenage Conrad is making life difficult for his father, secluding himself in his bedroom with video games and closing himself off from the outside world. When a journalist and former colleague of Isabelle's, Richard Weissman (David Strathairn), announces his intention to write an article about Isabelle's life as a famous Middle East war photographer and the heretofore unreleased details about her apparent death in a car accident, Gene must prepare to reckon with not only the public's reaction but also the ramifications of finally revealing to his youngest son the circumstances surrounding his mother's battle with depression.
Trier and coscreenwriter Eskil Vogt incorporate an impressive number of individual stories into the film. Jesse, originally thought to be the levelheaded brother, finds himself so scared in the face of fatherhood that he decides to sleep with his ex in a futile attempt at intimacy. His father, meanwhile, is carrying on a clandestine relationship of his own, with Conrad's teacher (Amy Ryan), who witnesses firsthand the young boy's increasingly morose and closed-off demeanor. Trier does an expert job weaving these multiple strands together, moving achronologically (sometimes within the same scene) while gradually disclosing character detail through loaded dialogue and subtle visual information. The film's grim themes and moody tenor are by now familiar elements of Trier's work, and in tone and style Louder Than Bombs feels like a logical extension of his impressive prior film, Oslo, August 31st. But these same characteristics weigh on Trier's latest, which at times reaches to make near-cosmic associations between each family member's secret lives (a late reveal of a third affair is almost humorous in its romantic pessimism) and the lingering effects of a horrific event. Trier's craft, however, remains notable, and Louder Than Bombs features many beautifully composed, deeply felt sequences and a melancholy air expressive of an assured, if troubling, worldview.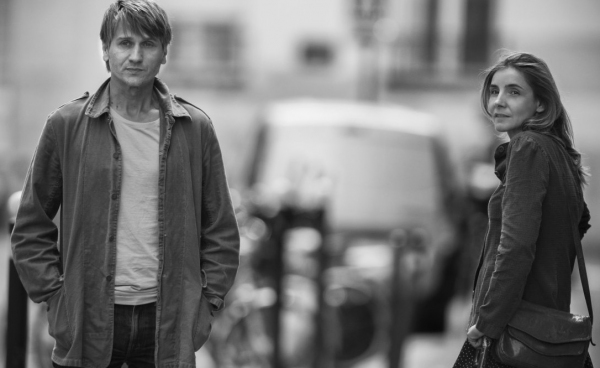 With the number of major auteurs being spread further afield from the competition in the past few years, one has been ever more compensated by focusing on selections from Cannes' various sidebars. And indeed, the best film of the festival's first five days, Philippe Garrel's In the Shadow of Women, opened this year's Directors' Fortnight. At first glance, the latest by the veteran, post-Nouvelle Vague director looks familiar to his established sensibility: An infidelity drama about masculine pride and feminine martyrdom, another in Garrel's long line of achingly unromantic romances. Yet the director's inextinguishable interest in the nuances of relationships continues to take new shape and reveal new shades. Shot on 35mm black-and-white, the film is richly rendered, following the plight of an unhappily married couple whose ongoing professional collaboration suggests a more healthy relationship than meets the eye.
Pierre (Stanislas Merhar) is a morose film director; his wife, Manon (Clotilde Courau), his long-suffering editor. Each is cheating on the other, to the shock of both. From this simple setup, Garrel charts a traumatic episode in the lives of two confused individuals whose relationship may need to be tested if it's ever going to survive. Written by a small team, including the legendary Jean Claude-Carrière and Arlette Langmann, the film brims with charged dialogue and knotty moral quandaries, and Garrel frames its many confrontations with the control of a master, offering some of the most intensely emotional sequences of his career. And yet for all the heartache and indefensible behavior depicted, In the Shadow of Women is a surprisingly humorous film, finding irony in the double standards men often hold women to and an absurdity in the self-defeating decisions one can make even when committing to a more monogamous lifestyle. Like most of Garrel's work, the film is less about sex than it is about the false promise of its utility. The voiceover, spoken by the director's son and frequent star Louis, is wry and self-consciously droll, outlining the couple's various predicaments in slyly comical fashion. In Garrel's world, the simplest gesture can carry the most lasting significance—it's no coincidence that he saves Pierre's one and only smile for the film's stirring final shot.
Arnaud Desplechin's My Golden Days (pictured at top), another Fortnight highlight, is a reinvigorating effort for the French filmmaker after the rather cerebral Jimmy P, and further evidence of his seemingly effortless storytelling prowess. Returning to perhaps his two most enduring characters, Paul Dedalus and his girlfriend Esther, the protagonists of My Sex Life . . . Or How I Got Into An Argument (1996), Desplechin appears understandably nostalgic for the couple, as reflected in the ecstatic stride of his filmmaking. Following Paul (in flashback played by Quentin Dolmaire) through his early adolescence, the film looks upon these years from the perspective of a middle-aged Paul (Mathieu Amalric, reprising his role), unmarried and still unsatisfied as he moves back to Paris after years working as an anthropologist in Tajikstan. When he's stopped at the airport and investigated for a suspicious passport, Paul is sent reminiscing about various memorable episodes in life. And from here, Desplechin takes the viewer on a whirlwind trip through the boy's youth, from his traumatic childhood to his increasingly sexualized teens. Passion blossoms as Paul transition into high school, where he meets Esther (a luminous Lou Roy-Lecollinet), who takes a liking to Paul and exposes him to a cosmopolitan, liberal lifestyle he never experienced growing up in Paris as the youngest of three children. Using a traditional coming-of-age template as a frame in which he lovingly indulges in his well-honed stylistic touches—subtle iris effects; split screen; voiceover; intertitles—Desplechin is able to breathe life into a tired genre while reengaging with his most potent filmmaking skills.
This year's Un Certain Regard section featured its own early pair of highlights. One Floor Below, Romanian filmmaker Radu Muntean's follow-up to 2010's great Tuesday, After Christmas, is a strange and unsettling work that pushes the director's formal and thematic strategies—which include long takes, deceptively mundane framing, and the suggestion of malevolence in even the most good natured amongst us—in bold new directions. Initially a mere morality tale concerning a man who overhears an argument in a neighboring apartment just hours before its young female occupant turns up dead, the film grows increasingly vague and provocative even as it moves closer to its resolution. Sandu (Teodor Corban), a husband and father with a curiously ill-defined job in vehicle registration, appears to spend most of his days working, playing with his dog, and raising his mentally handicapped son. The first act of the film is given over to the banal depiction of these routines, building a strange atmosphere of impending trauma. The argument Sandu overhears between his two neighbors, Laura (Maria Popistasu) and the married Vali (Iulian Postelnicu), hints at an extramarital affair with abusive side effects. Sandu seems curious but not overly concerned, and when Vali storms out of the apartment, catching a glimpse of his eavesdropping neighbor as he returns home, the drama subtly increases as the two go about their separate business.
Muntean, one of the more undervalued talents of the splintering Romanian New Wave, constructs the ensuing cat-and-mouse game with considerable poise yet from a strangely objective remove, in which isolated variations in framing can redirect the viewer's interpretation of character motivations. Cinematographer Tudor Lucaciu's images, which often capture a sense of Sandu and his family's congeniality, also hint at ominous revelations that the cryptic dialogue only works to reinforce. Corban is scruffy yet warm in the role of Sandu, whose commitment to avoiding confrontation eventually prompts an unexpected, climatic confrontation of pleasingly naturalistic fisticuffs. But as with much of the film, more is suggested outside of the frame than in what's shown on screen. It's a credit to Muntean's skills that he's continued to sculpt his films down their most essential aesthetic elements while his thematic interests have only intensified. One Floor Below is a film that lingers long after it's ended, and one that would appear capable of yielding different, perhaps even more substantial rewards on a second viewing.
Alice Winocour's sophomore feature Disorder is a notable advance on her fine 2012 debut, Augustine, and the surprise of this year's Un Certain Regard. Starring Matthias Schoenaerts as Vincent, a PTSD-afflicted, French Special Forces soldier on leave between tours in Afghanistan, the film sets up a number of familiar narrative constructs and proceeds to subvert them all in favor brute force, character-driven action. Assigned a high-level security job at the secluded estate of wealthy, criminally affiliated Lebanese businessman Whalid (Percy Kemp) and his German wife Jessie (Diane Kruger), the chiseled Vincent is prone to bouts of mental anguish, his "disorder" the only chink in an otherwise bulletproof armor. Rather than attempt to deconstruct Vincent's psychological state or shoehorn in a romantic angle between the impossibly attractive Schoenaerts and Kruger, Winocour opts to keep Vincent a bottled-up presence, rarely speaking more than a few words, while Jessie remains committed to her husband even as repeated attempts are made to kidnap her and her son for ransom. Winocour's filmmaking is appropriately forceful, all tight framings, sharp angles, and gripping set pieces. An unapologetic genre film, Disorder ably fulfills all the tenets of a traditional thriller while managing to move in a number of unexpected, highly satisfying directions.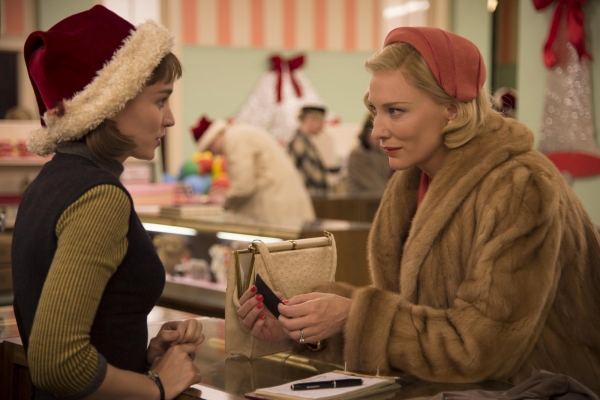 One film managed to stand out from the mostly routine pleasure of the Competition slate's first five days: Carol, by director Todd Haynes, the American filmmaker's first feature in eight years. Based on the 1952 novel The Price of Salt by Patricia Highsmith, Haynes's film is as reverent to its 1950s milieu as Far from Heaven was to its Sirkian interpretation of the same. As opposed to recreating the look and feel of the fifties melodrama, however, with his latest Haynes has gone further and reinterpreted the realities of the era in which its source material was originally written. Featuring Cate Blanchett in the title role as a married woman whose past indiscretions with the same sex have left her relationship with her husband, Harge (Kyle Chandler), an essentially public facade, the film is a faithful translation of the book's intimate tone and modest scale. While shopping in town one day, Carol meets a department store clerk named Therese Belivet (Rooney Mara), a much younger woman whose own misgivings about her boyfriend have her reevaluating her priorities and proclivities. Through a series of platonic encounters, the two become close, further alienating their respective partners when they decide to take a road trip across the Midwest together.
Haynes, who has long been interested in midcentury America and the system of values unique to a period that suppressed basic human rights, depicts Carol and Therese not as star-crossed lovers but as gradually passionate companions. Their initial encounters strike a balance between anticipatory romance and world-weary apprehension. As in Far from Heaven, homosexuality is never mentioned outright, and is instead inferred through glances, movements, and discrete gestures. Haynes frames these moments in achingly beautiful compositions, draped in shadows and rain and through the glistening windows of warm, amber interiors. Shot in Super 16mm by Edward Lachman, the film is an aesthetic marvel, Haynes's most formally controlled work yet. The approach yields a chamber-like ambience and uniformity of tone—an effect deepened by Blanchett and Mara as they speak in soft-spoken rhythms—which some may find tiresome, but which can prove rather hypnotic in concert with the film's steadfast undertow of desire. Certainly these are themes that Haynes has traversed in the past, but the elegant register of Carol is far removed from the provocations of Poison and the affectionate artifice of Far from Heaven. And the film's final scene— told only in images, as a series of exchanged glances—is one for the ages.